In this fast-paced era, the demand for seamless, convenient and personalized services has accelerated the growth of on-demand apps across various industries.
Be it healthcare, finance, logistics or media and entertainment, the on-demand revolution has had a profound impact on almost every business sector, disrupting traditional business models and transforming the way consumers access products and services.
According to the PwC report, the on-demand industry is anticipated to reach $335 billion by 2025. Moreover, 51% of entrepreneurs providing services on demand have reported a significant improvement in their financial situation compared to the previous year.
With statistics showing the lucrative potential of on-demand business models in driving long-term financial success, it's the perfect time to explore some trending on-demand app development ideas if you plan to enter this thriving market.

Behind the Boom: Key Factors Driving On-Demand App Development Success
The on-demand industry has witnessed exponential growth in recent years, reshaping how consumers access services and products. The growing popularity of this revolutionary business model can be attributed to technological advancements, changing consumer behavior and rising demand for convenience and efficiency.
Let's take a closer look at all the key factors that have propelled the remarkable growth of the on-demand app development industry:
Shifting consumer behavior
A survey conducted by Apptentive found that 72% of consumers rely on on-demand apps to save time. Well, busy lifestyles and a desire for instant solutions have fueled the adoption of on-demand apps that help people save time and effort by getting things done without leaving home.
The widespread adoption of smartphones has made it possible for people to access on-demand apps anywhere, anytime. As of 2023, a substantial 81.6% of Americans, which amounts to approximately 270 million people, own smartphones. Moreover, 90% of the time people spend on their smartphones is dedicated to using apps.
Thus, the increasing prevalence of smartphones is also providing a large user base for on-demand services, playing a significant role in the success of on-demand apps across industries.
Technological advancements
New technologies, such as AI, machine learning, cloud computing, data analytics and blockchain are also playing a pivotal role in improving the functionality and efficiency of on-demand apps. For example, AI and data analytics enable on-demand apps to offer users personalized recommendations and tailored experiences. Moreover, cloud infrastructure has facilitated scalability for on-demand apps, enabling them to handle increasing user demands.
Venture capital investments
Venture capital investments have played a significant role in the growth of the on-demand economy. VC firms have invested billions of dollars in on-demand startups, fueling their growth and development.
In a recent survey, the United States emerged as the front-runner in venture capital investments. In 2022, an impressive total of 16,464 venture capital deals were closed in the U.S., demonstrating the country's significant role in supporting startup growth and innovation.
A McKinsey survey showed that US consumers increased their use of digital services by 30% during the pandemic. Thus, the COVID-19 pandemic accelerated the adoption of on-demand services as people sought contactless delivery services for their daily needs.
Trending On-Demand App Development Ideas to Launch This Year
From transportation, healthcare and entertainment to finance, entrepreneurs and businesses across industries are constantly exploring innovative on-demand app ideas to keep pace with evolving needs of modern consumers.
So, here are some trending on-demand app development ideas that present exciting opportunities to tap into the potential of the on-demand revolution.
1. Food Delivery
With advancements in technology and the increasing demand for convenience, on-demand food delivery apps are only surging in popularity, letting people order and get food without having to leave the comfort of their own home.
According to a survey by Expert Market Research, the online food delivery market is anticipated to reach USD 275.22 billion by 2028.
There are many ways you can enter an on-demand food delivery business, such as:
Build an app that aggregates various restaurants, offering users a one-stop-shop for comparing menus, prices and delivery times. The app allows users to place orders from restaurants through a single platform. Popular examples are DoorDash, Grubhub and Postmates.
On-demand food delivery for businesses
This is a growing market as more businesses seek ways to provide their employees with convenient and healthy food options. So, you can build an app that connects with a network of local restaurants that can deliver food to their offices. In this market, popular examples are ezCater and Fooda.
Offer delivery through your own platform
If you already have a restaurant, you can build your own app to offer on-demand food delivery. Domino's is one of the most well-known pizza chains in the world and they offer on-demand delivery through their own website and app.
Build a cloud kitchen app like Kitopi
Build an app that connects customers with virtual restaurant brands operating solely for delivery and takeout purposes.

2. Grocery Delivery
Online grocery delivery is also on the rise as an increasing number of consumers opt for the convenience of having their groceries delivered directly to their doorsteps instead of visiting brick-and-mortar stores.
Statista forecasts a substantial surge in eGrocery sales, projecting them to reach 20.5% of total grocery sales in the USA by 2026.
Like food delivery, there are many ways you can enter an on-demand grocery delivery business, such as:
Specialty diet grocery delivery app like Thrive Market
Build an app that focuses on delivering groceries tailored to specific dietary preferences, such as vegan, gluten-free, keto, or paleo diets.
Late-night grocery delivery app like GoPuff
Create an app that delivers groceries during late-night hours, serving customers who need last-minute supplies after regular store hours.
Grocery delivery app for local farmers like Local Harvest
Launch an app that connects consumers directly with local farmers, offering fresh and locally sourced grocery items.
Pet-focused grocery delivery app like PetSmart
Build an app that specifically caters to pet owners, offering a wide range of pet food, treats, and supplies for delivery.
Recipe-based grocery delivery app like HelloFresh
An app that offers curated recipes and delivers the exact ingredients needed to cook those recipes.
3. On-Demand Teleconsultation
If you are a startup looking for a lucrative business opportunity in the healthcare industry, building an on-demand teleconsultation app is a great option to consider.
Prior to the COVID-19 outbreak, patients typically prefer in-person visits to remote consultations. However, during the peak of the pandemic, on-demand telehealth and telemedicine services like Doctor On Demand and PlushCare witnessed a remarkable increase.
A report by the Centers for Disease Control and Prevention (CDC) revealed that telehealth visits witnessed a remarkable rise during March to May 2020, with a 50% increase among adults aged 18-49 and 70% increase among adults aged 50-64.

4. Pharmacy Delivery
As more people are turning to digital platforms for their daily needs including medications, it wouldn't be wrong to say that investing in online pharmacy delivery app development for entrepreneurs is indeed a promising business area.
During the initial stages of the pandemic, the pharmaceutical e-commerce sector witnessed a remarkable surge in growth. CVS data revealed a staggering 1,000% increase in online prescription orders, highlighting the significant impact of the pandemic on this industry.
As the demand for convenience and accessibility in healthcare continues to grow, online medicine delivery is likely to become even more popular in the years to come.
5. Fuel Delivery
The global on-demand fuel delivery market is expected to reach $596.37 million by 2027, owing to the increasing demand for convenience, accessibility and the growing number of people who are working from home.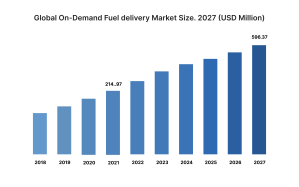 When stepping into the on-demand fuel delivery business, you can either follow an aggregator business model or a delivery service model depending on your current scenario.
In an aggregator business model, you just need to build an app that connects customers with independent fuel delivery companies. So, this model is a good option for businesses that don't want to invest in a fleet of trucks.
On the other side, a delivery service model is an ideal option for businesses that have their own fleet of fuel delivery trucks.
So, if you are a fuel startup, you can expand your business reach by starting doorstep delivery of fuel by building an Uber-like on-demand fuel delivery app.
6. Alcohol Delivery
There's been a significant rise in online ordering and delivery of alcohol in the U.S.
In 2021, the global alcohol e-commerce market was valued at $42,320.0 million and is anticipated to touch $173,819.0 million by 2031, at a CAGR of 15.2% from 2022 to 2031.

The alcohol delivery market is still relatively new, so there is not a lot of competition, implying that it's now the perfect time to enter the market and establish yourself as a leader.
Like an on-demand fuel delivery business, you can either choose an aggregator business model or a delivery service model to step into an on-demand alcohol delivery market.
In an aggregator business model, you build a platform that acts as an intermediary between customers and multiple local liquor stores or alcohol retailers. The platform facilitates online ordering and delivery from the nearest or preferred store.
In a delivery service model, on the other hand, the customer can order from your alcohol store's website or app. Then, you can also provide a takeaway/click-and-collect to allow customers to collect their orders in person from your physical brick-and-mortar outlet or simply get the delivery at home.
7. On Demand Home Services
The on-demand home services industry is also one of the fastest-growing sectors.
In 2021, the on-demand home services market was valued at $3456.00 million and is expected to reach $6396.81 million by 2029, at a CAGR of 8.0% during the forecast period of 2022-2029.
After all, on-demand home services allow people to hire someone to manage their household chores such as cleaning, plumbing and painting without having to leave their homes. This is especially appealing to consumers who are busy or who live in areas with limited access to home services providers.
No matter which home service business you would like to start be it home cleaning, laundry or repair service, there is a demand for all. You can also build a platform like TaskRabbit offering multiple on-demand home services under one platform.
8- E-Hailing
The demand for convenient and on-demand transportation services continues to rise, especially in urban areas with high population density and limited parking options.

The global e-hailing market is expected to grow at a CAGR of 22.84% to $212.139 billion in 2028 from $50.271 billion in 2021.
As you can see the rideshare industry continues to experience growth and presents a significant market opportunity, so you can tap into this expanding market to capture a share of the transportation sector.
Moreover, e-Hailing has already demonstrated its remarkable success through the growth of well-known ride-sharing apps like Uber and Lyft.
With careful planning, differentiation and leveraging technological advancements like advanced application development, you can increase your odds of gaining traction in this highly competitive market.
9- On-Demand Microlearning
On-demand microlearning has become a growing trend in the e-learning sector, offering learners a flexible and convenient way to acquire knowledge and skills in bite-sized formats. The approach specifically caters to modern learners' preferences for shorter, focused learning experiences that suit their busy schedules.
Moreover, studies revealed that microlearning is 17% more effective than traditional learning. With the on-demand microlearning market expected to touch $7 Billion by 2030, this is an in-demand startup idea to consider.
10- On-Demand Personal Financial Advisor
With financial markets becoming increasingly complex, individuals are finding it hard to make sound financial decisions on their own. Owing to this, the demand for personalized financial guidance from experts is increasing rapidly.
Thus, an on-demand personal financial advisor platform stands at the forefront of delivering quick and accessible financial advice, making it a lucrative startup idea in the digital era.
Conclusion
That was our take on trending on-demand app development ideas to consider this year.
Whether it's food delivery, teleconsultation, fuel delivery or personalized financial advice, these on-demand app development ideas present a wealth of opportunities for entrepreneurs and businesses looking to innovate and cater to the evolving needs of modern consumers.
By capitalizing on the latest advancements in technology, such as AI-powered mobile apps, GPS tracking, real-time updates and secure payment gateways, you can revolutionize traditional industries and redefine the way services are accessed and delivered.
FAQ's
1. What is the future of on-demand apps?
As more people use their smartphones to access services for convenience and accessibility, the demand for on-demand apps is likely to grow only in the future. With the integration of emerging technologies such as AI, data analytics, Blockchain and cloud computing, on-demand apps will take user experience to new heights.
2. How much does on-demand app development cost?
The cost of on-demand app development can vary significantly depending on various factors, such as the complexity of the app, the number of features, the choice of platform (iOS, Android, or both), the location of the development team, and the hourly rates of developers. However, as a general rule of thumb, you can expect to pay anywhere from $10,000 to $100,000 or more to build an on-demand app.
To get a precise estimate, consult a reliable on-demand app development company like InfoStride to help you. So, get in touch with us today.
3. What are the steps involved in on-demand app development?
No matter which on-demand app development app you choose, the basic steps involved to build an on-demand application includes:
Market Research
Conceptualization and Planning
Development
Testing and Quality Assurance
Deployment
Growth Marketing
We recommend building an MVP first with basic core features if you are on a budget.