Today, the demand for on-demand food delivery apps has escalated profoundly with more and more people enjoying the convenience of getting food delivered to their doorstep.
With the launch of platform-to-consumer food delivery services like DoorDash which provide a broader selection of local and national restaurants and cuisines, the online food delivery market revenue has surged by 204% in the last five years.
This has also made aspiring entrepreneurs who are looking forward to investing in a similar on-demand food delivery app dig into the business model of DoorDash.
If you're one of those entrepreneurs, here is a complete guide to help you learn how DoorDash works and makes money.
Before we get to the business and revenue model of DoorDash, let's first have a look at its quick overview and key stats.
What is DoorDash?
Founded in 2013, DoorDash is a US-based on-demand food ordering and delivery service that connects consumers with restaurants and convenience stores.
With a 55% market share, DoorDash dominates the food delivery market in the U.S. It also holds a 60% market share in the convenience delivery vertical. It has a presence across more than 7,000 regions in all 50 U.S. states.
Besides the U.S., DoorDash is also available in other countries including Canada, Australia and Melbourne.
The company has its own fleet of contractual delivery workers – who are known as Dashers – and delivers orders at the doorstep of the customer.
In 2021, DoorDash clocked a revenue of $4.88 billion.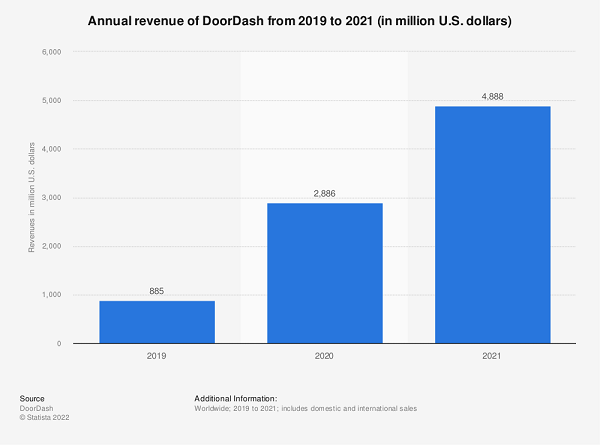 Key Stats & Facts About DoorDash 
Year of Foundation: 2013
Founders: Andy Fang, Tony Xu, Evan Moore and Stanley Tang
Headquarters: San Francisco, California, United States
Industry: Online Food Ordering & Delivery
Number of Funding Rounds: 12 (As Per DoorDash's Crunchbase Profile)
Total Funding Amount: $2.5B
No. of Lead Investors: 12
Number of Acquisitions: 7
Also Read: Top MVP Development Companies for Startups
DoorDash's Customer Segments
DoorDash operates on a Y structure business model. It emphasizes all three segments of food delivery: users, restaurants and drivers.
Users:
People who can't cook
College students with no access to a kitchen facility
Professionals who can't dine in due to lack of time
Restaurants:
Restaurants that lack home delivery staff
Food joints with poor seating arrangements
Restaurants that are interested in a large user base of DoorDash
Drivers:
People who need a part-time or full-time job with a flexible schedule
People who need a job that pays a decent salary
Value Propositions Offered by DoorDash
DoorDash is the biggest food delivery company in the U.S. and its success can be attributed to the benefits it brings to each customer segment.
Have a look below:
For Users:
A wide selection of restaurants to choose from
24×7 customer service
Live order tracking
Facilitate no-contact delivery and self-pickup
Better pricing
For Restaurants:
A massive customer base
Access to a network of delivery guys for food delivery
Facilitate self-delivery at a reduced commission
Enhanced visibility via marketing and branding
Data analytics to improve customer experience and boost sales
For Drivers:
An excellent source of income to achieve goals
Great tips from customers
Flexible working schedule
Also Read: Top Gaming Chat Apps and How They are Generating Millions in Revenue

Business Model Explained: How DoorDash Works?
DoorDash has adopted a platform-to-consumer model that enables customers to order food from its partner restaurants and get the food delivered at the doorstep either by the restaurant itself or a dasher (a driver of the platform).
But, how does a DoorDash delivery service really work? Let's have a look:
To place an order via the DoorDash app, the user first has to download the app and it is available on both Google Play Store and App Store.
Once providing the location, the app empowers users to choose from a massive range of cuisines from different restaurants which include KFC, Taco Bell, Pizza Hut and Subway – to name a few.
DoorDash has made it easy for users to make payments after placing an order via in-app payment options. The company's delivery charges depend upon the distance between the pickup and drop-off location.
After receiving the payment, the order is directed to the respective restaurant and then the restaurant starts preparing the meal.
Once the ordered food is prepared by the restaurant, the dasher (delivery person) picks up the food from the respective food joint for delivery. DoorDash enables users to track the order for convenience.
Likewise, it allows the restaurants to track the driver's location to help them estimate dispatch time. This, as a result, ensures a smooth experience for every party involved.
The dasher delivers the food at the drop-off location.
Users, though not mandatory, can tip the dashers if they would like to. DoorDash allows dashers to retain 100% of the tip received.
Also Read: How to Create an App like InstaShop?

Revenue Model Explained: How DoorDash Makes Money?
Now that you have learned what DoorDash is and how it works, let's have a look at the strategies it follows to bring money to the table.
1. Commission-based Revenue Model
For every successful order made via its platform, DoorDash earns a variable commission from restaurants.
As of now, DoorDash has a tiered commission structure. To put it into simple words, it offers three different plans for restaurants to choose from – Basic, Plus, and Premier.
Depending on which plan the restaurant goes with, DoorDash charges a percentage of the order subtotal.
Basic: 15%
Plus: 25%
Premier: 30%
Note*: In case the user has chosen to pick up the order, then DoorDash charges 6% of the order subtotal – irrespective of the plan selected by the restaurant.
2. Delivery Fee Model
Another source of revenue for DoorDash is the delivery fee.
The delivery fee is calculated depending upon the distance between the pickup and drop-off location and demand. Typically, it ranges from $5 to $8 per order.
3. Fee-for-service (FFS) Model
Besides delivery fees, DoorDash also charges service fees and small order fees based on the order total.
4. Subscription-based Revenue Model
DoorDash has a subscription service called DashPass for customers to save on delivery and service fees.
At $9.99 per month, customers pay a $0 delivery fee and enjoy reduced service fees when placing an order of $12 or above from any DashPass-eligible food joint.
Note*: A subscription program DoorDash is available in some regions only.
5. Software as a service (SaaS) Revenue Model
DoorDash has a SaaS revenue model in the form of DoorDash Storefront for restaurants.
DoorDash Storefront is software to help restaurants to set up their own online ordering system and take control of online delivery and pickup orders.
Though DoorDash charges no commission fees or monthly software fees for Storefront, merchants and restaurants pay credit card processing fees for every transaction (2.9%) and $0.30 for every order. To learn more in detail, check out here.
6. Advertisement-based Revenue Model
DoorDash also brings money to the table via its DoorDash Marketing program for restaurants. Restaurants and food joints are charged for their marketing and advertising on the platform.
As you can see, DoorDash is more than just a food delivery platform. Moreover, its revenue model doesn't just include only these revenue streams.
DoorDash also generates considerable revenue from acquisitions of companies (including Caviar, Rickshaw, Scotty Labs & more), DashMart (a convenience store platform for retail businesses), gift cards for customers, DoorDash Store and DoorDash for Work.
Also Read: Trending Startup App Ideas You Can Launch
Interested in Building an Online Food Delivery App Like DoorDash?
With the food delivery market growing at an impressive rate and showing no signs of slowing down, investing in food delivery app development like DoorDash is indeed a smart move.
So, how to begin? The first and foremost step is to find and hire developers who can bring your food delivery app vision to life.
At InfoStride, we strive to help entrepreneurs, startups and companies cut to the chase and start building amazing things by providing instant access to skilled developers.
We can also help assemble a full-scale development team of designers, developers, project managers and other experts you need to invigorate your DoorDash-like app idea. By hiring developers from InfoStride, you can relish the following advantages:
Recruitment savings: We provide you with already pre-screened developers who are technically strong and fluent in English to save you from pre-hiring responsibilities.
No infrastructure investment: Get access to dedicated developers who are fully equipped with the required technology to start working as soon as they are deployed.
Administrative support: We take care of each and every post-hiring aspect from onboarding to payroll, taxes and compliance on your behalf.
Flexible engagement models: Hire developers as your project and budget demands – hourly, monthly or project basis.
Interested? Share a few details about your requirements below to get started today!
Conclusion
We hope that our post has given you answers to concerns like how DoorDash works and how it generates revenue.
From commissions to subscription service and delivery fees, it relies on many revenue streams to generate money. Right now, DoorDash is a leader in the U.S. online food delivery market with strong competition from Grubhub and UberEats.
If you're interested in building a DoorDash-like food delivery app, you must collaborate with skilled experts to make your project successful.
Explore more Business models of other Startups