Prior to the global COVID-19 pandemic, a study by PwC stressed that most consumers worldwide value convenience and speed more than anything else. In the USA alone, 80% of consumers said that they are the key elements of a positive customer experience.
It's no surprise that the pandemic has further accelerated this trend, especially in terms of quick commerce delivery wherein companies and on-demand delivery platforms promise to deliver items in a few minutes.
In fact, as per a Coresight Research report, the quick commerce retail industry is anticipated to clock $20 billion by 2021 and GoPuff, the key U.S player in the industry, seizes more than 70% of the U.S. market.
Whether you're just curious to learn more about GoPuff or planning to build a similar platform like GoPuff, this comprehensive post is exclusively for you. Read on to deep dive into what GoPuff is all about, and how it works and generates revenue.
What is GoPuff?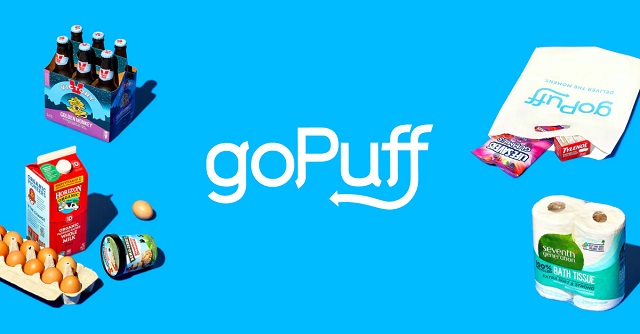 GoPuff is a Philadelphia-based on-demand delivery platform for immediate daily needs from late-night snacks, household goods, over-the-counter medications to food and drinks and alcohol (in some markets), delivered directly to the customer, 24 hours a day, 7 days a week.
With over 500 micro-fulfilment centres stocked with 4,000 products in over 1,000 cities across the U.S., U.K., and France, GoPuff delivers thousands of items in minutes.
Thanks to its lightning-fast delivery time, GoPuff is now one of the biggest on-demand delivery startups in the United States.
GoPuff generated revenue of approximately $1 billion in 2021, which was three times the amount the platform clocked in 2020.
Also Read: Top Trending Startup App Ideas
Key Stats and Facts About GoPuff
Year of Foundation: 2013
Founders: Rafael Ilishayev and Yakir Gola
Headquarters: Philadelphia, Pennsylvania, United States
Industry: Retail (On-Demand Delivery)
Number of Funding Rounds: 9 (As Per Gopuff's Crunchbase Profile)
Total Funding Amount: $3.4B
Number of Acquisitions: 6
Valuation: $15 billion (As of 2021)
The Success Timeline of GoPuff
Here's a quick overview of Gopuff's success timeline:
| | |
| --- | --- |
| November 2013 | GoPuff was Born |
| November 2015 | Raised $8.3M in Series A Round Funding |
| December 2016 | Raised $13M in Series B Round Funding |
| December 2017 | Raised $42.5M in Series C Round Funding |
| November 2018 | Raised $108.5M in Series D Round Funding |
| August 2019 | Raised $750M in Series E Round Funding |
| October 2020 | Raised $377.5M in Series F Round Funding |
| November 2020 | GoPuff Acquired BevMo! (Alcohol Beverage Retailer) for $350 million |
| March 2021 | Raised $1.2B in Series G Round Funding |
| May 2021 | GoPuff Acquired Fancy (UK-based Delivery Firm) |
| Jun 2021 | GoPuff Acquired RideOS (Fleet Management Platform) |
| Jun 2021 | GoPuff Acquired Liquor Barn (Kentucky-Based Liquor Store Chain) |
|  July 2021 | Raised $1B in Series H Round Funding |
| July 2021 | GoPuff Acquired Bandit (Austin-based Retail Coffee Brand) |
| August 2021 | GoPuff Acquired Dija (UK-based Grocery Delivery Startup) |
Gopuff Story: The Journey to Become a Multi-Million Dollar On-Demand Delivery Startup
Gopuff, the on-demand delivery platform, was founded by Rafael Ilishayev and Yakir Gola, students of Drexel University.
It all started when the two of them were in college. Since Gola was the only one who owned a car among all their peers in college, he always went out to buy daily needs.
Often, Gola and Ilishayev would visit multiple stores at different locations to bring different items. The whole process took too much of their time.
Though e-commerce giants such as Amazon and other food delivery platforms were catering to home delivery services, there was no service catering to emergency needs or late-night cravings. That's when they realized that they need to come up with a service that could help people avail things on their doorsteps and within minutes.
Along the way, they created GoPuff.
"We wanted to satisfy those last-minute cravings and so many people want it right now — they run out of cups, they want a late-night snack or a quick drink or Red Bull for a test the next day." – said Yakir Gola, Co-Founder & Co-CEO of GoPuff.
When they started working on this very business model, they delivered only 50 cheaper items in a particular region. Hence, they didn't make much money from this venture.
However, they invested 60,000 that they earned through selling a family friend's old office furniture and also found investors for their venture.
At first, they didn't have enough money to hire people for the delivery. Thus, two of them themselves delivered items for the first six months. In 2015, Gola decided to focus completely on this venture and left college. Ilishayev, on the other hand, graduated from the University.
Fast forward to now, GoPuff operates over hundreds of locations, employs 10,000 employees and caters to shoppers in more than 1,000 cities in the USA and Europe.
Also Read: Calm App Business and Revenue Model Explained

Business Model Explained: How Gopuff Works?
GoPuff operates on an inventory-based business model.
It purchases products directly from different manufacturers and stores them in its warehouses. The company has hundreds of micro-fulfillment centers and a large network of delivery partners across different locations to fulfil an order in 15-20 minutes.
Below is a quick overview of how GoPuff works:
To get started, users need to sign up, either via the company's website or by simply downloading the Gopuff app available on both Google Play Store and Apple App Store.
After specifying their delivery locations, the user is directed to inventory and can browse thousands of products available from their local Gopuff warehouse and add items they want to purchase to their cart.
GoPuff accepts various credit cards (Visa, MasterCard, American Express and Discover) and debit cards. Also, it facilitates placing orders online via Apple Pay and Google Pay.
Once placing the order, Gopuff's driver-partner picks up the ordered items from the company's local facility and delivers them to the customer within minutes.
Also Read: eBay Business & Revenue Model
Revenue Model Explained: How Gopuff Makes Money?
GoPuff makes use of the following revenue models to make money.
1. Markup Revenue Model
GoPuff purchases, stores and sells its products directly to the customers, unlike its many competitors which deliver items from other restaurants and supermarkets
Thus, the company makes money whenever an order is placed. The difference between the sales price and all related costs (such as buying and storing the item) is the actual profit Gopuff earns.
"With control over inventory, access to real-time order information, and direct relationships with suppliers, we also have the flexibility to quickly update and localize our assortments to meet changing customer needs. As an example of this, we quickly added COVID-19 test kits to the platform nationwide in response to the pandemic. " – GoPuff
No wonder why investors and businesses alike find this revenue model lucrative.
2. Subscription Revenue Model
Another way Gopuff makes money is through a subscription program called GoPuff FAM available to its customers. This program unlocks invaluable benefits such as no delivery fee and other discounts at $5.95 per month.
3. Delivery Fee Model
For customers without the Gopuff FAM subscription program, the company charges a delivery fee of $1.95 for every order. An additional $2 is charged to orders that include alcohol.
The delivery fee is waived for orders above $49. However, at that point, GoPuff yields enough profit from the margins which substitutes for the delivery fee.
4. Advertising Based Revenue Model
Another significant revenue source for the company is Gopuff ads.
The company sells preferential product placements to brands that are interested in the promotion of their products on Gopuff's platform.
Brands like Mars Wrigley, PepsiCo, Unilever and Kraft Heinz have taken advantage of GoPuff Ad Solutions and witnessed remarkable repeatable outcomes with managed campaigns.
GoPuff Ads operates on a cost-per-click advertising model, which implies advertisers get charged when a customer clicks on their ad.
Interested in Building an On-Demand Delivery Platform Like GoPuff?
There's no doubt that investing in GoPuff-like app development is a lucrative business decision. But to outperform already existing strong players in the quick commerce industry, you need a strong development partner.
Even CB Insights highlighted that one of the key reasons why startups fail is due to not deploying the right team to build a product.
When it comes to attracting the best talent all while on the budget, businesses and companies alike are going with remote product development by hiring remote developers or building a full-scale remote development team.
At InfoStride, we can help you assemble a dedicated remote development team featuring tech specialists required to turn your vision into a fully functional product like Gopuff.
Already vetted developers: Get access to pre-screened developers, designers, consultants, testers and other tech geeks who will work from our development facility, saving you both time and money.


No administrative hassle: From onboarding to payroll and compliance, we take care of everything and let you focus on what matters the most.


Flexible engagement models: You can hire a solo developer or a complete development team on an hourly, monthly or project basis.
If we've piqued your interest or want to hire developers now for your project, get in touch with us to get started.
Also Read: Guide to Build Offshore Development Teams 
Conclusion
GoPuff is a go-to on-demand delivery platform that continues to grow since its inception.
Delivering immediate essential goods any hour of the day and within 30 minutes directly to the customer is what makes Gopuff unique within the quick commerce delivery industry.
Through this post, we've shed a light on its inventory-based business model and different revenue models to help entrepreneurs like you get started with building a Gopuff-like app.