The healthcare industry underwent significant changes due to the COVID-19 pandemic, with one of the most notable shifts being the rise of on-demand telehealth and telemedicine services.
By 2030, the global telehealth market is expected to reach $504.24 billion from $142.96 billion in 2023.
Now, one can skip the waiting room and call a doctor whenever and wherever needed to get the necessary medical assistance. All thanks to apps like Doctor On Demand telehealth app that has revolunitized the way people access healthcare services, making medical care more accessible and affordable.
Thus, it comes as no surprise to see visionary entrepreneurs wanting to enter this industry and look forward to working with the best on demand app development company to create on-demand telehealth apps.
In this article, we're going to dig deeper into the Doctor On Demand business model –  how it works and makes money to help you build a similar platform like it. 

Unveiling the Story of Doctor On Demand: The Next-Generation On-Demand Telemedicine Platform
Founded in 2013 by Dr. Phil McGraw, Jay McGraw, and Adam Jackson, Doctor On Demand is a trusted name in the on-demand telehealth and telemedicine industry, catering to millions of patients across the United States.
Driven by the mission of improving the world's health through compassionate care and innovation, the founders embarked on a journey to leverage technology to bridge the gap between patients and healthcare providers.
Thus, they launched an on-demand telemedicine platform that enables patients to connect with certified physicians from the comfort of their homes, eliminating the need for in-person appointments and long wait times.
As the Doctor On Demand telehealth platform gained popularity, it expanded its services over the years to offer a comprehensive range of healthcare services through a single, unified platform.
With the outbreak of the COVID-19 pandemic in 2020, it witnessed an unprecedented rise in demand.
Recognizing the urgent need for virtual healthcare, the platform expanded its capacity, added more healthcare providers to its network and played a crucial role in ensuring individuals had access to the necessary healthcare during the crisis. This further solidified the platform's position as a leading telemedicine provider.
Now, Doctor On Demand is a part of Included Health, a healthcare technology company that provides virtual care, navigation, and other services. The combined company is well-positioned to capitalize on the growing demand for virtual care and navigation services across the United States.
Key Facts and Funding Timeline of Doctor On Demand
Founders: Dr. Phil McGraw, Jay McGraw, Adam Jackson
Headquarters: San Francisco, California, United States
Presence: All 50 States in the USA
Total Funding Amount: $235.7M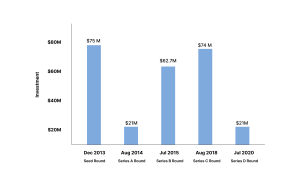 Doctor On Demand's Customer Segments
Doctor On Demand partners with physicians and mental health professionals to provide on-demand telehealth services to a wide range of customers who seek convenient and accessible healthcare, including but not limited to:
People with chronic conditions
People in remote or underserved areas
Employers and their employees
Behavioral health seekers
Individuals seeking second opinions
Value Propositions Offered by Doctor On Demand
Doctor On Demand telehealth app offers several value propositions to its each key customer segment that make it stand out in the competitive on-demand telemedicine market. Let's have a look:
Patients
Convenience: Patients can connect with a doctor from anywhere, 24 hours a day, 7 days a week and all they need is an internet connection.
Affordability: Its prices are typically lower than the cost of an in-person doctor's examination. This makes it possible for people to get the necessary medical care without breaking the bank.
Quality: Its diverse team of healthcare providers are all board-certified and seasoned. This ensures that patients get high-quality care.
Privacy: All patient communication happens via Doctor On Demand telehealth platform is HIPAA-compliant.
Ease of use: Doctor On Demand telemedicine platform is easy to use. Patients can schedule appointments either through the app or website, and they can engage in a virtual consultation with their doctor from anywhere with just a few clicks.
Comprehensive healthcare services: It offers a wide range of medical care services than other telemedicine platforms in the market. From urgent care to mental health, preventive health, chronic care, skincare and medicare, patients can avail all these services through a single platform.
Healthcare Providers
Increased reach: Doctor On Demand telehealth platform allows doctors to connect with patients from anywhere. This means that doctors can expand their reach beyond their local area and see patients who live in rural areas or who have difficulty getting to a doctor's office.
Competitive pay: It pays a competitive rate to healthcare providers for their services. This means that they can earn more money by partnering with the Doctor On Demand telemedicine platform than they would by seeing patients in their own healthcare practice.
Access to a wider range of patients: It gives healthcare providers access to a wider range of patients than they would typically see in their own practice. This can help them build their practice and boost their income.
Employers
Improved employee health: Doctor On Demand telehealth platform helps employers improve the health of their employees, lowering healthcare costs, boosting productivity and a happier workforce.
Reduced healthcare costs: It helps employers reduce their healthcare costs by offering prices typically lower than the cost of traditional healthcare delivery.
Happier workforce: It helps employers create a happier workforce. This is because employees who have easy access to convenient and affordable healthcare are more likely to be happy.
Doctor On Demand Business Model Explained: How It Works?
Doctor On Demand telehealth platform primarily follows the Direct-to-Consumer (D2C) model. This means that it directly connects patients (consumers) with certified healthcare providers through its online platform.
Under the D2C model, patients can access the website or app, choose the type of healthcare services they need and schedule virtual appointments with a healthcare provider of their choice at the date and time that best fits their schedule. Patients pay for the healthcare services they receive directly to the platform.
Additionally, it also follows the Business-to-Business (B2B) model through partnerships with employers and health plans. Through such partnerships, employees and health plan members can access Doctor On Demand telehealth services as part of their benefits package, providing instant virtual healthcare.
Doctor On Demand Revenue Model Explained: How It Makes Money?
Doctor on Demand telehealth app revenue has been growing continually in recent years. According to ZoomInfo, the company reported revenue of $75.9 Million. The company's revenue is expected to continue to grow in the future, as the demand for on-demand telehealth and telemedicine services continues to increase.
So, how does Doctor On Demand generate revenue? It makes money through several sources such as subscription fees, partnerships, advertising and among others. Let's have a look at each in detail:
Doctor On Demand telehealth app generates revenue by charging consultation fees for video consultations with healthcare providers. Patients have to pay for each virtual visit they schedule through the platform. The fee structure varies based on the type of healthcare provider sought and the duration of the virtual session.
Below is a breakdown of the consultation fees for different types of virtual visits on the platform without insurance:

Doctor On Demand telemedicine platform charges a commission from healthcare providers who use its platform. The commission is typically a percentage of the fee that patients pay for virtual visits.
The amount of the commission varies depending on the following factors:
The type of visit: it charges a higher commission rate for longer visits.
The patient's insurance plan: it charges a lower commission rate to patients with insurance that covers telehealth visits.
The doctor's specialty: it charges a higher commission rate for virtual visits with certain specialties, such as dermatology and psychiatry.
Doctor On Demand also brings money to the table by partnering with leading employers like Humana and Walmart, health insurance companies and healthcare systems to offer its on-demand telehealth services as part of their network.
In addition to these revenue streams, Doctor On Demand may make money from advertisements and sponsored listing as well.
How Can You Create an On-Demand Telehealth App Like Doctor on Demand?
If you find Doctor On Demand's success story inspiring, you too can develop a custom on-demand telehealth platform and disrupt the industry. To embark on this journey successfully, you need a reliable and experienced on demand app development company.
At InfoStride, we specialize in creating both custom and white-label telemedicine software solutions that enhance the quality of care and revolutionize the healthcare landscape.
Reach out to us today with your idea and let us guide you through the process of bringing your vision to life.
Conclusion
That was our take on the Doctor On Demand business model and how it works to help you build a similar on-demand telemedicine platform like it.
When venturing into the thriving on-demand telemedicine market, it's crucial to consider the existing competition in the market. To set yourself apart from the rest, it is essential to define a unique value proposition that differentiates your solution.
Doctor On Demand, for example, distinguishes itself by offering a comprehensive range of virtual healthcare services, affordable pricing and maintaining a network of certified physicians.
If you're struggling to find the distinctive features that will make your on-demand telemedicine app idea stand out, seek the expert guidance of our telemedicine app development experts at InfoStride.
FAQs
1. What is an on demand doctor app?
An on-demand doctor app empowers patients to connect with doctors remotely via video chat to get medical advice and treatment in a convenient and affordable way. Thus, when you can't meet a doctor in person, doctor-on-demand applications come to your rescue. Some of the most popular on-demand doctor apps include Doctor On Demand, PlushChare and Amwell.
2. How do I create a telemedicine app?
Building an on-demand telehealth app like Doctor On Demand involves several steps, from initial planning to designing, development and launch. Below is a quick glimpse of the key steps that on demand app development company follows to deliver quality telehealth software solutions: 
Step 1: Market research and planning.
Step 2: Define the features and functionality.
Step 3: Choose the app platform (Android or iOS or both).
Step 4: Hire skilled developers to start the development.
Step 5: Ensure compliance with healthcare regulations, such as HIPAA.
Step 6: Telemedicine integration with the solution.
Step 7: Person rigorous quality assurance and accessibility testing.
Step 8: Market launch, growth marketing and continuous enhancements.
3. How much does it cost to develop a doctor on demand app?
The cost of building on-demand doctor applications varies depending on a number of factors, including the features you want to include, the complexity of the app and the development team you hire.
However, on average, you can expect to pay anywhere from $50,000 to $250,000 or more for a doctor on demand app development project.
If you are an entrepreneur or business with a tight budget, build an MVP first with basic core features and functionalities to make sure that it is worth the full-fledged investment late.
4. What is HIPAA in telemedicine?
The Health Insurance Portability and Accountability Act (HIPAA) is a federal law that aims to safeguard the privacy and security of patients' protected health information (PHI). When telemedicine technology is used, PHI is often transmitted over electronic networks, thus HIPAA compliance is crucial for on-demand telemedicine software solutions.
5. How do you ensure an app is HIPAA compliant?
There are several ways to ensure HIPAA compliance in on-demand telemedicine apps. These include:
Have strong access controls
Have a security incident response plan