In today's fast-paced world, businesses face a rapidly evolving landscape driven by disruptive technology advancements, globalization, economic shifts and the changing nature of work.
The Fourth Industrial Revolution is reshaping almost every business sector, while the COVID-19 pandemic has accelerated remote work adoption and digital transformation at an unprecedented pace.
In the face of these transformative forces, the success of any business hinges on its ability to adapt, innovate and future-proof its workforce. Thus, building a resilient workforce armed with the right skills, mindset and agility to embrace tomorrow's challenges and opportunities will position your organization for long-term success.
In this article, we are going to shed light on the areas you should focus on to prepare a workforce of the future and how IT staff augmentation services can pave the way to strengthen your organization as a whole.
Why must you first get to know your workforce inside and out?
Future-proofing your workforce is the process of ensuring that your employees have the skills, expertise and knowledge they need to succeed today and in the future. To do this effectively, you must get to know your workforce inside and out to build a comprehensive workforce strategy.
Taking the time to understand your employees' skills, capabilities and areas for improvement will allow you to identify skill gaps and tailor targeted training and development programs. This insight will empower you to nurture internal talent and foster a culture of continuous learning, laying the groundwork for a resilient and future-forward workforce that propels your organization to thrive amidst constant change.
Here are some handy tips for getting to know your workforce inside and out:
Conduct regular skill assessments to identify areas for upskilling or reskilling.
Engage in one-on-one conversations to understand employees' career goals and aspirations.
Encourage open feedback and communication through surveys and suggestion boxes.
Analyze performance data and productivity metrics to identify strengths and improvement areas.
Promote cross-department collaboration to assess capabilities in several contexts.
Implement skill mapping to identify potential skill gaps and training needs.
How to Future-Proof Your Workforce to Thrive in Uncertainty?
Today, future-proofing a workforce is not merely an option but a necessity for businesses to keep up with the accelerated pace of change to thrive even amidst uncertainty. So, are you ready to build your workforce of the future? 
Here are the key strategies to prepare your workforce for the unforeseen:
1. Focus on flexibility and agility
Technology is evolving at breakneck speed, new business models are emerging all the time, customer expectations are always changing and employees are now demanding more flexibility and control over their work lives.
A survey by Economist Intelligence revealed that 90% of executives believe that organizational agility is essential for business success.
Thus, organizations that focus on building a flexible and agile workforce are better prepared to embrace change, stay ahead of the competition, foster innovation and drive sustainable success in today's ever-changing business ecosystem. There are a number of things that businesses can do to build a flexible and agile workforce such as:
Over 40% of the US workforce is composed of contingent workers.
Contingent talent, such as freelancers, contractors, temporary workers and gig workers, plays a crucial role in building an agile and flexible workforce.
After all, contingent workers often have specialized skills and expertise that can be difficult to find in full-time employees. This can be especially helpful for businesses that need to quickly ramp up their capacity to access specialized skills for a specific project.
For example, a technology company can hire contingent talent to handle specific data-driven projects or to analyze large datasets. Moreover, healthcare institutions can also benefit from contingent workers during periods of high patient volumes or staff shortages.

Businesses can embrace technology to automate tasks, improve communication and make better decisions.
For example, businesses can use chatbots to answer customer questions, use data analytics to make better decisions or rely on the human resources management system (HRMS) to automate many of the manual tasks that are typically associated with HR, such as onboarding, payroll, compliance and benefits administration.
This can free up employees to focus on more strategic initiatives and adapt to change more quickly.
Foster a culture of continuous learning
A culture of continuous learning encourages your employees to take on new challenges and learn new skills. This will make your workforce more adaptable to change. There are a number of ways to cultivate it:
Provide various learning opportunities such as workshops, online courses, webinars, and mentorship programs, to cater to different learning styles and preferences.
Encourage employees to explore learning opportunities outside their typical job roles, fostering a broad range of skills and expertise.
Provide a platform for employees to share their expertise and insights with one another, promoting a collaborative learning environment.
2. Upskill and reskill from time to time
Technology advancements and changing job demands have created a disparity between the skills possessed by the current workforce and the skills required for emerging roles. Many traditional jobs are becoming obsolete, while new and innovative roles are surfacing, necessitating a significant shift in the skill sets required.
The World Economic Forum reveals that over half of all employees will need to upskill or reskill by 2025 to keep pace with the evolution of jobs.
By upskilling and reskilling your workforce, you can bridge skill gaps and ensure you have a highly competent workforce capable of meeting the challenges of the future.
According to the reports from LinkedIn, Upwork and Adobe, the most in-demand skills are Blockchain, cloud computing, SEO, AR/VR, Data analysis, AI and among others.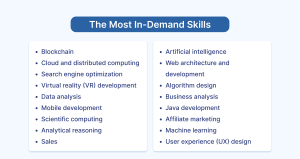 Here are some proven tips to effectively upskill and reskill your workforce:
Conduct a thorough analysis of your company's current and future skill requirements.
Launch targeted and personalized upskilling development programs that focus on the skills required for current or future roles in your workforce.
Partner with external training providers to offer specialized courses or certifications.
Continuously reassess the skill requirements of your company to remain agile and future-focused.
Make continuous learning a part of your company's culture.
Set measurable goals and monitor the progress of upskilling and reskilling efforts.
3. Embrace the remote and hybrid work
The pandemic's impact led to an accelerated shift toward remote work, a trend that's likely to continue for many years to come.
A survey by Zippia shows that 68% of Americans would prefer to be fully remote. Additionally,38% of workers stated that they would quit a job that mandated even just a day of onsite work.
Thus, companies that don't adopt remote work options risk losing great talent.
The future of work is remote and organizations that embrace this trend will be better positioned to future-proof themselves in an increasingly dynamic digital world.
Moreover, offering remote work options can bring numerous benefits to your organization. Firstly, it can foster increased productivity and job satisfaction among employees, as they can work in environments that suit them best, reducing distractions and commuting stress. Additionally, hiring remote talent can reduce overhead expenses associated with office space, utilities and other facilities.
However, many employers today want their workforce back in the office but employees still wish to work from home. In such scenarios, the best option is to enable hybrid work and let your employees work from home for 2 or 3 days.

4. Create a strong employer brand
Whether you're a big company or a start-up, your employer brand strategy plays a crucial role in future-proofing your organization.
According to LinkedIn, 72% of recruiting leaders stated that the employer brand has a significant impact on the hiring process. Moreover, 75% of job seekers take an employer's brand into consideration before applying for a job.
A strong employer brand helps attract in-demand talent and roles such as DevOps engineers, cybersecurity specialists, cloud architects and blockchain engineers that could help build a workforce of the future. Additionally, you can retain your most valuable employees, reducing turnover and the associated costs.
Here are some top tips for proactively creating and nurturing your employer brand to build a workforce of the future:
Start by conducting surveys to pinpoint areas of improvement and work towards providing a better employee experience.
Promote diversity and inclusion by hiring people from different backgrounds, acknowledging holidays of all cultures, focusing on technological accessibility in the workplace and leading by example.
Create a compelling EVP (employee value proposition) that includes elements job seekers desire such as work-life balance, job security, a positive working environment, compensation & benefits and career development.
5. Team up with a staffing company
Joining forces with a reliable staffing company like InfoStride can be a valuable asset for businesses that are looking to future-proof their workforce.
Below are several ways through which InfoStride's IT staff augmentation services can help you build a future-forward workforce.
Access to our curated diverse talent roster
Working with InfoStride gives you instant access to our large pool of pre-qualified talent, including specialized and niche skills. Whether you need one person, an entire team or full-scale outsourcing, we can provide customized solutions and delivery models.
Get access to top talent on a contract, contract-to-hire and permanent basis.
Add specialized talent across your organization – from engineering, administration, developers, QA and performance experts and everything in between.
A diverse talent database to meet both on-site and remote staffing needs.
Access talent from a broad range of industries and sectors.
Hire candidates across all experience levels, from entry-level to the C-suite.
Flexible workforce solutions
We understand that workforce needs can fluctuate due to changing market conditions or project demands. Thus, we provide an unmatched level of flexibility, allowing you to quickly scale up or down your workforce based on your immediate requirements, thus adapting to evolving business needs efficiently.
InfoStride's workforce acceleration services are designed to equip your employees with the skills & tools they need to drive innovation and growth. We'll help you build custom recruiting, training and managed workforce training programs to upskill and reskill your workforce to be well-rounded and effective today and in the future.
Optimize recruitment costs
Our years of expertise in IT staff augmentation services, workplace compliance and a deep understanding of market trends, compensation benchmarks, and hiring best practices can help streamline your recruitment process and build a workforce management strategy that provides a positive return on your investment.

Conclusion
Automation, digitalization and AI are reshaping every job role across industries. Thus, it's a must for employers to have a future-forward workforce strategy in place to succeed. Key to this is to understand what skills will be relevant in the future and then work on creating a workforce strategy that encompasses how you'll recruit, develop and retain your talent.
If you're looking for smart strategies to develop a workforce of the future within your organization to grab the opportunities of tomorrow, then you must consider engaging with InfoStride for full-scale IT staffing services.
Want to know how we can help address your staffing challenges? Contact us today.