Technological advancements such as smartphones, high-speed internet connectivity, video conferencing and electronic health records have revolutionized the way healthcare providers and patients interact in virtual consultations.
This widespread adoption of these digital technologies has played a remarkable role in the growing popularity of on-demand telemedicine app development solutions like Plushcare.
A whopping 74% of millennials prefer telehealth visits to traditional in-person doctor exams. 
In fact, patients and healthcare providers are both intrigued with the on-demand telehealth technology that enables patients to connect with qualified doctors remotely from the comfort of their homes with just a few clicks on their smartphones. 
Thus, it comes as no surprise to see why aspiring entrepreneurs look forward to creating telemedicine software solutions like PlushCare and how it works. 
Taking the same thought forward, we're going to dig deeper into the PlushCare business model –  how it works and makes money through this comprehensive post.
Unveiling the Story of PlushCare: Revolutionizing the Healthcare Industry
PlushCare was founded in 2014 by Dr. James Wantuck and Ryan McQuaid. 
Driven by his extensive experience as a practicing primary care doctor, Dr. Wantuck realized the shortcomings of traditional healthcare delivery. He witnessed the prolonged waiting times patients had to endure to see a doctor.
Recognizing the need for patient-centric healthcare delivery, he became motivated to find a transformative solution that addresses the limitations of the traditional healthcare system. 
Ryan McQuaid was an aspiring entrepreneur and passionate about using technology to solve problems. He saw the potential of on-demand telehealth and telemedicine app development solutions to make healthcare more accessible and convenient.
Thus, Dr. Wantuck and Ryan McQuaid joined hands to start PlushCare. The company's mission is to "make healthcare more convenient, affordable, and accessible for everyone."
The company's first product was a mobile application that allowed people to book video appointments with doctors online. 
In 2021, PlushCare was acquired by a leading healthcare technology company Accolade for $450 million. The acquisition helped PlushCare expand its reach. Today, Plushchare is one of the leading on-demand telemedicine platforms in the United States with a strong presence in all 50 states. 
Key Stats & Facts About Plushcare
Year of Foundation:

2014

Founders:

Dr. James Wantuck and Ryan McQuaid

Parent Company:

Accolade

Headquarters:

San Francisco, California, U.S.

Industry: Healthcare
Presence:

All 50 States in the USA

Number of Funding Rounds:

5 (As Per

Plushcare's Crunchbase Profile

)

Total Funding Amount:

$31M

No. of Lead Investors:

2
Plushcare's Customer Segments
PlushCare partners with qualified doctors to provide on-demand telehealth services to a wide range of customer segments who seek convenient and accessible healthcare, including but not limited to:
People with chronic conditions
Individuals with limited mobility
People who are uninsured or underinsured
Value Propositions Offered by Plushcare
PlushCare offers several value propositions to its members that differentiate it in the competitive on-demand telemedicine software solutions market.
Convenience and Accessibility:

PlushCare makes it easy for members to get virtual care from anywhere, at any time. Members can schedule same-day appointments online or through the PlushCare mobile app to engage in video consultations with doctors.
Comprehensive Healthcare Services:

PlushCare offers a wide range of healthcare services, including primary care, urgent care, mental health consultations, and chronic condition management through a single platform.
Qualified Healthcare Providers: PlushCare maintains an extensive network of qualified, licensed doctors experienced in delivering virtual healthcare services.

Patients can trust that they will receive medical care from certified professionals who can provide the right diagnoses, treatment plans and medical advice.
Privacy and Security:

PlushCare places a strong focus on patient privacy and security by implementing strict security measures and adhering to healthcare regulations, such as HIPAA compliance in the United States.
Personalization

: PlushCare's platform is personalized to each member's needs. Members can monitor their health data, set reminders and receive personalized recommendations.
Affordability: PlushCare partners with various insurance companies, making its services affordable to people with insurance coverage.
PlushCare Business Model Explained: How It Works?
PlushCare works on a platform-to-consumer (P2C) business model. This means the company provides a telemedicine platform that connects consumers directly with healthcare providers via the platform, facilitating virtual consultations and delivering remote healthcare services. 
The company does not own any of its own clinics or hospitals. Instead, it partners with licensed healthcare providers. These providers are not employed by PlushCare but rather operate independently and offer their services through the platform. 
But, how does PlushCare really work? Let's have a look:
Step 1: Sign up
Patients can create their accounts through the PlushCare mobile app or website. They will have to provide some basic information, such as their name, date of birth, mobile number and email address. 
Step 2: Choose a plan
PlushCare enables patients to try its platform for 30 days. After that, patients can choose from a wide range of plans, including a monthly plan and an annual plan. 
Step 3: Schedule an appointment
Patients can schedule an appointment with a certified doctor through the PlushCare mobile app or website. The platform facilitates a same-day appointment.
Step 4: Virtual connect with a doctor
Patients can have a virtual visit with their doctor through the PlushCare mobile app or website at the scheduled time. The visit is conducted through a secure video call. 
Step 5: Get care
Patients can get medical care for a variety of conditions, including colds, flu, allergies and more. PlushCare offer the convenience of directly sending prescriptions to a nearby pharmacy for easy pick-up.
PlushCare also offers 24/7 customer support to its members. Members can reach out to PlushCare's team with any concerns they may have. Now, let's have a look at how the company makes money. It's a must to know when planning to invest in telemedicine app development solutions like PlushCare.

PlushCare Revenue Model Explained: How It Makes Money?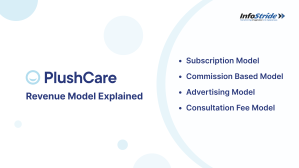 PlushCare generates revenue through various sources such as subscription fees, commission fees, advertising and among others. Let's have a look at each in detail:
PlushCare charges its members a monthly or annual subscription fee to use its platform after a 30-day free trial. The membership provides a number of benefits, including same-day appointments, website & app scheduling, unlimited messaging with the care team, discounts on all follow-up visits, prescription discount cards, discounted lab tests and free family memberships (for up to 5 adults and all children). 
Annual membership – $99/year – billed annually

Monthly membership – $14.99/month – billed monthly
PlushCare charges a commission to healthcare providers who use its platform. The commission is typically a percentage of the fee that members pay for virtual visits. The amount of the commission varies depending on the type of service that is provided.
PlushCare also earns a decent amount of money through advertising.  The company's advertising revenue comes from companies that want to reach its members.
PlushCare charges patients for virtual consultations with healthcare providers on its platform. Patients pay a fee for each consultation, which can vary depending on the type of virtual visit and the duration of the session.
In addition to these revenue streams, PlushCare makes money from copays and by offering additional services such as at-home lab testing kits, prescription medication delivery, or other health and wellness products that complement its telemedicine services.
How InfoStride Can Help with On-Demand Telemedicine App Development Like PlushCare?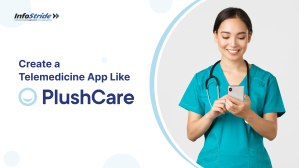 If PlushChare's story has inspired you, you can also create a similar custom on-demand telehealth platform like PlushChare and disrupt the industry. To start off on the right foot, you only need a reliable and seasoned app development partner. 
We at InfoStride specialize in building unbeatable telemedicine software solutions that improve the quality of care and transform the healthcare industry.
Get in touch with us with your telemedicine app idea and let our dedicated team help you turn your idea into a reality in no time.

Conclusion
That was our take on the PlushCare business model and how it works to help you build a telemedicine app like it. 
Keep in mind that there are already many strong players in the market. While investing in telemedicine app development, it's important to first define the unique value proposition of your solution that helps you differentiate from the crowd.

PlushCare stands out by providing comprehensive virtual healthcare services with a strong focus on personalized care and a trusted network of certified physicians. If you need expert help to help you figure out the distinctive features of your on-demand telemedicine app idea, reach out to telemedicine app development experts at InfoStride for the right guidance.
FAQ
1. How much does telemedicine app development cost?
The cost of building a telemedicine app like PlushCare can vary depending on a number of factors, including the features you want to include, the complexity of the app idea and the experience of the development team you hire. 
However, on average, you can expect to pay anywhere from $50,000 to $250,000 or more to create a telemedicine app.
2. What are the essential features to consider when building an MVP for a telemedicine app?
If you want to build an MVP for your telemedicine app idea, it is essential to focus on the core features that facilitate basic telemedicine consultations. Below are some core functionalities to consider for an MVP of a telemedicine app:
User Registration and Profiles

Doctor Search and Selection

Appointment Scheduling

Secure Video Consultations

Electronic Health Records (EHR)

Prescription Management

Notifications and Reminders

Payment Integration
These are some of the major components of on-demand telemedicine software solutions. 
3. What does it mean for a telemedicine app to be HIPAA-compliant?
HIPAA stands for the Health Insurance Portability and Accountability Act. It is a federal law that sets privacy and security standards for healthcare information. Telemedicine platforms that are HIPAA-compliant meet these standards and safeguard patient data.
Below are some of the things that a telemedicine app must do to be HIPAA-compliant:
Encrypt patient data

Have strong access controls

Have a privacy policy

Have a security incident response plan
If a telemedicine app fails to meet these standards, it is not HIPAA-compliant. Thus, it could pose a security risk and patient data could be harmed. When building a telemedicine platform, you should work with a HIPAA compliance app development partner like InfoStride.