Mobile adoption is rising day by day, with tremendous worldwide growth across app downloads and usage and it's showing no signs of going back.
A report by eMarketer suggests that grocery and food delivery apps were among the list of fastest-growing app categories and grocery apps witnessed the biggest growth in 2020.
Moreover, a recent study from Statista unveils that sales from online grocery delivery and pickup in the U.S have escalated in 2020 fueled by the COVID-19 pandemic. In 2019, it was $1.2 billion and grew to $6.4 billion in October of 2021.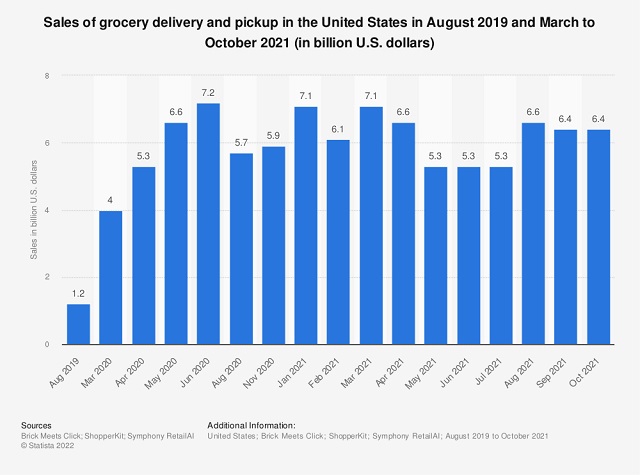 Both "click-and-get" and "click-and-collect" models are gaining momentum among consumers. The former option provides convenience and contactless delivery for people unable to leave their home.
With the option to order online and then collect from in-store, people get a chance to inspect the items before making a purchase. Plus, they get to enjoy the best of both worlds – the convenience of online shopping and an in-store experience.
Since the COVID-19 is likely here to stay for the long haul, the demand for online grocery delivery apps will also likely to increase in the future.
This represents the opportunity for aspiring entrepreneurs to disrupt the industry by investing in an online grocery delivery app marketplace development like InstaShop.
Let's first have a look at more facts and figures proving that the future of the online grocery delivery app market is bright and promising. Later on, we'll dig deeper into how you can build a similar app like InstaShop.
Online Grocery App Market: Stats and Facts to Watch Out
The online grocery shopping sales in the United States is anticipated to hit $187.7 billion by 2024 from $95.8 billion in 2020.
According to eMarketer, young, affluent and urban households are the most likely to purchase groceries online.
The number of adult grocery app users in the United States is anticipated to hit 30.4 million by 2022 from 12 million in 2017.
Modelling key players like InstaShop in the online grocery app delivery industry has become the strategic move for entrepreneurs planning to launch a similar app amid COVID-19. So, below is everything one should know to get success with this initiative.
Read on to learn more about InstaShop, how do the app work and the steps to create an app like InstaShop in detail.
What is

InstaShop

?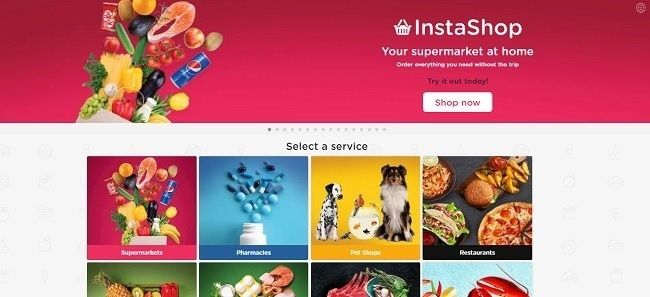 InstaShop is a leading on-demand online grocery delivery app founded in 2015. 
It strives to offer a seamless and convenient grocery experience by allowing you to order groceries online from the comfort of your home and deliver them to your doorsteps within 30-60 minutes.
In addition to grocery, the app even caters to various essential on-demand delivery services such as home cleaning professionals, pharmacy supplies, pet supplies to name a few. This, as a result, makes InstaShop a one-stop-shop marketplace.
Right now, the app clocked 500,000 active users across 5 countries including the UAE, Bahrain, Egypt, Lebanon and Greece.
InstaShop
: Key Highlights, Features & Offerings
Below are some of the reasons why InstaShop has gained immense popularity among consumers as a preferred online grocery delivery app.  
A promise to deliver ordered items at doorstep within an hour
20+ categories of grocery items covering a wide range of day-to-day essentials

 

Additional on-demand delivery services such as medicines, home and living supplies

 

Various secure payment options to choose from such as credit card, online payment via wallet and cash on delivery

 

An option to replace the product or get back refund in case of any damaged item

 

Catered to around the clock product delivery

 

An app available for both Android and iOS users
Choose Business Model to Create Grocery App Like

InstaShop
Before you get into action, you need to understand different types of grocery app business models and decide on ones you want to focus on within your app.  
1. Inventory Based Business Model 
In this model, the eCommerce grocery platform owner buys and stores the inventory. The eCommerce business owner buys items from different suppliers and keeps them in a self-maintained warehouse and is responsible for timely delivery of ordered items.
Example: Grofers & Bigbasket
2. Multi-vendor Marketplace Business Model
This business model brings multiple buyers and sellers together on a dedicated grocery platform to engage in commerce. This is the "Zero Inventory Business Model", implying the platform owner is not responsible for maintaining the inventory.
In this model, either the seller takes care of packaging and dispatching or the platform's owner is responsible for dispatching.
Example: Peapod, InstaShop
3. Hyperlocal Grocery Business Model
This model focuses on meeting the needs of customers within a particular geographical area. The USP of this model is to deliver products at customers' doorsteps at rocket-speed delivery.
Thus, the order pick-up location and the address of the customer should lie within the same zip code. The platform's owner should partner with as many local suppliers or vendors as possible for fulfilling demand.
Example: InstaShop
4. Click and Collect Business Model
Also known as BOPIC (Buy Online, Pick-Up In-Store), the Click and Collect business model strives to deliver both offline and online shopping experiences to customers. It empowers buyers to place an order online and then pick up the order from the physical store.
Example: Kroger
Also Read: Top MVP Development Companies for Startups
Revenue Model of Grocery App Like

InstaShop
How can you earn money from your grocery app? To generate decent ROI from your app like InstaShop, you can take advantage of the following revenue generation models:
Commission from the store owners: In this model, you charge a tiny commission from store owners to get listed on your application.
Advertisements: You can allow other stores and brands to display their advertisements on your grocery app and you can make money from that.
Delivery charges: You can define the delivery charges according to the location. If it's near, you may decide to deliver items for free. If it's quite far, you can charge a delivery fee.
Subscription fee: You can offer a package that includes premium services like no delivery charges to users via the app. You can ask the users for a subscription fee to access the package.
Must-Have Features of Grocery App Like InstaShop
You should know that there are three sides to any grocery app:
1. Buyer Application 
A grocery buyer app should provide an online grocery ordering experience that buyers crave. So, here are some key features to include in this app:
Hassle-free registration
Product search
Wishlist to add items to their Wishlist and then buy later on
Payment options
Product recommendation
Delivery options
Order history
Real-time tracking
Voice search
Hassle-free checkout process
Rating & Reviews
Coupon codes & rewards
Push notifications
Repeat Orders
2. Riders Grocery Delivery Application
This app is for all the delivery boys and to ensure on-time grocery delivery. Here are some key features of a grocery delivery app:
Easy and simple registration
Profile management
Wallet management
Order management
Geolocation (location of the buyer via GPS)
Notification
Delivery history
In-app chat
Earning dashboard
3. Administrator App
This app is designed to manage your online grocery platform and thus it must have the following features:
Order management (assigning orders)
Driver management
Customer/Buyer management
Category management
Analytics and reports
How to Create an App Like

InstaShop

?
You need a strong development team consisting of a product owner, business analyst, project manager, app developers (iOS and Android), UI/UX designers and QA engineers to turn your grocery app idea into a successful product.  
Once the team is formed, you can begin with the development process that involves the following steps: 
1. Strategy & Planning 
This stage involves creating an actionable and detailed project roadmap to get started.
To achieve that, development partners generally conduct product discovery workshops that focus on determining the target audience, competitor analysis, understanding pain points of the target users, app specifications, budget and timeline.
2. UI/UX Design
In this stage, you can hire UI/UX designers to complete the design phase of your grocery app development by keeping in mind the target audience, product specifications and the pain points of the users.
3. Development
In this stage, app developers and designers work closely to develop the front-end and back-end parts of your app using the tech stack defined in the planning stage.
4. Testing 
This is part when QA engineers come in and test your grocery app for usability, security, UI checks, compatibility and performance before the final launch.
5. Launch
It's the final stage to launch the app to leading app marketplaces such as Google Play Store and App Store. Even after launching an app, it's crucial to do regular bug fixing and upgrade the features of the app based on user feedback.
Read more: Startup App Ideas: Trending Apps You Can Launch
How Much Does It Cost to Build a Grocery App Like

InstaShop

?
The overall cost of developing a grocery delivery app depends on several factors. Below are the primary ones that affect the app development cost significantly:
1. App Complexity
As the complexity of your app in terms of UI/UX design, features and functionalities increases, the overall cost of the app too.
Thus, the MVP (minimum viable product) approach is recommended over building a full-fledged app. With the MVP approach, you build an application with just essential features. It also results in a faster time to market.
On the other hand, a full-fledged product is an application with both essential and advanced features, thus increasing the cost.
2. Development Team
The composition of your development team also influences the cost of building an online grocery app. As you engage more tech specialists, the cost will increase. Also, whether you choose to build an in-house team or outsource mobile app development to a trusted software development partner also affects the price.
Also Read: Should You Hire an In-House Developer or Outsource Overseas?
3. Location of Your Team
The geographical location of your development team also plays a role when it comes to evaluating the app development cost. The rates of developers vary from region to region and country to country. This is because every region has a different cost of living and thus, accordingly developers charge the per hour cost.
What InfoStride Can Do for You?
At InfoStride, we have a strong team of designers, developers, testers and other tech specialists with expertise in on-demand marketplace development like InstaShop.
With us, you can hire dedicated developers or assemble a full-scale team of developers around the desired tech expertise for your next grocery app development project. No matter how you collaborate with us, we ensure to bring the following advantages to you:
Access to 250+ vetted tech specialists to reduce time to hire
Time-zone aligned resources and on-demand scalability
Administrative support including onboarding, payroll, compliance, infrastructure
Daily reporting to keep everyone on the same page
MVP and agile development approach to reduce time to market for your app
Interested? Reach out to us with your project idea and get the developers you need to get started with your grocery app project. 
Conclusion
With the aforementioned stats related to the grocery app market, there's no doubt that investing in grocery app development like InstaShop is worth it for aspiring young entrepreneurs.
Through this comprehensive post, we tried to cover everything you should know to create an app like InstaShop from choosing a business model, must-have features, monetization of your app and factors influencing the cost to develop a grocery app.
If you still have any doubts, please feel free to let us know in the comment section below. We'd be happy to assist you!
Explore more Business models of other Startups