The E-commerce marketplace industry has seen tremendous growth during the COVID-19 pandemic. After all, the pandemic has completely transformed the way people buy – resulting in an exponential rise in usage of online shopping platforms like eBay.
As of the 2nd quarter of 2021, eBay's revenue amounted to over 2.67 billion U.S. dollars– a 14% increase year-over-year.
So, if you're thinking of building a platform like eBay, you're on a right track to commence a lucrative business. That being said, it's a must for you to have a solid understanding of eBay's business & revenue model to kick off your venture the right way.
In this post, we've covered how eBay works and makes money in detail. But before getting to that, let's first have a look at what eBay is all about and some key facts related to the platform.
eBay – A Platform to Buy and Sell Anything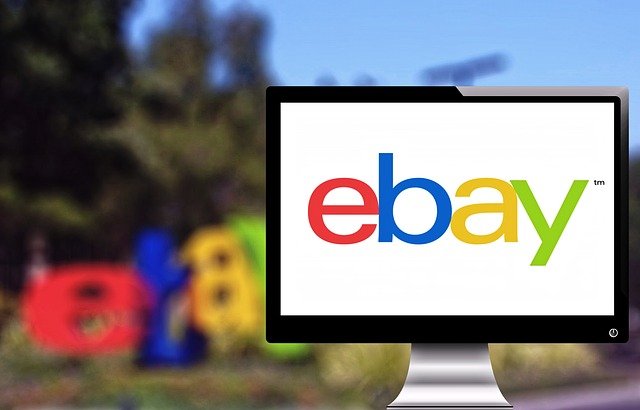 eBay is a multi-vendor online marketplace that connects millions of buyers and sellers from all over the globe to buy and sell new or used products. It facilitates both B2C (business to consumer) and C2C (consumer to consumer) transactions via eBay's website and app.
At present, eBay is available in 180 countries as an online shopping platform with a wide range of products along with other unique services such as online auction, stubhub.com (event ticket trading) and online classified ads.
That's why it's no wonder to see that eBay was the second most popular e-commerce and online shopping website based on visit share – as of June 2021.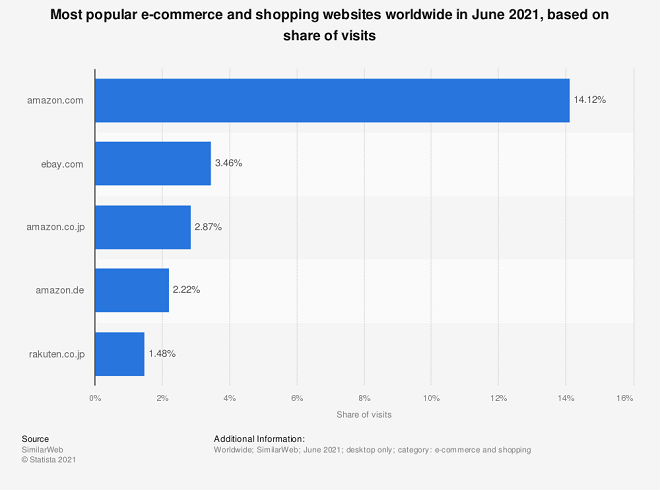 Key Stats and Facts About eBay
Year of Foundation: 1995
Founders: Pierre Omidyar
Headquarters: San Jose, California, United States
Industry: e-Commerce
Number of Funding Rounds: 2 (As Per eBay's Crunchbase Profile)
Total Funding Amount: $6.7M
Number of Acquisitions: 65
The Success Timeline of eBay
Here's a quick look at eBay's success timeline.
| | |
| --- | --- |
| 1995 – | AuctionWeb was Born |
| 1997 – | Changed Its Name to eBay from AuctionWeb |
| 1997 – | Received $6.7 Million in Funding |
| 1998 – | eBay Goes Public with |
| 2002 – | eBay Acquired PayPal |
| 2004 – | eBay Acquired Rent.com |
| 2005 – | eBay Acquired Skype |
| 2007 – | eBay Acquired Stubhub |
| 2008 – | eBay Launched Its Mobile App on App Store |
| 2011 – | eBay Acquired Zong and Magento |
| 2012 – | eBay Launched Its Global Shopping Program |
| 2016 – | eBay Acquired Corrigan and Expertmaker |
| 2017 – | eBay Introduced 3 Day (or Less) Delivery Initiative |
| 2018 – | eBay Acquired Giosis |
Also Read (That Might Interest You): Udemy Business and Revenue Model Explained
eBay Story: What's the Reason Behind Its Success? 
Though eBay is one of the oldest online marketplaces worldwide, it is still one of the multibillion-dollar e-commerce platforms in the industry. After all, eBay is the only platform to offer a product auction feature to both buyers and sellers in addition to buying products at a fixed price.
Thus, it's no surprise to see why millions of buyers and sellers from all over the world prefer to trade on eBay.
Thanks to eBay's product auction listings feature, those in possession of rare and collectable items found a platform to welcome the best offers. At the same time, collectors found a place where they could bid and purchase rare items.
Well, that's not at all what makes eBay so successful.
eBay has a large product catalogue with thousands of products including antique Items, collectables, out-of-season, used products and the new arrivals in categories like electronics, appliances and fashion.
All in all? One can buy and sell nearly everything on eBay and no wonder – millions of transactions happened on the platform every single day.
Moreover, eBay leaves no stone unturned when it comes to delivering outstanding customer experience in the form of amazing features like eBay's money-back guarantee, eBay Top Rated Seller program, SafeHarbor program and Verified Rights Owner Program.
eBay's efforts through these programs have helped the company win a loyal global customer base that's has been a significant part of its success.
eBay's Customer Segments
eBay has a two-sided marketplace business model, with two customer segments of the platform are:
Individuals or businesses who are interested in listing products up for auction or sale.
As of now, eBay has 19M sellers worldwide and over 1 billion active listings posted by individual sellers and large or small businesses alike who create eBay stores to leverage the platform to its full potential.
Individuals who are interested in bidding on products up for auction or purchasing products via a fixed price offered by sellers. As of the 2nd Quarter of 2021, eBay had around 159M active buyers all over the world.
Value Propositions Offered by eBay
eBay is a leading e-commerce marketplace that provides a unique set of benefits and perks to its key players – buyers and sellers. Have a look!
For Buyers: 
Large product catalog
Quality assured products
Free shipping & fast delivery
Order tracking system
An option to review & give feedback related to products
Money back guarantee
For Sellers
Global customer base
Bidding & Buy It Now feature for product selling
Powerful marketing & distribution channel
Decent customer satisfaction rating of 77% as of 2020 (As per Statista)
eBay's Top Rated Seller program
The eBay Business Model Explained 
eBay was originally merely an online auction website where sellers listed their products for bidding and the highest bidder getting the products. With time, eBay has evolved into an online e-commerce marketplace platform that enables both C2C and B2C transactions.
The platform doesn't own any inventory. It simply acts as a mediator between buyers and sellers – enabling people to buy or sell their items.
Here's a quick overview of how eBay works for its two key players – sellers and buyers.
1. Sellers
Firstly, sellers will register on the eBay platform to begin listing their products on the platform. While listing, the platform enables sellers to add product images, product descriptions, price, shipping details and other related things to make products appealing to buyers.
Some listings on the platform are auction-based where the item is sold to the highest bidder. In the auction-style listing, sellers also need to mention the minimum bidding price, the duration of the bidding window and available payment options.
Fixed-Price Listings (Buy It Now)
The other type of product listing that exists on eBay is listing products at a fixed price. In this scenario, sellers will list their items with the "Buy It Now" option. Through available payment options, buyers can purchase the product.
In fact, eBay now provides the option to sellers to open their own stores on the platform, with some additional tools to promote your brand or business.
2. Buyers
Like sellers, buyers will register on the eBay platform to start bidding or buying the items through the platform. eBay offers two ways to buyers for buying a wide range of products. The first one is the bidding option and the second is the Buy It Now.
When it comes to buying via bidding, eBay allows buyers to bid the price they are ready to pay to purchase the product listed in auction-style listings by sellers. A buyer with the highest bidding price acquires the item through available payment gateways options.
In this option, buyers simply pay the fixed price set by the sellers to purchase the product. eBay marketplace platform also offers shopping features such as a shopping cart for buyers to store their favorite items temporarily and can buy them later.
Moreover, eBay enables buyers to keep track of their purchase history and can save their searches as well.
That's how eBay works for both buyers and sellers – a platform business model that has made eBay a well-known online marketplace worldwide.
Also Read (That Might Interest You): How to Build an Auction Website and App Like eBay 
The eBay Revenue Model Explained 
eBay marketplace platform makes money in several ways. Let's have a look at eBay's revenue model in detail:
1. Listing Fee Model
eBay enables every type of seller to list a minimum of 200 products on its online marketplace platform free of cost. Once the limit is exhausted, eBay charges a listing fee (or insertion fee) of $0.35 for each listing.
2. Commission Based Revenue Model
eBay earns a commission on every sale made by sellers on the platform. This commission is earned in the form of the Final Value Fee and is gauged as a percentage of the total amount of the sale, along with $0.30 per order.
3. Advertising Based Revenue Model
eBay doesn't earn revenue just via listing fees or commissions upon successful sales. The platform allows sellers to advertise their products on eBay in trade for money. To advertise on eBay, sellers have to pay a fixed amount.
In addition to these revenue models, eBay brings significant revenue from international trade and through its acquisitions of leading companies such as StubHub.
Interested in Creating Online Marketplace Like eBay?
While deciding to build an e-Commerce marketplace platform like eBay, there is another important decision you need to make i.e., the budget for the marketplace development.
If you want to save overall development costs, hiring a dedicated remote development team over building an in-house team to build an app like eBay is the way to go.
By outsourcing development to remote developers, you get to save on not just training for your team but even on infrastructure – resulting in significant cost-savings benefits.
We at InfoStride strive to help companies onboard remote developers quickly with flexible engagement models to meet the budget requirements. Our resources are available to hire on a full-time, part-time, hourly, monthly or project basis.
When you decide to hire InfoStride's remote talent for your marketplace development needs, you can expect:
Pre-screened and trained experts
Support for end-to-end development of your eCommerce platform
State-of-the-art development center to empower your remote team to work on your projects without facing any hassle and securely
Support from onboarding to offboarding resources
Deployment of time zone aligned developers for your project
Still, have questions? Schedule a free consultation session with our experts to clear any doubts you have in mind about hiring remote developers or building a marketplace app like eBay. 
Conclusion 
One of the key reasons why eBay is one of the leading online marketplaces worldwide is its business model that's quite different from other players in the e-commerce industry. eBay's auction feature along with buying products at a fixed price is what sets eBay apart from others.
When it comes to building a marketplace app like eBay, it's all about getting a solid understanding of eBay's business and revenue model.
eBay brings considerable revenue to the table from various sources including but not limited to the listing fees model, commission on every sale, advertising, international trade and more.
If you feel we miss something crucial related to eBay, let us know in the comments below. 
Explore more Business models of other Startups