Software testing is something that needs to be carried out by experts to ensure the security of your software. For a successful launch, software needs to be tested thoroughly by an experienced Quality Assurance or Testing team.
When you outsource quality assurance services to a professional company, you reduce your company's burden to a great extent and your team can concentrate on its core functions.
It also saves ample time for the developers and helps them to wrap up the project within strict deadlines. Cutting down the cost would be another advantage of outsourcing QA services. 
In fact, as per a Deloitte study, the primary reason to outsource for companies is cost reduction.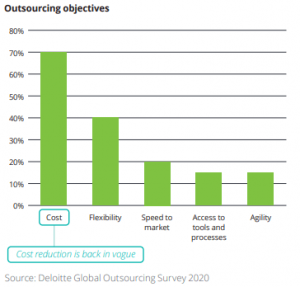 Well, outsourcing QA services can do much more than just reducing costs. This post highlights all key benefits you get when you outsource quality assurance services.
But let's first have a look at what does outsourcing QA services means and different types of QA testing services.
What Are Outsourced QA Testing Services?
Outsourced QA testing services are Quality Assurance testing services offered by a third-party vendor. The service is provided by experts in the field. 
These QA experts may work onsite alongside your employees, or they may work individually and stay in close contact with you through communication software.
You can hire them temporarily for a particular need or long-term to augment your internal resources. 
Types of Quality Assurance Testing
Several differing types of quality assurance testing are required to ensure new products are secure, functioning, cross-browser compatible, mobile-friendly, and meet customer standards.
Here is a list of some popular testing services vital before a launch of a product. 
> Automation testing
> Functional testing
> Mobile Testing
> DevOps QA testing
> Localization testing
> API testing
> UX & Usability testing
Why Outsourcing QA Services Can Be a Break-point For Your Business?

Here are some of the advantages of outsourcing quality assurance services:
1. Cost-Effective: 
Hiring a new tester to join your in-house team will be a hectic as well as costly task. It takes a lot of resources and time to hire talented and experienced testers, train them and then amalgamate them with your existing team.
Rather than putting so much effort into this whole hiring process, it's better to outsource the testing part to a team of experts who are ready to start working on it.
Infostride Inc, for example, runs testing projects from India, which would be highly cost-effective as the labor cost in India is quite low as compared to the US.
2. Quality:
This one is an important advantage. Outsourcing quality assurance to an expert team will increase the quality of the work & also gives you peace of mind as there will be no more conflicts between your development and testing teams.
An expert and the outsourced team always try to provide the best results possible and ensures that your product has been passed through experienced hands.
3. Highly Specialized Team:
Imagine having a team of highly qualified and talented testers, have years of experience in different types of software testing techniques and methods. They are always approachable and flexible to work in different time zones.
They have access to highly modernized and advanced tools that helps them to perform thorough testing on your code and in the end, they come up with a product, you will always be proud of. 
4. Meeting Strict Deadlines:
Have you ever found yourself in a situation where you have to deliver a product within very strict deadlines and got stuck?
This will not be the case if you outsourced your quality assurance work to a specialist company. These expert teams have already delivered several projects within strict deadlines and are trained to do that even under extreme workloads.
Outsourcing can also save a lot of time for you, which you can utilize to focus on the development & fixing all the bugs. 
5. Insightful Reports:
Having an experienced outsourcing partner ensures that you will get amazing and insightful reports on a daily or weekly basis which gives you a clear idea of what they are doing and what is pending. These reports will help you ensure you're putting your hard money in the right place.
When to Consider Outsourced Quality Assurance (QA) Testing Services?
Here are the three scenarios where you outsourcing the testing part to experts is a wise decision. 
1. One-Time Project & In-House QA Team Lacks Skills:
You may think of training the in-house QA team, but that would require spending time and money. But outsourced experts already know how to do the work with access to the latest technology stack. 
So, you can save both time and money that you would have otherwise invest in training your in-house team. 
2. Short-Term Project & Require More Experts
In such scenarios, you may think of onboarding more experts to get the testing done. But that would become a big hassle for you as it requires interviewing and hiring candidates.
Therefore, a better alternative is to outsource quality assurance services to experts.
3. Long-Term Project & Need to Cut Cost
Outsourcing the testing has a cost-effective one of significant advantages. Training and maintaining an in-house team with specialized skillsets is always expensive compared to collaborating with a third-party vendor.
Therefore, if you've got long-term projects requiring extensive testing, outsourcing the testing part can help you save money that you would have otherwise invested in specialized test tools and future upgrades.
Also, save time you would have invest researching which ones would be apt for your product.
Offshore QA Outsourcing: Your Path to Success 
Nowadays, more and more IT companies outsource their QA part to offshore vendors. After all, offshore QA outsourcing helps businesses reduce their costs up to 40% along with bringing more benefits, including:
1. Time to Market Reduction:
With the combination of offshore and onshore teams, the testing time sometimes reduces to half. In addition, with offshore QA outsourcing, you get ready-to-use office infrastructure and workforce available across time zones to reduce your time-to-market to a great extent.
2. Boost ROI:
As compared to countries like India, the labor cost in the US is too high. Therefore, you can benefit from offshore QA outsourcing as the labor cost is significantly lower in India and other traditional outsourcing regions, usually with the same or higher level of expertise. Consequently, ROI with offshore outsourcing increases. 
3. Focus on Core Business Initiatives:
When you outsource your time-consuming tasks, you can focus on things that are of the most importance to your business.  With outsourcing, you can shift your focus from technical problems to branding, marketing, or new initiatives.
A Cost-Effective Outsourcing Model: Hire Remote QA Testers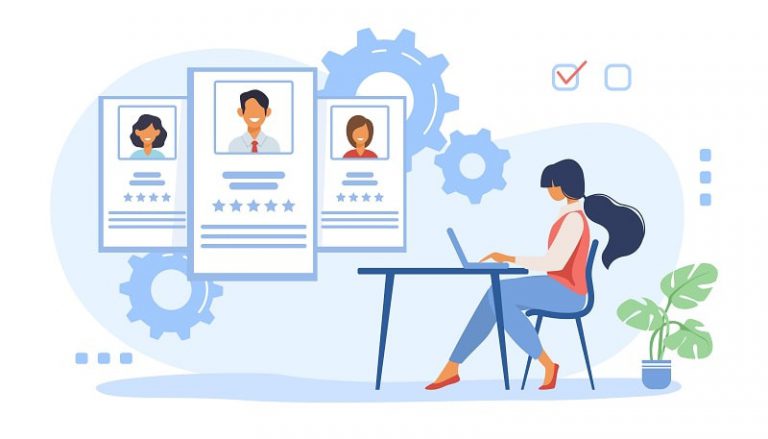 With modern software development practices like Agile and DevOps, the software development cycle has been reduced to a great extent and so does release cycles. This also means there is a need to employ QA testers at early development stages to make the whole process faster.
That's when outsourcing testing parts to remote QA testers from an IT outsourcing company rather than building an in-house testing team is a smart move.
> Reduce time-to-hire: Most IT outsourcing companies are able to help companies onboard remote employees within a week or even hours.
> No training and infrastructure costs: Remote QA testers are well-trained and equipped with essential tools to give an immediate contribution to your projects.
> On-demand scaling: You can scale up or down your remote team as your requirements change.
As your leading offshore QA outsourcing partner, we are equipped with a remote team of experienced QA testers who are always ready to get the job done for you.
Our experts are well-trained in using highly advanced tools to test products and ensures that each allocated resource should send daily reports to the client.
To maintain effective communication between the client and the team despite working in different time zones, we provide 24*7 customer support service.
If interested, contact us today to discuss your project requirements or clear any doubts about hiring remote QA testers.
Conclusion
Witnessing the invaluable benefits that outsourcing QA services bring to the table, it's no wonder why more and more businesses are now considering it over setting up an in-house quality assurance team.
By outsourcing your testing part to remote QA testers, you can save costs and time while transcending boundaries to employ the best talent in the market.
What do you think about how businesses can benefit when they outsource quality assurance services?