Outsourcing to India has been a popular and effective business model for companies to cut costs, achieve scalability for growth and tap into desired expertise for the past few decades.
When it comes to outsourcing, there are many other Asian countries such as China and the Philippines that are being preferred. But India remains the top outsourcing destination – especially when it comes to outsourcing software development.
Half of all Fortune 500 firms prefer to outsource to Indian software companies as per findings by the National Association of Software & Service Companies (NASSCOM).
So, are you planning to outsource to India as well?
In this comprehensive post, we've compiled all you should know about outsourcing to India starting from what outsourcing means to reasons to outsource to India and different types of outsourcing models to choose from.
Table of Contents
⦁ What is Outsourcing?
⦁ Why Do Companies Outsource?
⦁ Types of Outsourcing: Onshore, Nearshore and Offshore
⦁ Outsourcing to India Stats That You Should Watch Out
⦁ The Top 5 Advantages of Outsourcing to India
⦁ Outsourcing to India Vs. In-House Development
⦁ What Services Can Be Outsourced to India?
⦁ Top 3 Challenges with Outsourcing to India
⦁ A Glance at Common Types of IT Outsourcing Models
Without further ado, let's start with the basics!
What is Outsourcing?
Outsourcing is the practice of getting certain business tasks and activities performed outside of your in-house structure. Typically, this entails functions, tasks, operations and activities that are non-core to your business.
For example, you are engaging in outsourcing when you get your complete or part of your mobile app development project performed by a third-party vendor.
Or when you collaborate with a third-party software dev company to provide you experts to work on your project.
Why Do Companies Outsource?
The global outsourcing market is worth $92.5 billion and will only continue to grow as more companies realize the benefits of outsourcing.
So, why do companies prefer to outsource? A study by Deloitte revealed the most common reasons for outsourcing include: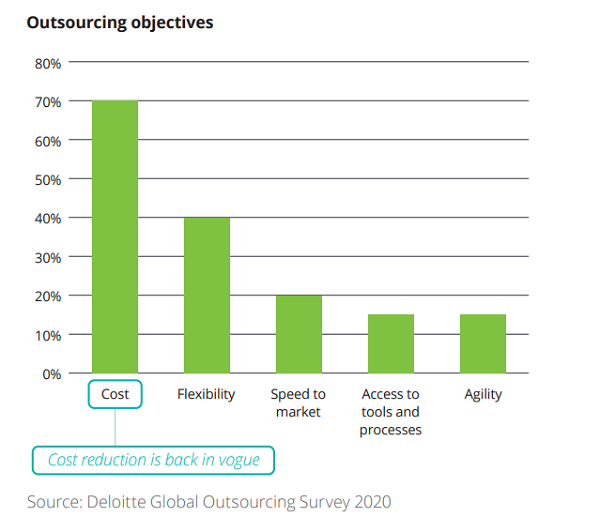 Outsourcing enables companies to reduce costs on recruitment, infrastructural and training development by leveraging the expertise of external teams at a low cost.
With outsourcing, companies are given the flexibility to scale up or down quickly as their current project requirements demand.
Outsourcing companies in India are known for delivering projects with a faster turnaround time, which results in a faster time to market. Moreover, outsourcing reduces time to hire by 40-50%, which again leads to improved speed to market.
⦁ Access to New Technology
Companies prefer to outsource when they want to leverage emerging technologies such as cloud computing and big data. They find outsourcing cost-effective compared to training an in-house team.
Outsourcing helps companies become more agile by quickly responding to changing business demands.
Considering the benefits outsourcing brings to the table, it comes as no surprise why big companies and startups outsource certain business tasks. Outsourcing can be an effective solution to fuel your business growth on budget.
Types of Outsourcing: Onshore, Nearshore and Offshore
When it comes to outsourcing, you'll come across three terms that are interchangeably used: onshore, nearshore and offshore. But they are not the same.
So, let's clear the confusion by understanding the difference between them:
It's a process of contracting out certain business tasks and services to a third-party vendor located within the same country.
Though onshore outsourcing ensures fewer cultural differences and ease of communication when compared with nearshoring and offshoring, it generally results in high costs and a limited pool of talent.
It's a process of getting work done by a third-party vendor located in a nearby country with a similar timezone.
Like onshoring, nearshoring also ensures fewer cultural differences but when compared with offshoring, nearshoring costs are on the higher side.
It's a process wherein a company shifts certain business tasks to its center in a different country.
Another model of offshoring is when a company joins hands with a third-party offshore company. The offshoring company provides the infrastructure, support and offshore resources/teams that directly work with the client.
Offshoring is most prevalent in the IT industry due to a shortage of IT professionals in the local market.
A recent survey stated that a whopping 69% of companies in the USA faced difficulty in filling positions in 2020 and tech roles are among the top ten hardest positions to fill.
Hence, it's no surprise to see US businesses outsourcing around 300,000 jobs overseas annually.
Outsourcing to India Stats That You Should Watch Out
Today, there are many countries like China and the Philippines giving stiff competition to India. But India has managed to emerge as the top outsourcing destination in the world. Need numbers? Have a look below!
⦁ A whopping 80% of European and US outsourcing firms ranked India as the #1 outsourcing destination.
⦁ A recent survey by Deloitte highlighted that 59% of companies are already outsourcing to India and 22% of businesses are planning for the same in the future.

The Top 5 Advantages of Outsourcing to India
Let's now have a look at some of the key advantages of outsourcing to India and understand why the country has emerged as the leading destination for outsourcing, especially software development outsourcing.
1. Access to a Vast Talent Pool
One of the primary reasons why companies prefer to outsource to Indian companies is because of the availability of a large and varied pool of skilled talent.
Here are some numbers that prove India has the world's largest talent pool:
⦁ India produces over 3.1 million graduates, 300,000 postgraduates and over 500,000 engineering students graduate from Indian engineering universities and colleges on a yearly basis.
⦁ Every year, over 200,000 engineering graduates join the Indian IT workforce.
⦁ More than 4 million IT professionals work directly in Indian IT companies and 10 million indirectly.
⦁ Over 40% of the Indian IT professionals will be trained in emerging technologies such as virtual reality, AI and augmented reality in the next 4 years.
⦁ By 2024, India is going to have the world's largest developer base.
Thus, no wonder why worldwide technology giants like Google and Microsoft have their research and development (R&D) centers in India. Companies ranging from enterprise-level to young startups are outsourcing to India due to the easy availability of skilled resources.
Whether you need to hire a Laravel developer, Flutter app developer or Python developer, you can easily find an IT professional with the desired expertise from India.
2. World-Class IT Infrastructure
Software development companies in India that offer web, mobile and product development services have state-of-the-art development centers armed with the latest technologies.
Also, most Indian firms boast high-speed internet bandwidth to facilitate constant uninterrupted communication and support for their global clients. Thus, they are recognized for delivering top-notch software solutions and services to their clients.
3. Seamless Communication
India is now the second-largest English-speaking country across the globe.
Thus, developers and engineers in India don't just possess technical skillset but even excellent communication acumen. Moreover, they are even experts at using worldwide common collaboration tools such as Slack to ensure seamless communication.
You can outsource software development projects to India without worrying about communication issues with your offshore software development team.
4. Cost Savings 
The cost of hiring remote developers from India is pretty low as compared to the cost of hiring developers in other developed countries.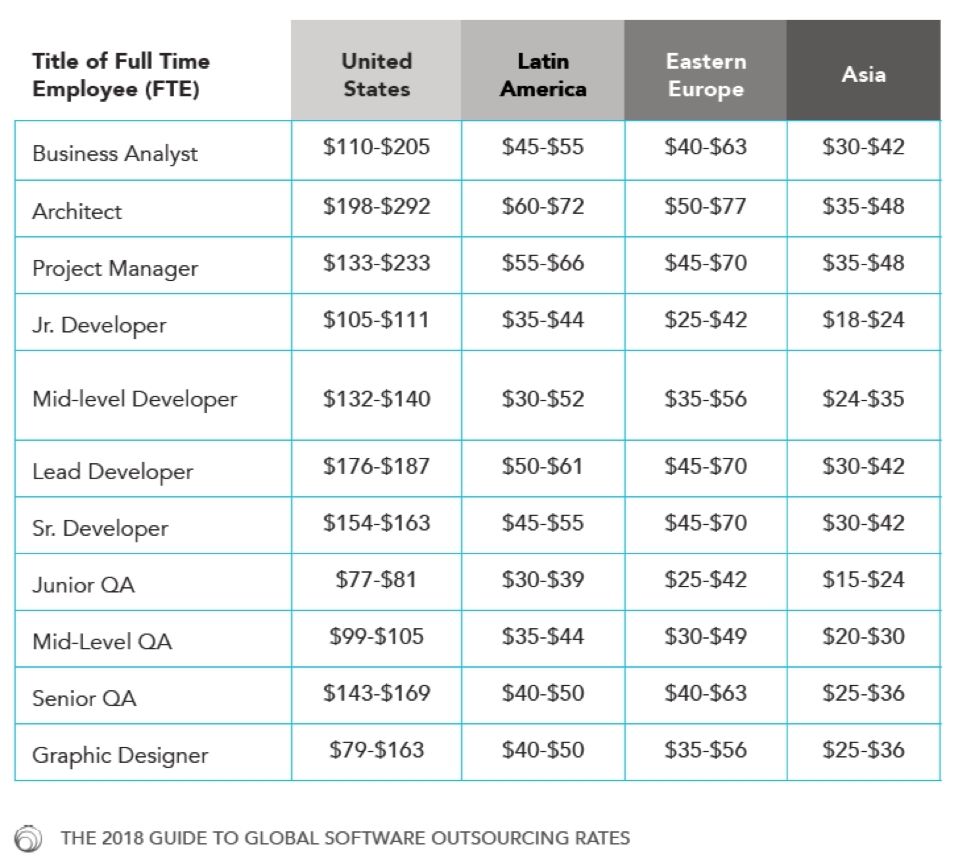 Source: Clutch
Also, when you outsource to software development companies in India, you save on office space, infrastructure and team training development which leads to a significant reduction in business expenses.
5. Supportive Government Policies
For the IT industry, the government of India has supportive policies. The Information Technology Act and other IT policies in India empower the growth of the IT industry and make it easy for western companies to collaborate with Indian IT companies.
Outsourcing to India Vs. In-House Development
If you're still torn as to whether you should outsource to India or hire an in-house team, below is a quick overview of hiring in-house developers vs outsourcing to India. Have a look and see why the latter option is a win-win situation for companies of all sizes.
| | | |
| --- | --- | --- |
| Factors | In-House Development | Outsourcing Development to India |
| Cost | High (as you need to pay for recruitment, monthly salary, training, infrastructure & more) | Low (because of affordable rates of resources in India and no investment in infrastructure, training and recruitment) |
| Time to Market | Slow (as hiring an in-house resource can take months) | Faster (as you get instant access to vetted and trained experts) |
| Scalability | Challenging | Easy |
| Tech Expertise | Limited | Access to emerging technologies |
| Staff Turnover | High | Low |
| Communication | Seamless communication | Communication gap could be possible due to time zone difference and language barrier |
As you can clearly see outsourcing to India has many advantages over building an in-house team, thus no wonder why this practice has become so prevalent.
What Services Can Be Outsourced to India?
You can outsource any business task, function or process to a third-party vendor in India as long as there is a feasibility of data transfer.
Today, there are many services and processes that companies around the world outsource to India – from human resources and payroll processing to IT services. Companies typically outsource those tasks that are non-core to their business.
"Do what you do best and outsource the rest." – Peter Drucker
As per the 2019 Small Business BPO Survey by Clutch, the most commonly outsourced services are IT services and accounting.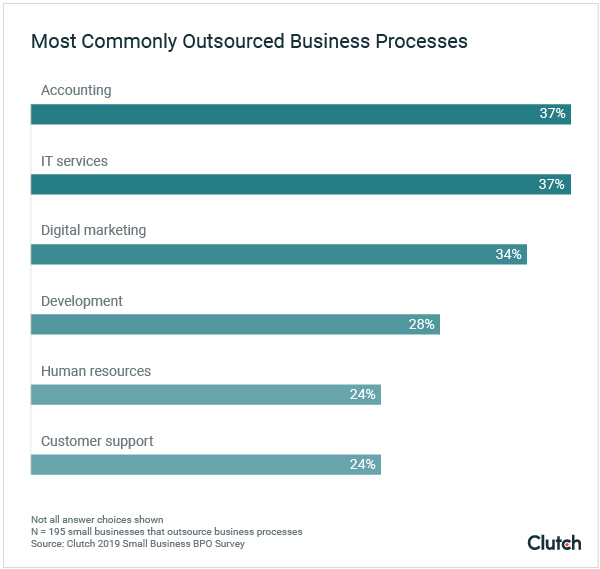 As India has a large pool of skilled IT talent, companies around the globe outsource their software development needs and IT services to India. Below is the list of some of the common IT services that are outsourced to Indian companies:
Do you have a great startup app idea that could disrupt the industry you want to tap into? You can outsource complete app development to the right experts to make your idea a successful reality.
Many companies outsource their various web development needs to Indian software development companies.
It includes UI/UX design, website development, web application development, content management system (CMS) development, online marketplace development, e-commerce development and more.
⦁ Software Testing and QA
Another common IT services that companies outsource to India includes software testing and quality engineering to ensure the successful launch of their digital products.
There are a number of reasons why companies outsource QA services to subject matter experts – which include ensuring the successful bug-free launch of their digital products and faster time to market.
Enterprises outsource several enterprise solutions – legacy application modernization, application maintenance & support, application migration, enterprise application testing and integration – to fast-track their digital transformation journey.
With more companies realizing the need for digital marketing for business growth, outsourcing digital marketing services has also become a common thing.
Top 3 Challenges with Outsourcing to India
Outsourcing to India does not come without its own set of challenges faced by companies. Down below is a list of common challenges and how to overcome them to get success with outsourcing to India.
1. Time Zone Difference 
When outsourcing software development services to India, many companies believe that the time zone difference can result in a lack of communication with remote teams and project delays – as a result reducing time to market.
Tip: Partner with an offshore software development company willing to provide you with remote developers who will work in the time zone of your country.
2. Unskilled Professionals
One of the key reasons to outsource to India is to access skilled talent. But many companies think that their software development projects might get assigned to unskilled professionals, resulting in low quality of work.
Tip: Most software development companies in India allow their clients to screen their vetted developers via a remote interview process.
So, you must get involved in this process seriously and evaluate their technical skillset before onboarding them to your project. Most companies even cater to replacement requests with no questions asked.
3. IP Theft
Many western companies feel that by outsourcing to India, their IT rights and confidential information might be at risk.
Tip: Collaborate with an Indian software development company that follows strong data protection policies such as signing an NDA.
A Glance At Common Types of IT Outsourcing Models
When you consult with an Indian IT firm for your development needs, you'll come across different types of engagement models to choose from.
Have a look below at a quick overview of all the common IT outsourcing models so that you can decide which one could be ideal for your needs.
1. Fixed-Price
Under the fixed price engagement models, your Indian outsourcing software development partner agrees to complete a project with a clearly defined scope within a specified budget and timeframe.
Thus, it's crucial to discuss all details before the commencement of development to estimate the scope, timeline and budget of the project in this model.
This model is ideal for small projects with clear requirements and limited features such as MVP development projects.
2. Time & Material
Under the Time & Material model that supports agile development, you pay for the time and resources deployed on the project.
Thus, this model is ideal for long-term projects with changing requirements.
3. Hire Dedicated Resources
In this model, you hire remote Indian developers on a full-time, part-time or monthly basis according to your requirements and you pay only for the developers' time. They will fully focus on your project. You'll have complete control over the resources and project.
This model quickly helps extend your development capabilities with skilled offshore developers with the flexibility to scale up and down as and when needed.
You can either hire a solo developer or assemble an offshore development team featuring different tech experts such as UI/UX specialists, developers, quality assurance engineers, business analysts, project managers and others.
Hiring dedicated resources is ideal for medium to large projects that need long-term commitment & greater flexibility.
4. Build, Operate and Transfer (BOT)
Under the BOT model, you collaborate with a development partner from India to help you build and run an offshore software development team in India. When you're fully ready, you can take complete control over the operations of the team.
The model is ideal for long-haul projects or fast-growing startups and enterprises that want to set up a long-term development team offshore.
What InfoStride Can Do for You?
InfoStride is a global leading provider of IT services and solutions to clients worldwide. Our team of 250+ skilled developers, engineers, testers, business analysts, consultants and other experts is at the forefront of helping companies bring their unique ideas to life.
Some of the benefits of partnering with InfoStride include:
⦁ Flexible and various engagement models – fixed-price, time & material, hire dedicated developers/teams and BOT.
⦁ Complete administrative support – from onboarding to payroll for your remote resources.
⦁ We sign an NDA to protect your sensitive data and to help you make sure that your IP rights are in safe hands.
⦁ Access to expert-vetted developers who are experts in web development, mobile app development, software development, MVP development, software testing, emerging technologies and a lot more.
⦁ Time-zone aligned developers around the desired tech stack
Interested? All you need to do is to share your requirements with us and one of our experts will get back to you with perfectly-matched developers for your project.
 Conclusion:
Considering the aforementioned advantages of outsourcing to India, no wonder why the country has become the preferred outsourcing destination for business across the globe.
Outsourcing software development to India empowers companies to get top-notch products developed cost-effectively while ensuring more focus on core competencies.
By keeping the tips mentioned above to overcome outsourcing challenges and collaborating with the right outsourcing partner, getting success with outsourcing to India is certain.