Launched in 1995, eBay is one of the oldest online marketplaces worldwide and still operating as a key player in the e-commerce marketplace industry.
In fact, eBay is the second most visited online marketplace in the United States.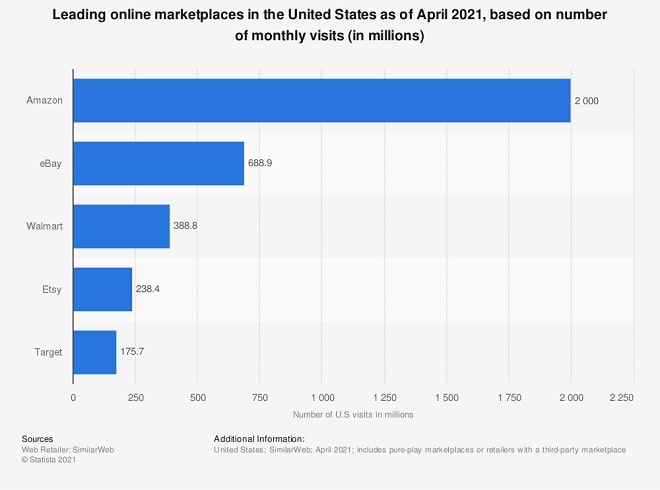 Thus, it's no surprise to witness the demand to create a website like eBay among entrepreneurs. To extend a helping hand, we came up with this comprehensive post that entails crucial things to know for building a platform like eBay.
But before getting to that, let's first have a look at what eBay is all about – though the platform needs no introduction.
What is eBay?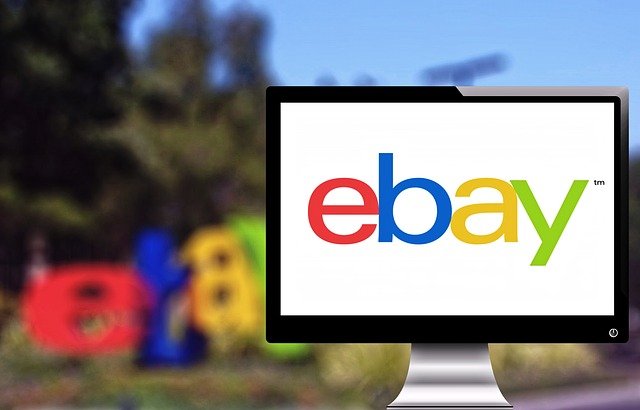 eBay is a multibillion-dollar e-commerce platform that connects buyers and sellers within C2C and B2C landscape. The platform provides sellers with a large customer base to sell their products and buyers a large product catalog – covering almost every category one can imagine.
What makes eBay different from other online marketplaces out there is its unique offering i.e., auction feature along with buy products at a fixed price (Buy It Now).
In fact, eBay beats others when it comes to the most profitable auction websites out there – the reason being it's incredibly straightforward to use.
Here are some eBay statistics that prove the platform is still one of the leading online auction and marketplace platforms.
Have a look!!
As of the 2nd Quarter of 2021, eBay had around 159M active buyers and 19M sellers worldwide.
More than 2 billion transactions per day happened on the platform.
As of the 2nd Quarter of 2021, the total amount of gross merchandise volume (GMV) on the platform reach $22.1B.
eBay is the third most popular app preferred by people to shop online in the United States.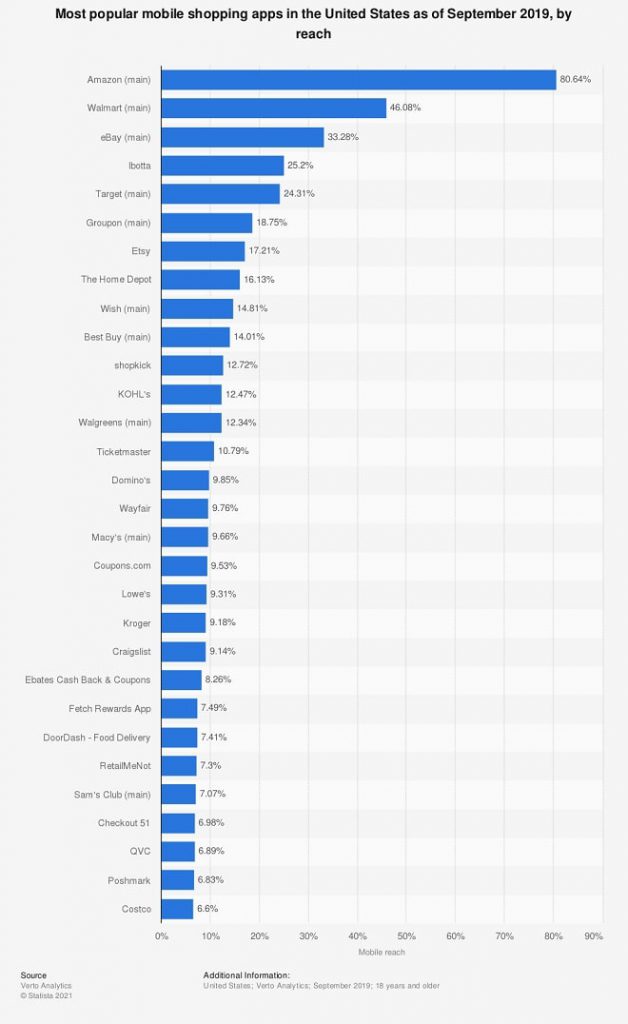 Witnessing the huge demand for online marketplaces like eBay among shoppers which has accelerated due to the COVID-19 pandemic, no wonder why entrepreneurs want to build a similar platform. If you're one of them, keep reading to find out how you can accomplish it.
How to Create a Website Like eBay?
Here are the key steps you need to follow to create a website like eBay:
1. Conducting Market Research
To build a strong foundation for your e-commerce business like eBay, conducting market research proves to be very promising. Without market research, you might not have enough insights on how to start a business like Bay.
As per numerous sources such as Forbes and Huff Post, 90% of e-commerce businesses fail within their first 120 days of operation. 
Therefore, market research is curial to find the right niche and products to sell.
After all, you indeed don't want to waste your efforts on creating an e-commerce platform to discover no one is interested in what you're selling.
When it comes to conducting market research for building a website like eBay, you need to focus on the following key aspects:
e-Commerce Industry Overview: The current and future state of the e-commerce marketplace industry to gauge its profitability before entering into it.
Identify & Understand Your Target Audience: Gain a solid understanding of the audience you want to target and their needs. This will help you know does your target audience needs and/or wants what you're planning to sell. If not, then you can then scrutinize your business plan once again.
Figure Out Your Competition: Determine who are your key competitors in the industry (eBay, Amazon, Etsy) – check out their product & service offerings, target audiences, determine their strengths and weaknesses (also known as SWOT analysis).
2. Choosing a Business Model
There are different types of e-commerce business models to choose from. Have a look!
Business to business (B2B) – Businesses transact with each other
Business to consumer (B2C) – Businesses sell to consumers (Used by eBay)
Consumer to consumer (C2C) – Consumers transact with each other (for example, auction websites and marketplaces like eBay)
Consumer to business (C2B) – Consumers sell to businesses
Who is your target audience? What are you selling? What goals do you want to accomplish in the short and long term? How much can you invest? All these questions will help you choose the right e-commerce business model.
3. Choosing a Revenue Model 
Another crucial decision to make when it comes to creating a website like eBay is choosing the revenue model i.e., strategies to generate revenue from your e-commerce marketplace business.
Below are common e-commerce revenue models to choose from:
Commission Revenue Model (Used by eBay): The e-commerce platform earns a commission from each transaction or sale.
Listing Fee Revenue Model (Used by eBay): The e-commerce platform charge sellers for each product listing.
Advertising Based Revenue Model (Used by eBay): Individuals or companies buy advertising space on the e-commerce platform and then pay the platform to promote their brand.
Subscription Revenue Model (Used by eBay): The e-commerce platform charge users for providing access to a platform or service for a certain interval of time – daily, monthly or annual.
Like eBay, you can combine different revenue models within your e-commerce marketplace platform to earn maximum revenue.
Read More: eBay Business and Revenue Model Explained In Detail 
4. Key Features to Incorporate
The next important step is to create a list of features and functionalities to incorporate within your e-commerce website like eBay. If we look at eBay, the platform has three key users: sellers, buyers and admins. Thus, eBay has the following core features for these different users.
For both buyers & sellers:
Sellers need to sign up to list items for sales or set up their online stores on the platform. Buyers must register themselves to make purchases. The authorization process on eBay request personal data such as email address and name to become platform users.
A payment system enables buyers to purchase an item and sellers to withdraw their money from the platform. eBay provides different payment methods such as credit/debit card, Stripe, PayPal, PayPal Credit, Apple Pay, Google Pay, Payment upon pickup – to name a few.
Live auctions – eBay's one of the key and unique offerings, as mentioned above also. This feature enables sellers to decide a starting price for their listed item and then buyers interested in taking part place bids. When the auction ends, sellers sell the item to the highest bidder.
For sellers:
This feature is eBay's effort to provide a better experience to sellers. It enables sellers or vendors to manage their product listings like a pro. The feature enables sellers to publish, view, edit and delete their product listings along with tracking product status effortlessly.
Through this feature, sellers are able to process orders received from the eBay platform.
This functionality allows sellers to gain a 360° view of their online business activity by monitoring the most viewed items, total sales, revenue, session time and more.
For buyers:
This feature enables buyers to find items by product categories or using advanced filters such as location, shipping options, price range, etc.
This feature enables buyers to view the item specifications, payment, shipping, delivery information, seller's contacts and more to decide whether to buy an item or not.
This feature enables buyers to select several items from different stores and buy them at once. Moreover, it allows buyers to effectively manage their items present in the shopping cart – adding or deleting items.
The chat functionality enables buyers to discuss any concerns with sellers directly.
This feature enables buyers to provide honest reviews on purchased products – helping other buyers in making their purchase decision.
For admins:
An admin panel is designed for administrators who oversee communication between buyers and sellers on the platform. Through this feature, administrators are able to moderate auctions, bids, platform users and website content.
5. Selecting a Development Approach
Once deciding on what features to include within your e-commerce website, the next thing is to choose a development approach. There are two options at your disposal. Have a look!!
5.1. Custom e-Commerce Marketplace Development
If you want to retain complete control of your e-commerce market platform and its strategy, then the custom MVP development approach is the way to go.
You'll be able to scale your marketplace platform as much as you need. Most importantly, you'll be able to curate personalized user experiences.
Pros
Easy scalability
Easy integration with legacy systems
Full control over the product
Cons
Time-consuming
Expensive solution
5.2. CMS-Based E-Commerce Development
If you're on a budget, you can build your e-commerce marketplace on one of the popular content management systems such as Shopify, WordPress, Joomla, Magento, OpenCart – to name a few.
It's worth mentioning here that new e-commerce platforms built on Shopify surged 62% during the lockdown due to the COVID-19 pandemic. Many brick-and-mortar shops picked Shopify over other content management systems to build their online presence.
Also, Shopify provides a great suite of multi-vendor marketplace apps that have made it easier to build and run a marketplace like eBay.
What's more? Today, many companies hire Shopify experts to leverage the platform to its full potential to generate maximum ROI through their e-commerce portal.
Read More: How Much Does It Cost to Hire a Shopify Expert? 
That being said, let's now have a look at the pros and cons of CMS-Based e-commerce development approach:
Pros
Budget-friendly solution
A wide variety of ready-to-use templates to choose from
Faster development
Cons
Complete customization is not possible
Security risks
6. Picking Technology Stack
The final step is picking the technology stack for your e-commerce marketplace platform.
Below is a quick overview of the online marketplace development technologies and tools required to create a website like eBay.
Front-end technologies help to build a user-facing part of the website – which includes the website layout, navigation elements, images, animations and more. The ideal tech stack for front-end development includes technologies: HTML5, CSS3 and JavaScript.
The ideal tech stack to build the backend part of the website includes various technologies to prefer such as Ruby, Java, PHP (Laravel), Python, Node.js. and MongoDB / MySQL (Database).
Did you know? Laravel has gained huge popularity among businesses and developers as the ideal web development back-end framework to build e-commerce websites or portals.
After all, the framework brings many benefits to the table such as easy maintenance, efficient development cycles, high-level protection and scalability – to name a few. Thus, the demand to hire Laravel developers these days has escalated for e-commerce store development.
The primary purpose of third-party integrations is to deliver the best user experience. It includes payment gateways (PayPal, Stripe, Checkout.com), Customer Relationship Management (Salesforce, HubSpot) and others such as Slack, Trello and legacy systems.
In today's mobile-driven world, you can't afford to not have a mobile presence for your e-commerce business. When it comes to mobile app development, you can either go with a native or cross-platform approach.
Both development approaches have their own pros and cons.
Native app development ensures high performance. On the other hand, the latter option using cross-platform frameworks such as Flutter or React Native enables you to build both Android and iOS apps using the same codebase.
In other words, cross-platform app development eliminates the need to deploy two separate teams for Android and iOS app development – resulting in significant cost-savings.
Did you know? eBay's engineering team used Flutter to develop eBay Motors – an online marketplace app to buy and sell automobiles. The primary reason behind using Flutter is to launch the application into the market in the stipulated timeframe without compromising on user experience.
Read Also: Top 13 Apps Built with Flutter Framework
The Biggest Challenge in Building an eBay-Like Site: Chicken and Egg Problem
Sellers or buyers – which comes first? This is one of the biggest challenges that entrepreneurs face while creating an online marketplace like eBay. Whether to target buyers first, vendors first or both simultaneously.
Fortunately, there are numerous ways to conquer this challenge. Have a look and all of them are worth considering!!
Target the hardest side first
Produce and sell your own goods – act as a producer/seller yourself (Used by eBay)
Host events
Tap into your existing network
Offer a first-time bonus to entice potential users
How Much Does It Cost to Create a Website Like eBay?
To build an e-commerce marketplace like eBay, you can either build an in-house or hire a remote development team.
Have a look at building an in-house team vs. hiring a remote development team.
| | | |
| --- | --- | --- |
| Factors | In-House Team        | Remote Team |
| Cost Efficiency | High Cost | Low Cost |
| Time-to-Hire | High | Reduced by 50% |
| Access to Global Talent Pool | No | Yes |
| Ideal for Short-Term Projects | No | Yes |
| Ideal for Long-Term Projects | Yes | Yes |
| Overhead Costs (Training & Office Space) | High | Low |
| Scalability | Low | High |
| Staff Turnover | High | Low |
With an in-house team, you'll have to pay developers as per local market standards. You'll also have to bear the infrastructure cost. Above all, you'll be responsible to oversee the team. As you can see, you'll have to invest a lot of money as well as time.
On the other hand, hiring remote developers from IT companies can save you from all these hassles. Your vendor will provide the infrastructure and support at every step of the way – from onboarding the remote developers around the tech stack you're looking for to create a website like eBay to offboarding resources in a stress-free manner.
Moreover, hiring developers from the region with low labor costs such as India can help you further reduce the overall development cost.
How Can InfoStride Help You?
At InfoStride, we have a strong team of developers with experience and expertise in building online marketplaces like eBay. Whether you want to go with a custom approach or CMS-based marketplace development, we'll deploy a team of the right size.
When it comes to building an online marketplace development, our developers focus on aspects such as user-friendly, fast-loading, security, SEO-friendly and scalable to turn your marketplace idea into a profitable business.
Here's what you can expect if you decide to hire developers from InfoStride:
Deployment of well-trained developers with the skill set required for your project's success.
Daily communication to keep you updated on the progress of your project.
Infrastructure support with necessary tools to work on your project as soon as it is assigned.
Work according to your preferred time zone.
Flexible engagement models – you can hire developers on a monthly, hourly and project basis to meet your precise requirements and budget.
Interested? Or any doubts? You can get in touch with us today to discuss how we can together build a game-changing online marketplace like eBay.
Conclusion
Online marketplaces like eBay have the potential to make products or services cheaper, better and easier to access and quicker to buy. All in all, they can deliver purchasing experience that today's shoppers crave.
Thus, building an online marketplace like eBay is one of the profitable business ideas but it's not an easy feat due to the cut-throat competition in the industry.
Even if you have a unique idea for your marketplace business, you need a reliable development partner to make it a success in reality.
Our advice? Pour a considerable amount of time to thoroughly evaluate your options. Take advantage of a free consultation session offered by companies to get your doubts cleared before making any major investment.