It's intriguing to launch your own product but at the same time, it's also a high-risk bet.
After all, it's no secret that most product-based startups in today's highly competitive landscape tend to fail.
Even one recent study highlighted that more than 30,000 new products are launched every year and a whopping 95% of product launches lead to an abysmal failure.
There are many reasons why most product-based startups fail to make the cut but the top reasons include getting outcompeted and having no market needs.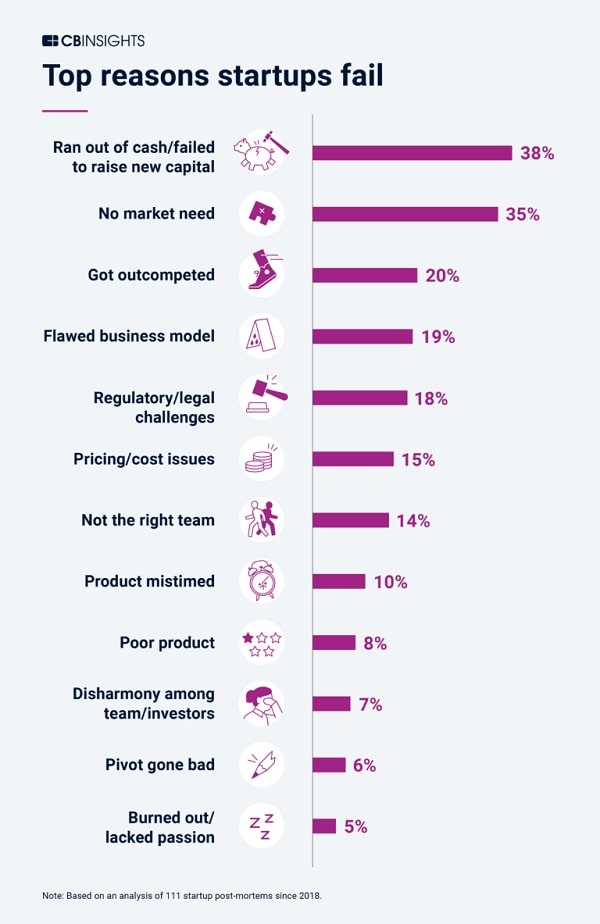 Source: CBInsights
However, by leveraging the minimum viable product (MVP) approach rather than full-fledged product development, you can bolster the odds of your product's success.
With MVP product development for startups, you won't just be able to reduce time to market but test the validity of your startup idea and get user feedback as quickly and cheaply as possible.
From Amazon to Airbnb, the world's most sought-after tech giants and brands started out small with an MVP and moved forward cost-efficiently towards building a full-scale product using real user feedback.
With the aim to inspire you to build your own MVP for your dream project, we came up with this post that highlights the top 10 successful MVP examples. Have a look below!
Top Minimum Viable Product Examples 
"The minimum viable product is that version of a new product which allows a team to collect the maximum amount of validated learning about customers with the least effort." – Eric Ries
Our ultimate list of successful MVP examples from the biggest tech companies around the globe such as Amazon, DropBox and Facebook opine with the aforementioned quote. With that, the demand for reliable MVP development companies for startups is also increasing.
Now, let's get straight to some of the successful MVP examples and explore them in detail:
1. Amazon
The world's most prominent all-in-one shopping platform Amazon is one of the most inspiring and successful MVP examples to look at for startups and aspiring entrepreneurs.
Amazon started its journey as an online bookstore. In the early 1990s, Jeff Bezos got his hands on a report stressing the future of the internet that anticipated the annual growth of web commerce.
"I found this fact on a website that the web was growing at 2,300 percent per year and The idea that sort of entranced me was this idea of building a bookstore online." – Bezos.
Bezos curated a list of top 20 products that could be marketed online which were further boiled down to 5. Eventually, he decided on one niche – books due to the huge global demand for this particular category.
He moved forward by purchasing books from the distributors and selling them online at a low cost via a simple website (MVP). His decision paid off by witnessing the remarkable increase in the orders of books online by customers.
With continuous iterations, Amazon included more product categories. Today, Amazon is the world's largest e-commerce company which generated sales revenue of $125.6 billion in the fourth quarter of 2020 – marking a 44% year-over-year surge.
2. Airbnb
When it's about successful MVP examples, one can't miss Airbnb.
In 2017, two former schoolmates and roommates Brian Chesky and Joe Gebbia shifted to San Francisco to commence a business.
Since they couldn't afford the rent for their apartment in San Francisco and noticed all hotels in the area had been overbooked, they decided to rent the top floor of their apartment during the Industrial Design Society of America Conference (IDSA) in 2007 to make extra bucks.
They captured some pictures of their apartment and uploaded them to Craigslist. Soon, they had 3 paying guests. After perceiving there was a potential market for this niche and built an MVP (AirBed&Breakfast.com) to validate their assumptions.
In a short span of time, the idea was validated and the website was revamped.
Today, Airbnb is known as the world's leading online marketplace for homestays as well as vacation rentals with 150 million users as of 2018.
3. Facebook
When MVP was founded by Mark Zuckerberg back in 2004, the initial idea was to connect Harvard students only. The remarkable rise in its popularity indicated its expansion beyond Harvard University.
Therefore, within a few months after its release, Thefacebook was launched in three other top universities in the USA. Its expansion continued in 2005 – including more universities as well as high schools from different countries.
With the idea validation, Mark Zuckerberg evolved Thefacebook into Facebook that we all know today and provided public access to everyone. Today, Facebook is the world's biggest social media networking platform with around 3.5 billion monthly users.
4. Twitter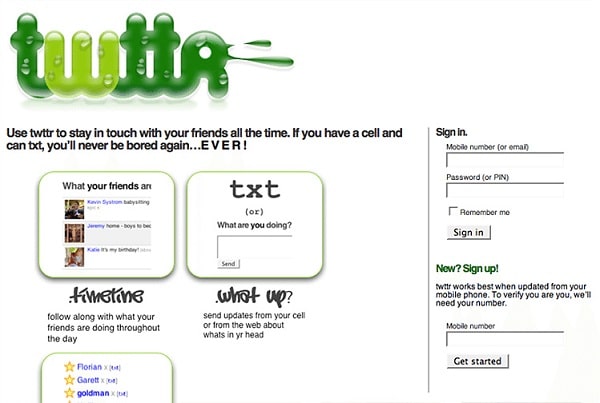 Facebook is not only the social media networking platform built on MVP. Twitter is also one of the successful MVP examples in this vertical to look at for inspiration.
Back in 2006, 4 board members of Odeo (a podcasting company) thought of launching an SMS service that would enable an individual to interact with a small crew of people. So, they build an internal app (twitter as an MVP) that allows its employees to send messages.
After witnessing internal success, they eventually made Twitter public in 2006.
However, Twitter tasted real success when it got featured at the South by the Southwest Interactive conference in 2007. Twitter saw a remarkable rise in daily tweets – from 20,000 to 60,0000.
Today, Twitter is one of the world's leading microblogging and social media platforms with 206 million daily active users.
5. DropBox
Dropbox, a popular file-hosting service, is also one of the successful MVP examples to mention in our list.
Unlike other MVP examples covered here, Dropbox took a very different approach by not building any functional product at all. The founders Drew Houston and Arash Ferdowsi perceived that building a whole hardware infrastructure would be an extremely risky, laborious and expensive process.
Thus, they came up with a simple video as their MVP to see the potential of their idea.
Amazingly, the video clocked over 70,000 signups from people who were interested in learning more about the product.
With the idea validation and real user feedback, Dropbox started receiving funds from investors to develop its offerings. Today, Dropbox is a popular file hosting and cloud storage service with 15.48 million paid users.
6. DoorDash
A leading US-based tech startup DoorDash also began its journey as a simple low-code MVP.
It was all started when the founders of the startup met a woman named Chloe – the owner of a macaroon store located in Palo Alto to get feedback on an app they'd build.
"But in the end, our app didn't solve her most important problems. Just as we were about to leave, Chloe bursted out, "Well, there is one thing I wanted to show you." She took out a thick booklet. It was pages and pages of delivery orders. "This drives me crazy. I have no drivers to fulfill them and I'm the one doing all of it." – the team at DoorDash. 
That's when DoorDash's team realized that it was time to solve the real problem i.e., "delivery as a service" for local Palo Alto restaurants and cafes.
They started with a Concierge MVP. They came up with a very basic web page (PaloAltoDelivery.com as their MVP) to test market demand. In the initial days, the founders delivered the orders all by themselves.
With time, they began receiving many orders a day. After perceiving the huge demand for it, the founders revamped their website to DoorDash.
Today, DoorDash is a leading on-demand food delivery service in the USA with an acquisition of 55% market share. After all, the DoorDash business model gives an equally strong emphasize on all three customer segments: users, drivers and restaurants.
7. Zappos
Zappos is a US-based online shoe and clothing retailer.
It also started its journey as 'Wizard of Oz' MVP in 1999. Zappos founder Nick Swinmurn wanted to see the demand for online shoe shopping.
Thus, Nick Swinmurn came up with a basic website (shoesite.com) and listed some photos of the shoes from local stores to test the market demand. When he receives an order via his website, he would go back to the store, purchase the shoes and ship them.
After realizing people like buying shoes online, the company expanded with more categories. In 2009, Zappos was acquired by Amazon for $1.2 billion.
8. Groupon
Groupon is a global e-commerce marketplace that has a presence in many countries across the globe. When it comes to the popular MVP examples, Groupon also comes into the picture.
It commenced as a piecemeal MVP that was intended to promote services provided by local businesses and offer limited-time deals. They used a WordPress content management system to build the first version of their website.
Within a short span of time, Groupon noticed that people were quite interested in getting deals and gathering data needed for future enhancements.
Today, Groupon is one of the leading coupons and discount websites all over the world with 24 million global active users.
9. Food on the Table
Another perfect instance of a concierge MVP is Food on the Table. It was intended to send recipes and deals from numerous stores to users so that they can save bucks while preparing their favorite meals.
In the initial deals, the founder of Food on the Table did everything manually. He looked for potential users and interviewed them personally to comprehend their food choice, taste and budget.
With the idea validation, they automated the whole process.
10. Uber
The global leading ride-hailing service Uber needs no introduction.
It also didn't go for a big-bang launch like other companies mentioned here. Its journey began in 2008 when two friends Travis Kalanick and Garrett Camp couldn't get a cab after attending the conference on a winter night.
That's when they decided that they wanted to come up with a solution that helps people order and pay for a ride via smartphone. Originally, the idea was intended for a timeshare limo service that can be ordered via an app.
Garrett Camp purchased the domain "ubercab.com". Initially, they tested the service with just 3 cars in New York to validate their idea.
Needless to say, it went quite successfully. Today, Uber has a presence in over 70 countries with Lyft as a major competitor. Thus, if you're interested in launching a similar platform, then it's a must to take a deep look at Uber and Lyft business model.
11. Foursquare
A location-based social network launched in 2009, Foursquare is a notable example of a single-featured MVP. It started its journey with just a single feature that would allow people to check in at different locations, share it with their dear ones and win badges.
At that time, Foursquare had no exceptional design but only the gamification that made people love using it.
Once gaining a solid user base, it expands to a comprehensive city guide popular across the globe to look for hotels, places and restaurants for entertainment and much more.
12. Buffer
Buffer is a social media management app that helps schedule and post content on various social media networks.
Buffer's founder Joel Gascoigne had an idea.
"I wanted to take the scheduling feature of many Twitter clients and apps and make that single feature awesome," – the founder of Buffer.
To realize his vision, he created a landing page to check the market need and engage early adopters. Once seeing a good number of registrations, he designed and built the first version of the app with limited features that enable users to access Twitter.
With time, Buffer acquired more users. Today, it is a full-fledged social media management tool with access to multiple social media platforms including Facebook, Instagram, TikTok, Twitter, LinkedIn and Pinterest.
13. AngelList
AngelList is also one of the successful MVP examples that deserve to be on this list.
Launched in 2010, AngelList is an investment and job platform for startups to raise money & connect with investors and for jobseekers who look forward to working at startups.
AngelList's founders Babak Nivi and Naval Ravikant realized their vision by sending emails to investors using their own network of contacts. After witnessing the great potential for their idea, they scaled to a much larger platform we all know today.
14. AdWords Express
A simplified version of AdWords, AdWords Express is an advertising platform designed for advertisers to display their ads on the search engine results page of Google.
From the outset, the process of the platform seemed automated but it had a powerful back-end featuring a group of students who would rapidly type ads and deliver them to the end users.
When this process showed amazing results, AdWords Express was further developed and is now fully automated.
15. Instagram
The world's fourth most popular social media platform Instagram is also one of the successful MVP examples to look at for building your own MVP.
In the beginning, the MVP of Instagram just enabled users to upload a picture, apply filters and share it with their friends. At that time, Instagram's founder Kevin Systrom just wanted to test the market need.
With an amazing response from users, Instagram was further developed with all the engaging features that we see and use today.
Hire Vetted MVP Developers from InfoStride to Kickstart Your Startup Idea
With local talent shortage, finding and hiring a perfectly-matched developer to build an MVP for your idea is challenging. However, InfoStride is here to help by providing you instant access to pre-vetted remote developers who specialize in MVP product development.
Our development team of software developers, software engineers, app developers and UI/UX designers are professionally screened via our multi-stage vetting process.
Thus, with InfoStride, you'll get access to hire developers who are ready to provide their valuable contribution from day one.
Some of the other benefits you can relish by choosing InfoStride to develop your MVP include:
Flexible engagement models: Engage with us as your project requirement demands – hire our developers on an hourly, monthly or project basis.
Save recruitment costs: Hire our vetted developers and save yourself from investing heft resources in sourcing and finding potential developers for your project.
Get complete administrative support: We ensure no trouble on our shoulders by handling everything from onboarding to payroll and compliance for your remote resources.
Interested? All you need to do is share a few details about your project to get started today!
Conclusion
Our list of top 10 successful MVP examples proves that starting with an MVP rather than going for a big-bang launch is indeed a smart move for entrepreneurs.
After all, launching products is no small undertaking. Building an MVP is a low-risk and cost-efficient way of testing the idea before you go all-in. By collaborating with the trusted MVP development company, you can also launch a successful MVP for your product.
Some Hand-Picked Articles for You
Top Online Marketplace Ideas for Entrepreneurs & Startups
Trending Startup App Ideas Apps You Can Launch This Year
Top Online Medicine Delivery Apps That Are Worth Your Attention
Top Gaming Chat Apps and How They are Generating Millions in Revenue