The moment Google rolled out the stable version of the Flutter framework in 2018, it has created a buzz in the mobile app development market.
After all, one can build apps for Android, iOS, Mac, Windows, Linux, and web using a single codebase. The framework has gained popularity due to its distinctive architecture, quick development process, and exceptional results.
Proof of that?
More than 10,000 apps have been released, in accordance with Flutter. Without further ado, let's deep dive into some of the famous apps built with Flutter.
A Quick Overview to Flutter
Developed by Google, Flutter is an open-source framework to build user interfaces of the web, desktop, and mobile applications that run across Android and iOS platforms. As compared to other cross-platform mobile development frameworks, Flutter doesn't leverage web technologies like JavaScript.
Developers code apps using the Dart programming language. Flutter is a fast-growing technology that has become the helm of various companies.
Our list of top apps made with Flutter will help you comprehend better how developers adopt this framework.
Know More: Flutter Vs Native iOS: Which one is better?
Famous Apps Built with Flutter Framework
There are tons of apps built using Flutter out there. But we will walk you through 8 of the famous apps made with Flutter for Android, iOS, and other platforms.
1. Google Ads
Google Ads helps users run ad campaigns while on the go. The app creators leveraged the Flutter framework to effectuate the Material Design elements within the user interface.
The app comes with tons of features such as campaign stats, real-time notifications, update bids, and budgets, keyword editing, and instant support from Google experts.
2. Reflectly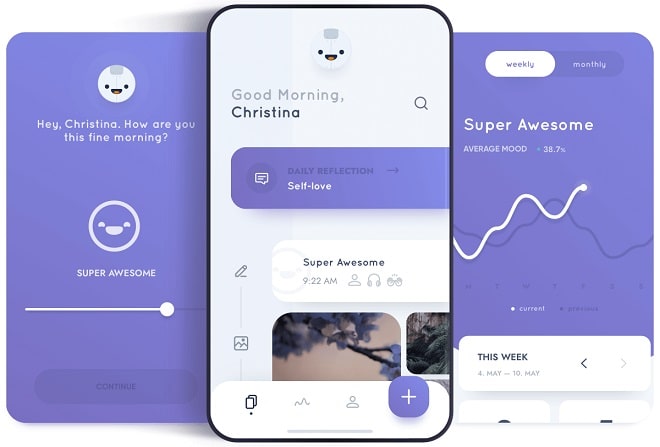 Based on Artificial intelligence, Reflectly is a personal journal app that blends cognitive-behavioural therapy, positive psychology, and meditation to help users lead a positive lifestyle.
Originally made using React Native, Reflectly leveraged Flutter after realizing they just need to code once for Android and iOS. The app's AI system asks users personalized questions and assists them in creating stories.
Thanks to the app, users can get detailed insights from leading experts on their stress levels, thought patterns, and habits.
3. Xianyu by Alibaba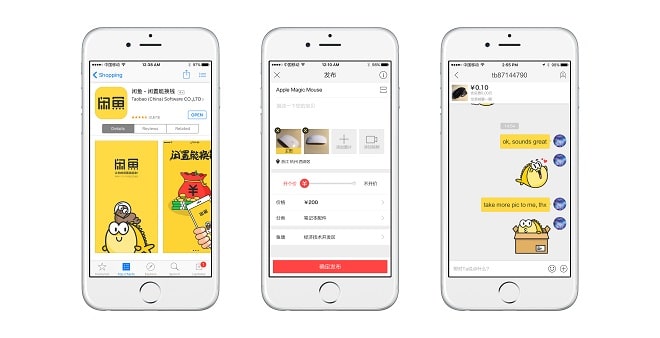 The world's biggest eCommerce platform, Alibaba adopted Flutter to build an unprecedented user experience for Android and iOS on their Xianyu app.
They boast inspiring numbers: 50+ million downloads, 10+ million users daily, and 200+ million registered users.
The app connects buyers and sellers in one place for buying and selling millions of items from a wide array of categories of products. As a result, making buying and selling more hassle-free and natural.
4. in10 – RSVP & ETA Tracking App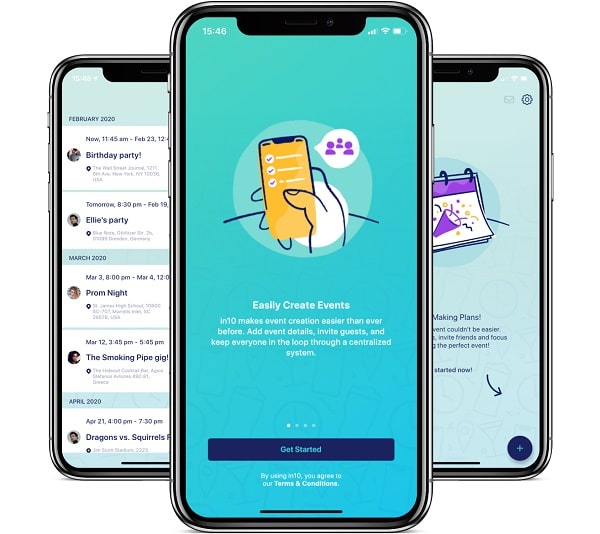 The next one on our list of famous apps made with Flutter is in10, which combines meetup/RSVP functionalities with ETA tracking technology.
The app lets users create new events, share status updates, invite friends to events through SMS, and much more. The app creators gave utmost importance to user's privacy by displaying all the locations privately.
In other words, users can only check the relative distance of other members to the event location.
5. PostMuse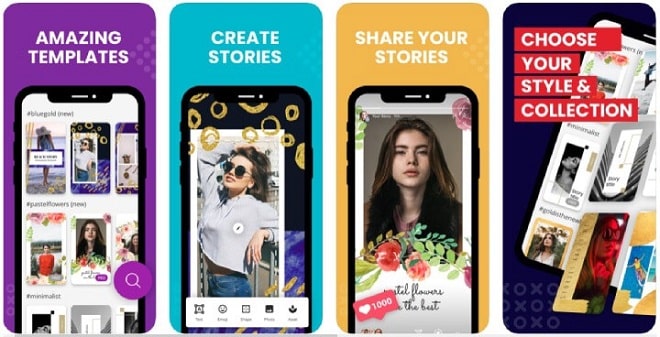 A handy Instagram photo editor, PostMuse helps users create beautiful stories and posts. The app comes with tons of stunning templates to choose from a wide collection of frames, typography, and more.
Flutter, in addition to ensuring the no-delay UI, provides users with a complete array of multimedia features, integration with Unsplash stock photography service, and more.
6. Music Tutor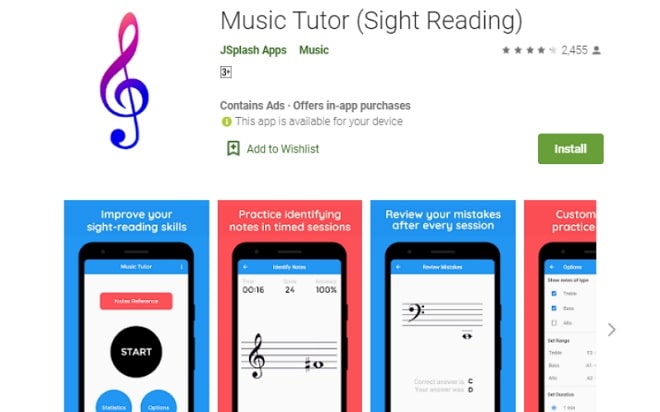 With this app built with Flutter, users can ascertain to read sheet music and enhance their sight-reading skills. It also entails a sheet music reference chart for bass, treble, and clefs.
Above all, Music Tutor helps its users keep track of their progress and enhancement using the Stats page. Thanks to Flutter, the app creators were able to launch Music Tutor to the market pretty quickly.
7. Hamilton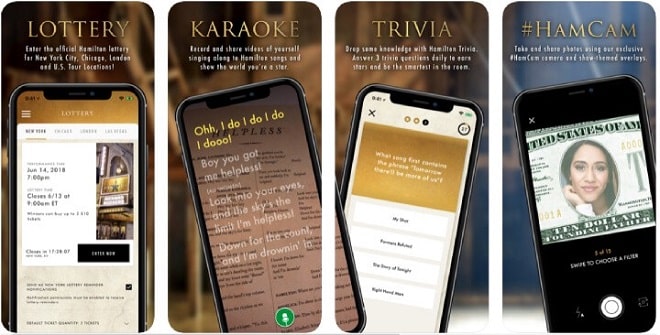 Built for Hamilton Broadway Musical fans, the Hamilton mobile application entails a range of multimedia such as exclusive videos, shareable stickers, etc.
By leveraging Flutter, the app creators were able to deliver the smooth operation of numerous multimedia functionalities and an excellent user experience on both Android and iOS. Other features enacted with Flutter are a merch platform, a trivia game, and a ticket lottery.
8. Realtor.com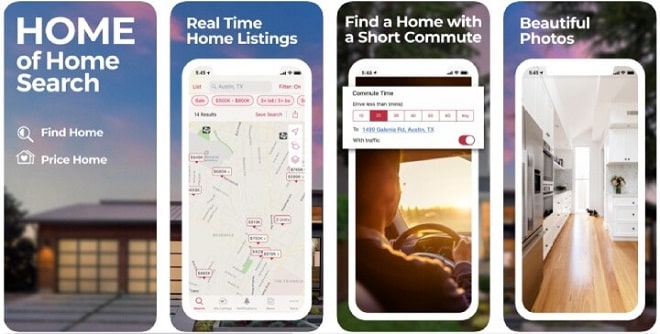 Realtor.com Real Estate Search is a famous Flutter-powered mobile app to help people find homes for rent or sales in the USA. By adopting geolocation plugins, the app shows available apartments and houses on the US map.
Flutter provides the app with mapping functionality, data visualization tools, graphical components (blocks, price range sliders, etc.), and photo support.
Know More: Cost To Hire a Flutter App Developer
9. MGM Resorts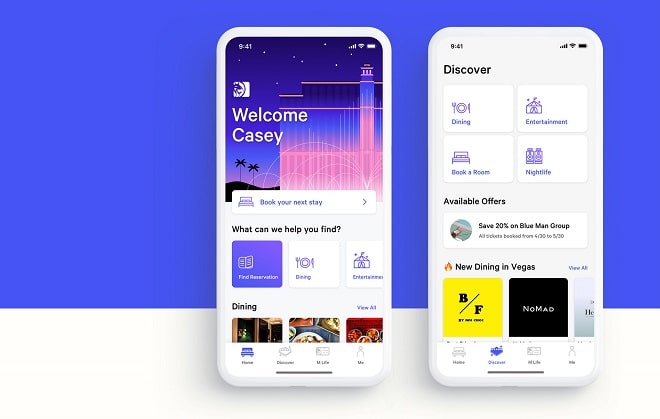 The MGM Resorts app for both Android and iOS platforms is built using the Flutter cross-platform framework. The app enables its users to browse the hotel rates, nightlife events, make dining reservations, contactless check-in and many others.
All in all, the MGM Resorts app is multi-purpose for hotel guests. In addition to the aforementioned features, developers keep introducing new features to enhance the user experience.
10. Groupon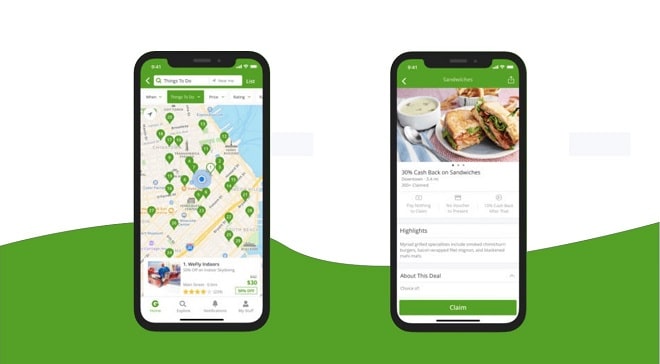 Groupon is one of the most popular platforms that offer coupons, group deals and amazing cashback on purchases to customers.
At the same time, merchants take advantage of Groupon deals to entice customers into buying their products. Groupon Merchants is one of the apps built with Flutter to help sellers track their campaign performance and enhance customer satisfaction.
11. eBay Motors
Though the main eBay app is not built using Flutter, the eBay Motors app designed to buy and sell automobiles for auto enthusiasts was made using Flutter.
The engineering team at eBay used Flutter to build eBay Motors in order to launch the app into the market in the defined timeframe i.e., less than one year along with delivering an amazing user experience to users. And Flutter met their needs best.
You can click here to learn how they end up using Flutter for developing eBay Motors.
12. Insight Timer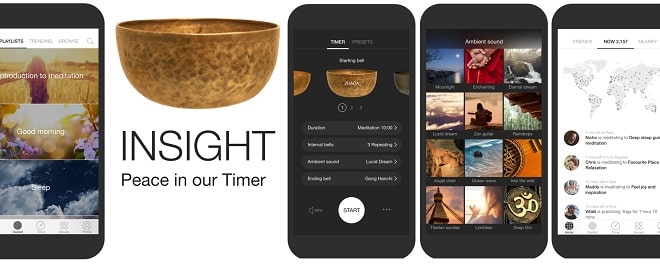 Insight Timer is one of the leading mediation apps built with Flutter framework. The app comes with thousands of free guided meditations led by the world's famous experts, mediation teachers, neuroscientists and artists.
In addition to this, the app also offers a meditation timer, discussion groups, music tracks, sleep programs and live events.
13. Inkino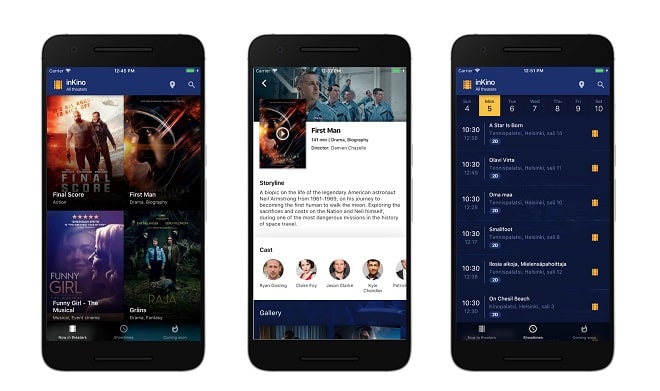 Inkino is an application that empowers its users to know movie details and showtimes at Finnkino cinemas right at their fingertips.
In technical terms, Inkino is a multiplatform Dart project with 40% of the application's code sharing between Flutter and the web. Both Android and iOS apps are built using a single codebase thanks to a Flutter.
Looking for Industry-Specific Flutter Developers to Hire?
No matter your requirement – whether you have an app idea like Google Ads, eBay, Relator, or any of the apps mentioned above, our team of industry-specific developers can help devise a go-to-market strategy to turn your idea into a successful reality.
We can assemble the agile-trained development team to provide end-to-end support to you from technology consultation, design, development, deployment to testing and maintenance. Whatever your timezone, rest assured that we can onboard the developers who will work according to your timelines and milestones.
Contact us today with your requirements and hire expert developers from InfoStride to launch your application with expert guidance at every step of the way.
Conclusion
All aforementioned popular apps built with Flutter share great things: quick development process, user-friendly design, and pixel-perfect rendering. Of course, these are not only Flutter-powered apps and you can find more here.
Companies from startups to small businesses and leading brands have successfully implemented Flutter technology into their mainstream apps. And from the above list, it is apparent that Flutter is ideal for developing different types of apps including entertainment, lifestyle, social networking, health and fitness, shopping, business and more.
Do you know an interesting and popular app built using Flutter apart from our list? Let us know in the comments below.
Few hand Picked articles for you