As the pandemic took the world by storm, most industries were affected badly.
But there were some industries that witnessed tremendous growth owing to the pandemic. And today we are talking about e-pharmacy that increased twofold with people prioritizing buying their medical supplies through online medicine delivery apps.
The global e-pharmacy market was worth $49,727.7 million in 2018 and is anticipated to clock $177,794.9 million by 2026.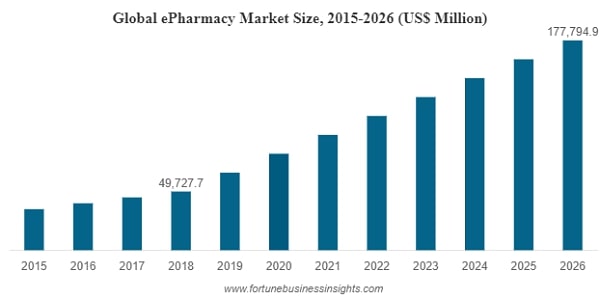 With the growing popularity of online medicine delivery apps around the world, it wouldn't be wrong to say that investing in medicine delivery app development for entrepreneurs is indeed a promising business area.
If you've already realized that fact and are looking for inspiration to get started, this post is exclusively for you.
Through this post, we'll help you explore the top 5 online medicine delivery apps that are ruling the industry. Continue reading to learn the key facts about them such as funding status, growth, and among others, according to their Crunchbase profile.
Top Online Medicine Delivery Apps
Without further ado, let's look at some of the top online medicine delivery apps.
1. Capsule Pharmacy
Also known as Uber of Pharmacy, Capsule is one of the fastest-growing New York-based online medicine delivery apps that strive to offer same-day medicine delivery at the doorsteps of its customers.
The founder of Capsule, Eric Kinariwala decided to build a home-delivery pharmacy app after experiencing appalling pharmacy customer service itself by waiting in line for such a long time to get the desired medicine.
A tech-enabled pharmacy startup Capsule is one of the largest companies on the 2020 Forbes's Billion-Dollar Startups list, clocking revenue of around $100 million last year by assisting people in New York in placing the order of their prescribed medications via text or app, with delivery at the doorstep within 2 hours.
At present, Capsule facilitates the home delivery of medications in cities across the USA.
Founded: 2016
Founders: Eric Kinariwala
Total Funding Amount: $570M
No. of Funding Rounds: 6
No. of Lead Investors: 4
Valuation: More than $1B
Official Website: https://www.capsule.com/
Also Read: Top 5 Gaming Chat Apps That Generate Millions in Revenue
2. 1mg Online Healthcare App
1mg is more than just an on-demand medicine delivery app in India. It is the most trusted online pharmacy and healthcare app that provides a broad array of services from online doctor consultations via chat to lab tests and on-demand delivery of medications at home.
With a presence across +1000 cities across India, 1mg's revenue clocked a 77% jump in FY20. Like Capsule, 1mg strives to provide same-day home delivery of medicines.
And the latest update about 1mg: Tata Digital, which strives to build its super application ecosystem, has acquired a whopping 60% stake in online pharmacy 1mg.
Founded: 2015
Founders: Akash Deep Singhal, Anurag Mundhada & 4 More
Total Funding Amount: $204.6M
No. of Funding Rounds: 16
No. of Lead Investors: 9
Valuation: Expected to reach $450M
Official Website: https://www.1mg.com/
3. NetMeds
NetMeds is another prominent online medicine delivery app by Dadha Company that operates in India since 1914. In addition to online delivery of medicines, the app provides online doctor consultations and online lab test booking.
What's the most amazing thing about NetMeds is that it has bagged many awards which including "Best Digital Healthcare Startup" in 2019.
In FY20, NetMeds clocked INR 7.7 crore in revenue. The company promises to deliver medicines to the doorsteps of its customers within a day(s).
Founded: 2010
Founders: Pradeep Dadha
Total Funding Amount: $99M
No. of Funding Rounds: 3
No. of Lead Investors: 4
Valuation: $125M (As of September 2021)
Official Website:https://www.netmeds.com/
Also Read: Trending Startup App ideas to Launch
4. PillPack
An Amazon-owned online medicine delivery app, PillPack facilitates the free delivery of prescribed medications at the doorsteps of its customers in the USA.
What makes PillPack different from other online medicine delivery apps out there is the extreme personalization it offers to its users. The company delivers medicines to its users as per the time and amount specified by their doctors.
Founded: 2013
Founders: Brian Hoffer, Elliot Cohen and TJ Parker
Total Funding Amount: $93.9M
No. of Funding Rounds: 6
No. of Lead Investors: 5
Valuation: $361M after 2016 funding round as per CB Insights findings
Official Website:https://www.pillpack.com/
5. CVS Pharmacy Delivery App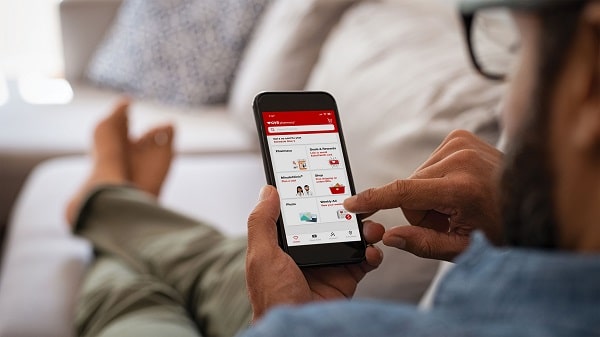 An American company owned by CVS Health, CVS Pharmacy is one of the leading online medicine delivery apps in the USA. Through the app, customers can order medicines & health items online and video chat with a healthcare provider anytime.
According to Forbes findings, CVS Pharmacy is anticipated to add $121 billion to CVS Health's 2020 revenues, which accounted for 47% of the company's $257 billion in projected revenues for the year 2020.
Founded: 1963
Founders: Sidney S Goldstein and Stanley Goldstein
Total Funding Amount: $3M
No. of Funding Rounds: 1
No. of Lead Investors: 1
Official Website:https://www.cvs.com/
Also Read: Top 20 MVP Development Companies for Startups
Interested In Building Your Own Medicine Delivery App?
If the aforementioned list of online medicine delivery apps has piqued your interest in building a similar app to capitalize on the growing e-pharmacy industry, you're indeed on the right track to building a profitable business.
It goes without saying that e-pharmacy is a competitive industry with many strong key players and new ones striving hard to outrun.
So, you need a strategic software development partner who can help you transform your online medicine delivery app vision into a product that has the potential to disrupt the industry.
InfoStride is one of the global leading providers of software development services to companies and startups around the world.
Our development teams take time to understand our clients' product vision, target users and the goals they want to achieve. This approach helps us deliver user-focused software products that help our clients to deliver unmatched value to their customers.
To kick off your online medicine app development project, you can hire developers from InfoStride on an hourly, monthly or project basis with the following advantages:
Vetted and trained remote developers equipped with a state-of-the-art development facility to start working on your project as soon as it is assigned.
Full onboarding and administrative support right from payroll to compliance and taxes to save you from the unnecessary hassle.
Deploy time zone-aligned developers around the desired tech stack with the assurance of complete control over the team.
Interested? Schedule a free consultation session to discuss your requirements today.
Also Read: Online Marketplace Ideas for Aspiring Entrepreneurs
Conclusion
With modern customers replacing trips to in-store pharmacies with online medicine delivery apps that allow them to get medicines at their doorsteps with a single tap, it's now the perfect time to start your own online medicine delivery business.
By providing a level of service and experience that customers expect these days through your medicine delivery app, you can easily outperform your rivals in the industry.