With many businesses across the globe heading online as the COVID-19 pandemic forced consumers to shop online, Shopify became the most preferred platform to launch their online stores to meet consumer's demands.  
At the same time, competition is becoming more intense as eCommerce is skyrocketing – making it hard to stand out for businesses.  
Having an amazing product is no more enough to entice your target customers to your online store. Today, consumers have several expectations besides high-quality products – including good UI, ease of use, outstanding customer service and easy payment options.  
If your Shopify website meets those demands, you're likely to taste success and earn huge profits. But how can you differentiate your Shopify store from others? In this post, we'll walk you through the top 12 top stores built on Shopify you must check out for some inspiration.  
But let's first have a look at why businesses choose Shopify to power their online stores. 
Why Businesses Choose Shopify over other eCommerce Platforms?
It's no surprise that the COVID-19 pandemic caused the shutdown of brick-and-mortar stores around the globe and forced them to move their business operations online overnight. At the same time, Shopify released new features and apps to help retailers make the shift to eCommerce easier to meet shopping demand online.  
Today, Shopify is ruling the eCommerce landscape with over 100,000 businesses across the globe relying on the platform to sell products online.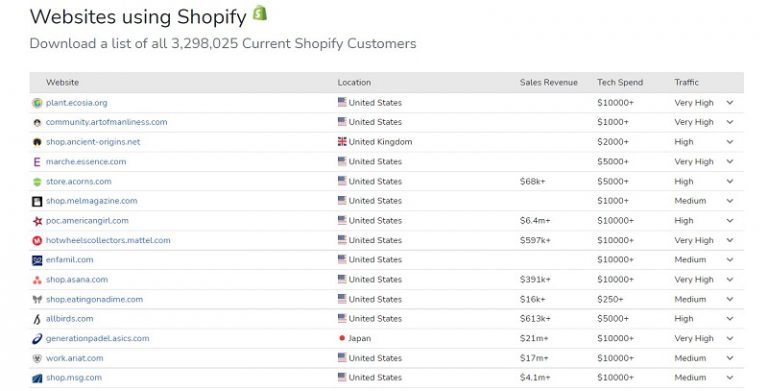 So, what makes businesses choose Shopify over other platforms?  
Shopify lays a strong foundation for businesses to set their store up for success. The platform offers powerful features that take care of all essentials to help you to keep pace with the competition. Some of the features include but are not limited to: 
Themes

: Over 100 free & paid Shopify themes that are mobile responsive and customizable for all verticals of businesses. 

 

Marketing & SEO

: Built-in marketing tools for SEO, campaign creation, audience targeting and automation to reach potential customers

 

Omnichannel & Multichannel

 

Platform

: Promote and sell your products on multiple sales channels – Facebook, Amazon, Instagram and more

 

Payment Options

: Over 100 payment gateways and its built-in gateway known as Shopify Payments

 

eCommerce Analytics

: Gauge the store's performance in real-time and provide insights to improve your strategy

 

App Marketplace

: Over 1000 apps to customize and enhance the user experience

 

Multi-language Support

: Enable customers to view products, checkout and receive alerts in their local language 

 
Across industries and regardless of size, businesses trust Shopify and it makes sense why considering the features it has to offer. Some even hire Shopify experts to make the most out of Shopify features for making a fortune through their eCommerce store.  
However, some of the biggest brands that use Shopify to run their stores are Kylie Cosmetics, Taylor Stitch and Allbirds. Read on to learn more in detail for inspiration while building your own brand.  
12 Most Successful Shopify Stores for Inspiration
Ready to get inspired? Whether you're just starting out or thinking of revamping your store to outsmart the competition, these top 12 stores built on Shopify are worth checking out. 
1. Taylor Stitch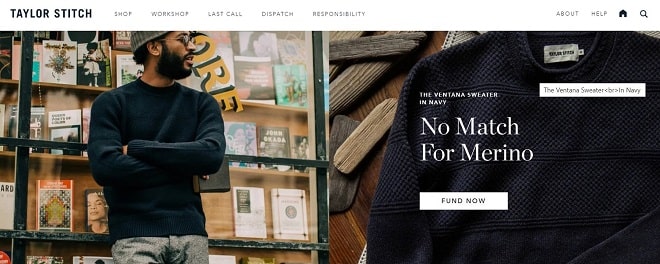 Taylor Stitch is a classic men's clothing brand with a mission – creating long-lasting menswear while reducing its environmental impact. The brand has even received appreciation from the most popular publications, which include Entrepreneur and Forbes for its sustainable and eco-friendly practices.  
The Taylor Stitch website entails everything to stay ahead of the game – clear CTA, mobile-friendly website design, alluring copy, images that support the "classic" aspect of its products.  
2. Kylie Cosmetics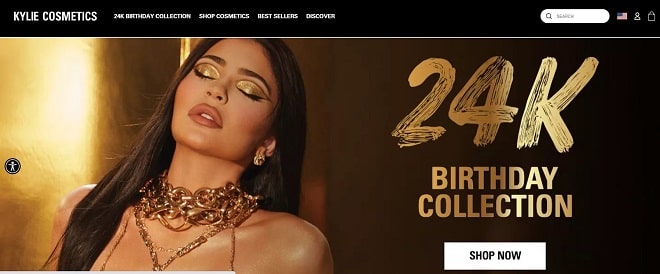 Kylie Cosmetics is one of the most popular cosmetics brands around the globe and owned by the most followed influencer on Instagram and needs no introduction – Kylie Jenner. 
Being one of the most successful stores built on Shopify, it offers lip, eye and skin products. Like Taylor Stitch, the brand has been featured in top publications like Forbes, Wall Street Journal and more.  
What sets Kylie's website apart from others is the perfect selection of background color i.e., pink and usage of high-quality pictures for every product.  
3. Luxy Hair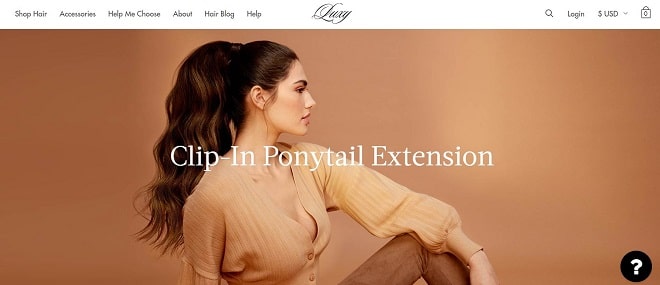 Luxy Hair is one of the most popular clip-in hair extension stores. The brand has received appreciation all across the globe – especially in the US and Canada for its hair extensions that help women experiment with a different color.  
The brand success lies in YouTube marketing with more than 3 million subscribers on YouTube and being able to generate seven-figure business.  
4. SkinnyMe Tea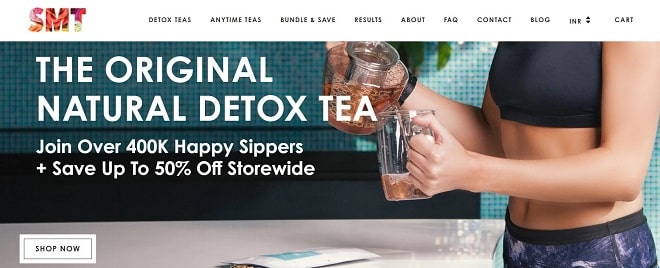 Founded in 2012, SkinnyMe Tea is an Australian brand that offers detoxing tea products with a mission to help people achieve health and wellness goals. It has helped over 400, 000 people achieve their fitness goals through its Teatox program. In only 6 months after starting SkinnyMe Tea, the founder was making $600k in monthly revenue.  
Like Luxy Hair, the success of SkinnyMe Tea lies in social media marketing i.e., usage of Facebook Messenger on their site to foster trust with potential customers.  
5. Allbirds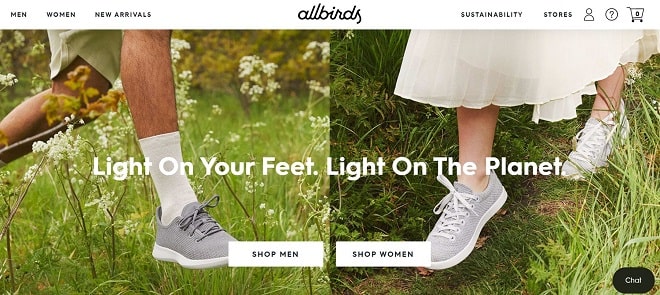 Allbirds is a famous shoe brand known for its sustainable products. Like most other brands, it has been featured in top publications such as CNN, Wall Street Journal and more. What makes this Shopify store unique from others is the use of eco-friendly materials in its products and the modern, elegant website design.  
The brand witnessed enhanced omnichannel conversions using buy in store, ship to customer technology. Also, the Allbirds website gives customers the right vibe with enticing, informative copy and graphics.  
6. Gymshark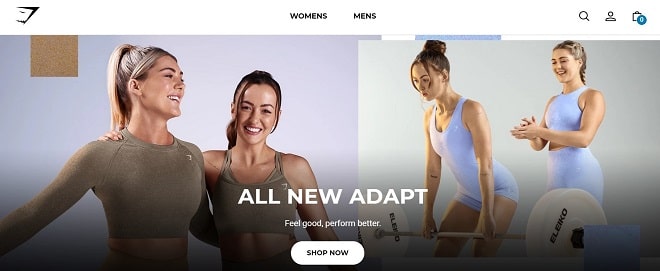 Founded in 2012 by a group of teenagers, Gymshark is one of the most popular fitness apparel and accessory brands that have sold products in 131 countries. The brand has an amazing 4.6 million followers on Instagram with most of the social media posts are stories of happy customers.  
The Gymshark success lies in the usage of minimalist website design, clear CTAs and high-quality photography of products.  
7. Studio Neat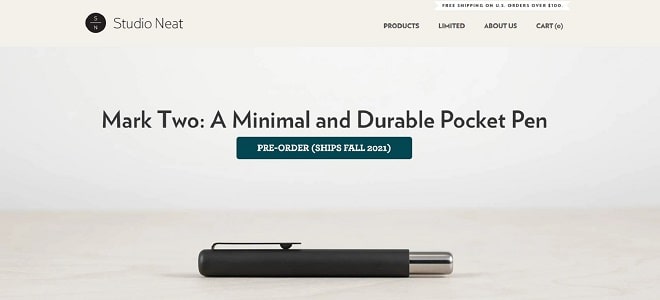 Studio Neat is a hub of amazing and cool tech accessories that you won't find anywhere else. This Shopify store is owned and run by two designers who strive to roll out handy products that help to address problems faced by people.  
They use Kickstarter to fund their product ideas. Moreover, the Studio Neat website has it all – clear CTAs, easy navigation, and meaningful copy (including video content) to level up the eCommerce game. 
8. WP Standard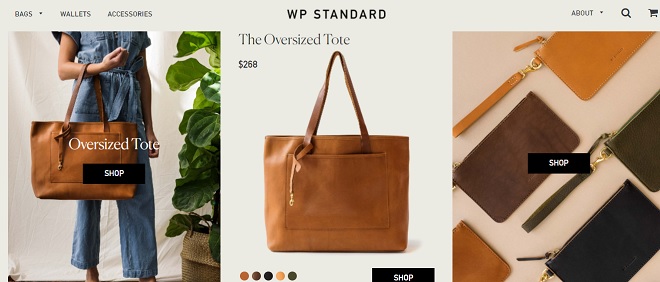 A popular leather accessories brand that deals in wallets, bags and accessories, WP Standard secured Shopify's Design Award in 2013. This recognition gave desired exposure to the brand and resulted in enhanced sales. At the same time, WP Standard gave the perfect example of the importance of design in achieving success in the eCommerce landscape.  
Thus, the brand's success lies in design and strategies that revolve around blogger outreaching and publications for lead generation. 
9. Biko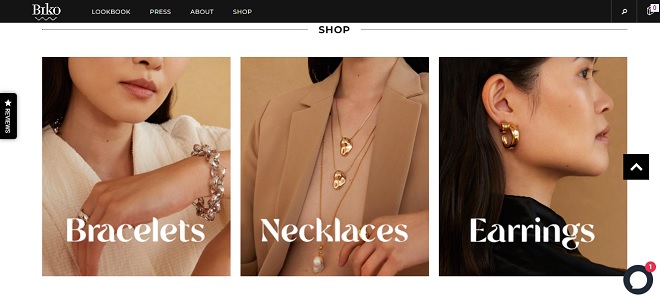 The next in our list of top stores built on Shopify is Biko, a Toronto-based modern-nostalgic jewelry brand popular for handcrafting every item that they manufacture and produce, with materials and natural stones such as pearls.  
  What makes Biko stand out from others is simplicity in design and making use of high-quality product photography that entices the target audience for purchase.  
10. Nutriseed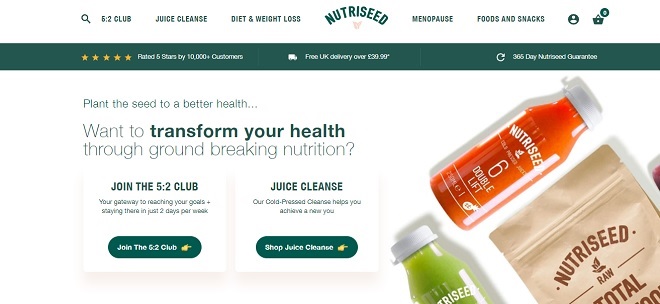 Nutriseed is committed to producing earth-friendly, plant-based vegan food, supplements and juices that promote healthy eating. They have witnessed remarkable growth in the last few years and are currently selling more than 200 products a day.  
What sets Nutriseed apart from others in the same niche is not just their product offering but delivering an exceptional overall experience to target customers. 
11. Haus

In the category of home goods and furniture, Huas is one of the best examples of successful Shopify stores. Haus has done excellent work in terms of simplicity, design and navigation. The choice of background and color scheme is helping the products stand out amazingly.  
In addition to facilitating in-person shopping via their physical store in London, the option to shop online with invaluable benefits like 15-20% off is providing an amazing online buying experience to targeted audiences.  
12. Beardbrand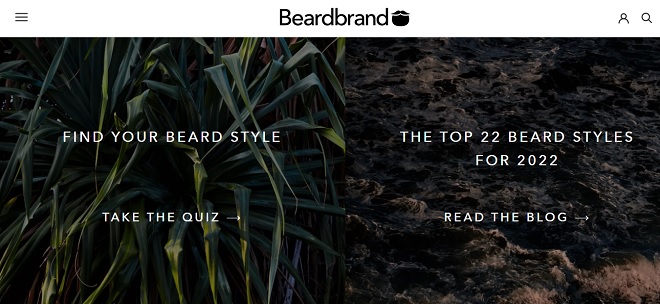 Beardbrand's founder Eric Bandholz came up with this online venture with the aim to simplify the grooming routine for beardsmen through offering men's beard care products and actionable tips via blog and community  
Amazingly, they made $120k in sales on a monthly basis in less than a year. Not just that, their email list grew to +7000 subscribers. The success of Beardbrand lies in the power of educational content and social media.  
Hire Shopify Experts to Level Up Your eCommerce Game
Once you have set up your online store, no matter how unique your products are, but if you don't possess the necessary Shopify expertise, you could risk falling behind the competition.  
Luckily, you don't have to be a Shopify expert to leverage the platform to its full potential. You can instead work with Shopify experts to build and run your eCommerce store that drives the outstanding results you need.  
At InfoStride, you can hire Shopify experts and developers with flexible engagement models to choose from and it includes hourly, monthly or project-based hiring.  
Our vetted Shopify experts are trained to deliver to end-to-end Shopify solutions that range from eCommerce store setup, development and customization to ongoing maintenance. We also make it easy to hire remote experts by managing its administrative aspect; starting from onboarding, infrastructure setup to payroll, taxes and compliance.  
Interested? Share your requirements with us today and get the tech specialists around the desired expertise to build the next eCommerce giant.  
Conclusion
With cutthroat competition in eCommerce, standing out is not an easy feat but also not impossible. While Shopify provides unmatched features to pave the way to success, it's on you to optimize your strategy to make that a reality.  
When you're out of ideas, taking inspiration from other great stores built on Shopify can help reignite your creativity and innovative spirit to deliver the experience that target users crave.  
If you don't have time to build your own successful Shopify store, hiring a Shopify expert is a smart investment that can pay you back in the long run. Above all, working with experts can help you unearth the weak spots of your strategies you need to focus on to drive results.  
Do you know any highly aspirational stores built on Shopify? Let us know in the comments below! 
Few hand Picked articles for you