Our team of experts has extensive experience in various IT domains, including software development, project management, network administration, technical support, and more. We understand that every business has unique IT requirements, and our staff augmentation services are tailored to meet those needs.
We take a consultative approach to staffing, ensuring that we provide the right people with the right skills to achieve your business objectives. Our IT staff augmentation services allow companies to quickly and cost-effectively scale their IT teams and projects while maintaining quality and efficiency.
What sets us apart? 

Our extensive database
We have a global database of talent that we use to leverage the most suitable recruits from different verticals. We do the digging so that you can find pure gold in terms of talent. Whether it is an entire team you wish to augment or a few people for specific roles. We are a highly preferred IT staff augmentation company because of our comprehensive approach.  

Dedicated Account Management
Our dedicated account managers provide personalized attention and support throughout the engagement, leveraging scrum frameworks to ensure the timely and efficient recruitment of talent that aligns perfectly with your business objectives. 

Flexibility & Scalability
We offer flexibility in terms of skillsets required, and project scope, providing qualified professionals for short-term or long-term projects, depending on the client's needs. We can quickly scale up or down based on client needs, allowing clients to access a pool of resources on demand.  

Frequent follow ups
We follow up even after we have placed the talent on your project. Frequent reporting helps us keep track of their performance and growth and ensures that your project is progressing as planned.

Experience across industries
We can help you find the best staff for roles in different industries. Over the years we have experience in catering to several different industries, which makes us a reliable choice for staff augmentation services no matter what industry you hail from.

Proven Expertise
We have years of proven expertise, specific experience and unwavering dedication to quality to every project,ensuring that the right talent is found for your specific needs, at the earliest. You won't have to spend excessive money and effort for the same, as compared to other Staff augmentation companies.

Customized Solutions
We utilize a consultative approach and in-depth discovery process that put a strong emphasis on creating a customized recruitment plan, selecting specific regions and and candidate expertise that meet the client's unique needs, and focusing  efforts on the areas that are most critical to the client's business.  

Quality Standards
We are a CMMI and ISO-certified company, utilizing rigorous quality standards and best industry practices to deliver the best IT staff augmentation in a structured and efficient manner for maximum impact. Our team uses the latest techniques to boost accuracy, and future-proof solutions.

Compliance
Our staff augmentation experts are well-versed in employment laws, regulations, and compliance requirements, and can ensure that the professionals they provide are properly screened, trained, and compliant with all necessary regulations. 
The InfoStride Approach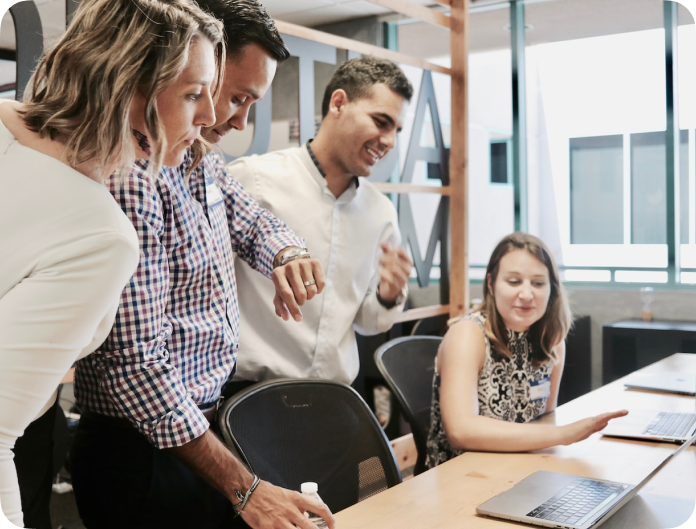 Discover
We do all the work for you, right from screening through different resumes, to shortlisting candidates, vetting their applications and sending you only those CVs that make the cut. 
Innovate
When you trust us with staffing needs, we deliver the most cost-effective results without you having to spend on things like equipment, taxes, office space and so on. You will only pay for what brings most value to your organization.  
Accelerate
Whether it is legal formalities or documentation, we are the point of contact for the recruited talent. This means that you will be safe from a lot of legal duress, in the case of a conflict. This will in turn help your record stay solid. 
Assure
Keeping in mind our vast talent database, you can choose from amongst several certified specialists, without having to go above and beyond in terms of expenditure and effort. It will also help you find talent in a timely manner, so you can deploy them to work without any delay.
Inspire
Despite us doing all the groundwork, the client holds total control over the entire process, which means you are going to be aware and effective in the entire process and the talent so chosen reflects your exact set of requirements.  
Let's discuss more about your staffing requirements today