With a whopping 88% of mobile time spent on apps, it's no surprise to witness more and more entrepreneurs showing keen interest to invest in mobile app development.
But today having a revolutionary app idea for your startup is not just enough. The process of transforming a startup app idea into a successful product requires an immense amount of money, time and skilled resources.
After all, it's no secret that a high percentage of mobile apps fail to take off. According to CB Insights, 38% of startups fail because they ran out of money or failed to raise new capital.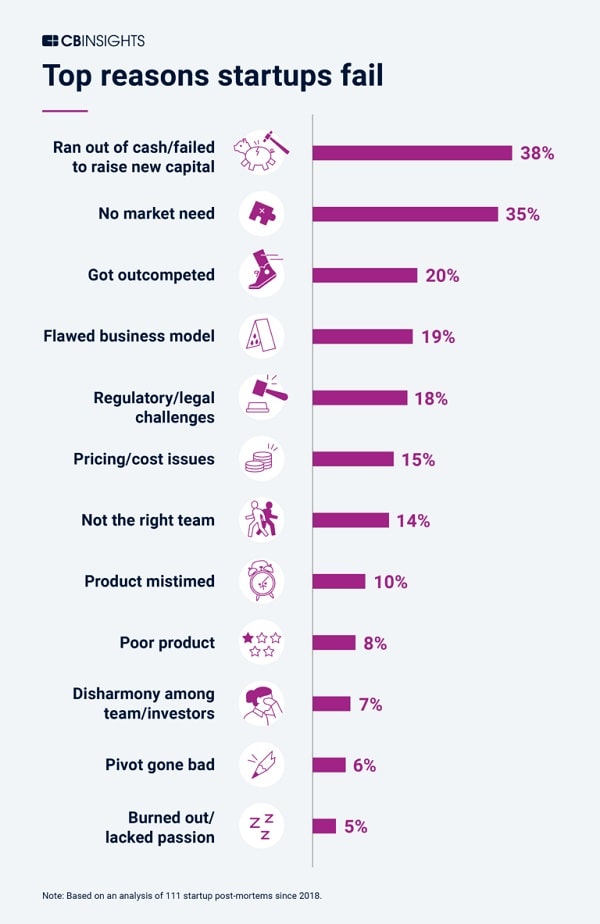 So, if you don't have solid personal financial backing for your app idea, raising funds from investors is the only way to bring your idea to life and scale your business.
But there are different types of investors to choose from for funding your app. How are they different? What type of investor is right for your app idea? Well, it depends on your app idea, the business plan, fund requirements and the stage you are at.
Through this post, we'll help you explore some major types of investors in detail, different stages of mobile app funding and tips to raise capital from investors.
5 Common Types of Investors for Your Mobile App Startup
When looking for investors for your mobile app startup, you'll come across different types of investors to choose from. But below is a breakdown of five common types of investors you could approach to raise the funding for your app.
Friends and family are the best bet for many entrepreneurs to secure money for their startup app idea at the beginning or pre-seed stage. These are the people that already know you and most importantly – trust and believe in you.
Moreover, according to a popular crowdfunding platform Fundable, the biggest funding source for most startups is none other than friends and family.
Friends and family invest about $60 billion per year in startups and almost 38% of startups get funds from this source.


Moreover, 5% of adults in the USA polled reported that they had provided money to someone starting a venture in the past three years. Out of those respondents, 32% reported that the funding went to a neighbor or friend, 26% to a close family member, 11% to a relative and 8% to a coworker.
You can utilize the money received from friends and family to perform due market research and come up with a prototype to present to other potential investors for the next development stages of your mobile app.
Crowdfunding is a way to raise money from large groups of individuals via crowdfunding platforms via social media platforms. To achieve success with your crowdfunding campaign, it's imperative to develop a strong marketing strategy that demands time, effort and money.
There are numerous types of crowdfunding which include equity crowdfunding, rewards-based crowdfunding, donation-based crowdfunding, debt-based crowdfunding and peer-to-peer lending.
And globally, the total amount raised by crowdfunding amounted to $34 billion and out of which,
Equity-based crowdfunding contributes $2.5 billion to total crowdfunding.


Donation- and reward-based crowdfunding contributes $5.5 billion to total crowdfunding.


Peer-to-peer crowdfunding contributes $25 billion.


Crowdfunding campaigns with videos raise 105% more funds than those without videos.
According to Fundable, there are around 268,100 active angel investors in the USA. They invest around $20 billion into 60,000 companies per year.
Angel investors are high-net-worth individuals who invest in early-stage or promising startups, generally in exchange for equity in the startup.
So, before approaching angel investors, make sure that you have a perfect business plan and proof of the market viability of your mobile app startup idea.
Unlike other types of investors, angel investors also help with their professional connections with the main to help startups grow and thrive.
Venture capitalists are investors that provide funds to companies and startups with high growth potential in exchange for equity. Venture capital firms write the biggest checks with the goal of making a significant return on investment.
As venture capitalists work for big institutions and they can provide ample funding, it's best to raise capital from VCs at expanding or scaling stage.
You can also participate in several app funding contests that are held across the world for entrepreneurs to present their startup app idea to investors. But you should know that these contests have eligibility requirements that you need to meet for participation.
If you get the opportunity, make sure to have a solid business plan and MVP or prototype to increase the odds of winning funding for your mobile app startup.
Stages of Mobile App Funding
Now that you have got an idea of the major types of investors you can approach, let's deep dive into the different stages of mobile app funding.
This is the stage in which you just have an app idea and no real work has been done yet. Typically, pre-seed funding comes from friends and family or the founder(s) of the startup to get off the ground.
The pre-seed stage funding can be used to conduct research, build a team and create an MVP/Prototype.
Potential Investors of Pre-Seed Stage
Family and friends
Startup founders
At the seed stage, entrepreneurs typically start looking beyond their personal network or money from their own pocket, though they can be part of this stage.
Funds raised in this stage can be utilized to carry out further research, expand the team by hiring seasoned specialists, product development & launch and perform experiments for the product-market fit.
Potential Investors of Seed Stage
Family and friends
Angel investors
Early-stage venture capitalists
Crowdfunding
This is the stage when traditional venture capital firms or super angel investors come into the picture to help your mobile app startup grow and scale. So, you've validated your idea and a solid business strategy for future growth.
You'll utilize the capital raised in this stage for optimizing your business and scaling your product.
Potential Investors of Series A Stage
Venture Capitalists
Super Angel Investors
Making it to this stage means you've established substantial user bases for your app, a good stream of revenue and have proven to investors that you are ready to grow on a larger scale.
So, series B funding is typically utilized to perform advanced market reach activities, expand or build dedicated teams for sales/marketing/support, increase market share and meet the demands of the customers.
Potential Investors of Series B Stage
Venture Capitalists
Late-stage VCs
Series C Funding & Beyond
Reaching the Series C funding stage and beyond means you are ready to scale from a mobile app startup to a mid-size business.
During this stage, funds raised are generally used for taking the branding of your business to the next level, tapping into new markets with continuous product enhancements, business mergers & acquisitions, partnerships or going public.
Potential Investors of Series C Stage & Beyond
Late-stage VCs
Banks
Private Equity Firms
Tips on Raising Funds from Investors for Your App
Raising capital from investors can be one of the most challenging parts of starting a new venture. Unless you've strong financial backing, you're going to need an external helping hand.
Before approaching investors, you should know that they look for more than just great app ideas to put their money into a startup.
To help you get success with raising funds from investors, below is a quick breakdown of major things that investors look for before investing in a startup.
A Rock-Solid Business Plan
A solid business plan shows investors that you're quite serious about your startup and you've given serious thought to your idea.
In the business plan, investors would like to see certain key elements such as:
Your target market


Business and revenue model


Competitive analysis


Financial projections


Marketing plans and goals


Potential risks, obstacles and challenges (how you will deal with them)
An App Idea with Differentiator
Are you trying to build a rideshare app like Uber? If yes, why?
You must have the answer to why the world needs another Uber. Before investing in you, investors want to see how your product is different from the competition and some kind of evidence that your competition can't outsmart you with ease.
According to a survey conducted by CB Insights, 35% of startups fail due to a lack of market need. Thus, no wonder why investors give utmost importance to product-market fit while investing in mobile app startups.
The indicators of a good product-market fit entail:
Existing customers recognize the product's value


They tell others about their amazing experience with the product


Growing user base


The need to augment your team by hiring additional experts to meet the demand


Press coverage
The market size refers to the total number of potential customers for your product within a given market. Investors take a deep look at market sizing as this helps assess how much profit you could potentially accrue from your product.
A Minimum Viable Product (MVP)
MVP is the very first version of a product with the bare minimum features. It helps in several ways; which include testing the market demand, building a customer-centric product and faster time to market.
Most importantly, an MVP helps you pitch your idea to investors with confidence. You can present an actual app that investors can use and see how your app works.
With many successful MVP examples, you can't go wrong with this approach.
For a successful MVP development, it's crucial to engage with a team of seasoned experts to help you build the perfect MVP that increases your chance of getting funds from potential mobile app investors.
How InfoStride Can Help You?
With a skilled team of 200+ developers specializing in different technologies and industries, InfoStride can help accelerate the process to turn your app idea into a successful MVP by providing instant access to pre-vetted seasoned developers for hire.
With us, you can hire a solo developer(s) or assemble a dedicated remote development team with our affordable and flexible engagement models.
We help you hire developers with the desired tech and domain expertise. Other benefits you can relish by engaging with us include:
Significant recruitment savings & reduce time to hire by hiring already vetted software developers, software QA testers and other tech experts.


No infrastructure investment as the hired resources will work from our global state-of-the-art development facility.


Flexible and various engagement models to enable you to engage with us as your project and budget requirements demand.


We are open to signing an NDA to protect your sensitive data, unique app ideas and other IP deeds.


Complete administrative, onboarding, team training, payroll and compliance support for the hired resources.
Interested? Share your requirements to help you assemble your dev team to build a high-class MVP or prototype that you can present to potential investors with confidence.
Conclusion
When it is a concern of how you can raise the capital for your mobile app startup, it's imperative for you to comprehend the different types of investors you could approach and at what stage.
Through this post, we provided a quick overview of some common types of investors to fund your mobile app.
Remember; once you know who to pitch to, it's all about delivering the perfect pitch to get your startup app idea funded.
Some Hand-Picked Articles for You:
Best Rideshare Apps (Inspiration and Learning for Startups)
Best Sports Apps: Here's What Makes Them Great 
Top Online Medicine Delivery Apps That Are Worth Your Attention
How to Create a Website like Udemy or Coursera?
Should You Hire an In-House Developer or Outsource Overseas?