Since the COVID-19 outbreak, the need to adapt and embrace digital transformation for organizations has accelerated like never before. Though many elements play a role in making up an effective digital transformation strategy, one of the most crucial is the mobile app.
Businesses are continually seeking faster ways to build business applications that could help them thrive and succeed in the "New Normal".
Flutter by Google is one such cross-platform application development framework that enables businesses to develop feature-rich native-like mobile applications in a shorter span. As a result, the demand for Flutter app developers has also increased.  
Before getting to the cost to hire a flutter developer, let's have a peek at the increasing popularity of Flutter among developers.  
The Rising Popularity of Flutter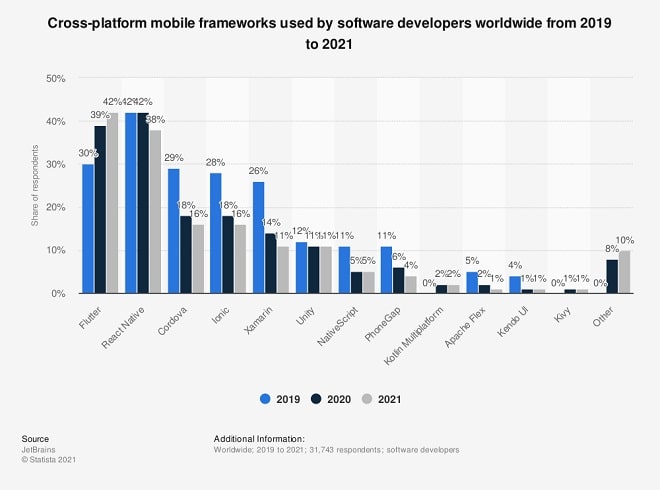 > The official stable version of Flutter rolled out in December 2018, but it touched 2 million users by April 2020.

 

> A

Statista Survey

 ranks Flutter as the second most widely used cross-platform mobile framework by developers. Also, Flutter usage by developers has increased from 30% to 39%, whereas React Native usage has remained constant at 42%. 

 

> Despite being introduced after React Native, Flutter has acquired 122k stars on GitHub, whereas React Native has 96.1k stars.

 

> According to a

StackOverflow survey

, 68.8% of developers prefer developing mobile applications using Flutter and have shown keen interest in continuing to build with this framework. 

 

> Google's renowned AdWords app, Xianyu app by Alibaba, Google Assistant apps, eBay Motors, and The New York Times app – they all have been developed using Flutter.

 
The pace at which Flutter is booming has made crystal clear that the future of cross-platform app development belongs to Flutter. By now, we're sure you must be wondering how to find and hire Flutter app developers for your next project. Let us walk you through it.  
How to Hire Flutter App Developers? 
There are two options at your disposal – you can either outsource your Flutter app development to a proficient software vendor or hire a freelance Flutter developer. Which choice you make will have a significant impact on how much your Flutter app development cost.  
1. Outsourcing Model 
If it's about building a complex application with next-gen functionalities and technologies, you should consider outsourcing your Flutter app development to a reliable software vendor.  
Pros: 
> The biggest advantage of outsourcing application development companies is they can build apps for businesses of every size, shape, and industry.

 

> Outsourcing companies bring you end-to-end services – consulting, design, development, deployment, testing, and maintenance.

 

> They ensure on-time project delivery while meeting the industry standards, resulting in faster time-to-market.

 

> Outsourcing companies provide different hiring engagement models to meet your exact requirements.

 
Cons: 
> The only disadvantage of hiring a software vendor is that they may charge sky-touching rates to deliver you top-quality solutions within the stipulated timeframe.

 
2. Freelance Model 
If you need a simple business application with standard functionality, hiring a freelancer developer can be a good solution.  
Pros: 
> The biggest perk of hiring freelancers is that they charge 20-25% lesser rates as compared to an outsourcing company.

 

> With platforms like Upwork, and Freelancer.com, hiring freelancers has become effortless and a relatively speedy process.

 
Cons: 
> Freelancing portals lack a screening process, so developers much be gauged based on the projects they have showcased.

> Freelance developers are on their own and often undertake several different projects simultaneously. As a result, they may decide to look out for new opportunities without prior notice.

 

> Freelancers often fail to meet the quality standards.

 

> Freelancers don't provide multiple services such as consultation, designing, testing, etc., which are necessary before approaching them for application development projects.

 
What is the Average Cost to Hire a Flutter App Developer?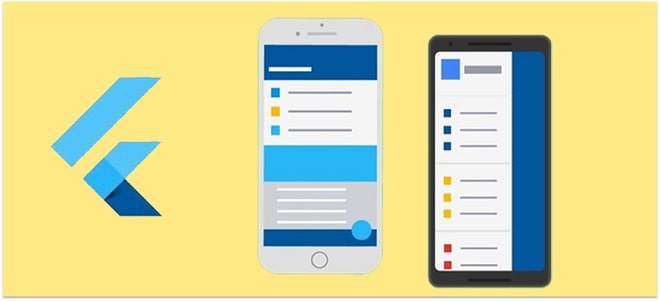 Whether you decide to hire developers from Flutter app development company or freelance developers, you must know that typically developers, irrespective of the region, charge hourly. The average cost to hire a Flutter developer is anywhere $20-$50/hour. 
However, rates can fluctuate significantly due to several factors contributing to the cost, including the complexity of the app, region, app type, and development time.  
Also Read: How Much Does it Cost to Develop an iOS App
Factors That Influence Cost: Unavoidable Expenses 
All these factors come together to determine the cost to hire a flutter developer or a software development vendor that you would have to bear for your project.  
1. Hiring Engagement Models  
If you plan to hire developers from the Flutter app development company, you'll be given flexibility in hiring the resources. In other words, there will be numerous hiring engagement models at your disposal.
You can pick the one based on your budget, project, and work type. For example, we at InfoStride offer the following partnerships. 
1.1. Project-Based Team Model 
In this model, a dedicated team is assigned to work on your project with a dedicated project manager who communicates with you throughout the project lifecycle with daily updates and reports.  
Key Takeaways: 
> The team may compromise developers, designers, and testers depending on your project requirement.

 

> The team may consist of both part-time and full-time resources as needed.

 

> Our team will carry out work and develop your Flutter application from our state-of-the-art development centre in India.

 

> We will provide a ballpark cost depending on your requirements.

 

> This model is ideal with the understanding that collaboration doesn't extend beyond the project's duration (unless you wish to continue with exception).

 
1.2. Extended Team Model  
In this model, your in-house team is extended by our remote developers. Both parties work together to complete the process. So, your internal team is amplified with the lacking experience or skills.  
Key Takeaways: 
> The tasks and responsibilities are evenly spread between every team member, both offshore and in-house.

 

> You will have complete control over the process.

 

> This model is ideal for long-term collaboration practices.

 

> Your extended team will work from our state-of-the-art development centre in India.

 

> We will provide a ballpark cost depending on your requirements.

 
2. Complexity of App  
Every application can be categorized into "Low", "Medium", and "High" depending on the features and functionalities you decide to infuse into an app.
Here is a quick view of some features and integrations that can raise the Flutter app development cost.  
> Deploying architecture model

 

> Integration of third-party applications

 

> Admin panel creation

 

> Integration with other hardware devices

 

> Usage of next-gen technologies such as Blockchain, AR, AI, Cloud, etc.

 
3. Type & Category of App 
There are numerous categories we can divide the mobile applications into, and each has its own functionalities, targeted users, demographics, and more.
The most popular app categories and types are on-demand delivery apps, eCommerce apps, hardware-dependent apps, gaming apps, social networking apps, etc. The choice of application you develop entirely depends on the type and necessities of your business.  
Basic applications like a clock will cost a lot less than social networking apps like Instagram or on-demand apps like Zomato.  
4. Competence of the Developer  
Expertise, skills, and experience of the hired freelance developer or software development company can significantly raise the final app development cost. An experienced Flutter app developer will charge a premium price for broad industry experience and market insights.  
Speaking about Flutter developers, all software engineers will be middle-level professionals since the technology is recently launched.  
5. UX/UI Design 
The UX/UI of any application is a crucial factor influencing Flutter app development cost. UI design focuses on architecting a better outlook for the app, whereas UX design helps users engage with the app seamlessly.
Both UX and UI are equally crucial to deliver an addictive experience for targeted users. There are numerous designs and animations available, and the costs for integrating them can vary based on the type of the app.
For instance, if you're planning to build a gaming app, it will cost more than other solutions like communication apps as it requires high-definition animations and graphics.  
6. Flutter App Development Location  
The location factor plays a significant role in determining the cost to hire a Flutter developer. The same services can fluctuate greatly in cost. If you hire a developer or software development company from India or any developing nation, you will be charged less since demanded per hour rates are less.
On the other hand, developers or vendors from developed countries like Australia and the US will charge more for the same services.  
Here's a quick overview of per hour cost of the Flutter app developer as per the regions: 
Location 

                                  

Flutter App Developer 

 

North America 

 

$100-$150

 

South & Latin America 

 

$25-$50

 

Asia

 

$18-$40

 

Australia & Europe 

 

$60-$95

 
 

 

7. Turnaround Time  

How quickly you want your application to be developed is also a crucial factor in determining the cost. The higher the turnaround time, the higher the cost.

If you want a developer or software development company to complete certain tasks that generally take one week in just two days, the cost will increase as the hired expert will have to invest extra working hours in completing your project.  
8. Maintenance & Post-Development Support 
You should also factor in the cost estimation of maintenance and updates while defining your project's budget.
There are four primary app maintenance costs to incorporate: 
> App updates

 

> Design changes

 

> Bug fixes

 

> Adding new features or functionalities

 
Alterations in design and features are pivotal to ensure that your app continues to engage users. As a thumb of rule, Flutter application development companies typically add 15-20% as the maintenance cost of the application to their pricing catalogue.  
How InfoStride can Help you with your Next Project? 
At InfoStride, we have been at the forefront of engineering mobile applications that deliver tangible business results for more than 15 years. Our highly skilled mobile engineers have expertise in using next-gen mobile tools and technologies, including Flutter, Ionic, React Native, etc., to build mobile applications for varied business verticals. 
Know more: Flutter Vs. Native iOS: Which one is better?
Our experts can give you a ballpark estimate for your next Flutter app development project. Also, if you still have doubts regarding using Flutter for your next project, we can help clear your thoughts and determine the right technology for a mobile app for your business. All you have to do is contact our experts with your business app idea and requirements to get a free quote.  
Conclusion 
Flutter speeds up the entire mobile app development process along with bringing you more valuable benefits, including developing apps for multiple apps using a single codebase, superior performance, and cost-effectiveness.
And considering unmatched perks that the Flutter app development company has to offer compared to a freelance developer, you can't go wrong with choosing a reliable software vendor.  
What factors do you think to play a part in determining the cost to hire a Flutter app developer? Let us know in the comments below.