Across industries, the COVID-19 pandemic and technological advancements pushed companies to embrace remote working as a crucial part of their core business strategy. After all, in times of uncertainty, adapting to this new normal working model is key to any business success.
However, this transition brings three most common challenges that companies face: attracting, hiring and retaining remote employees effectively.
Hiring remote employees demands a more strategic approach. You're not just matching the right person with the right role but also seeking suitable candidates for a remote working environment.
So, how can you find and hire remote talent who aligns with your business goals?
In this comprehensive guide, we're going to highlight key actionable tips on how to redevise your hiring process to attract, hire and manage remote employees. Along with that, we'll uncover some crucial things you should know while hiring remote professionals.
But let's first start with defining the difference between remote working and working from home.
What's Difference Between Remote Working and Working from Home?
Both remote working and working from home are terms used interchangeably but aren't the same.
Remote work means working from anywhere besides the office such as your home, café, or a coworking space. On the other hand, work from home means working only from your home but on a temporary basis.
The pandemic forced almost all companies to allow their employees to work from home. After the post-pandemic, many employees who are currently working from home may have to go back to the office while remote employees will continue working from anywhere besides the office.
Is It Worth Hiring Remote Employees for your Company?
Now, you've learned the real meaning of remote working but is hiring remote employees rather than office-based counterparts right for your company?
Well, the straightforward answer is Yes.
Hiring remote employees empowers you to transcend all geographical boundaries and expand your business globally without setting up offices at multiple locations.
By hiring talent from different cultures, races and religions, you bring new perspectives to the table and come up with innovative ideas to address the key problems.
Moreover, according to the US remote work survey, 83% of employers and 73% of employees said remote work has been a great success.
Therefore, to make remote work successful for your business, all you need is the right approach to attracting and hiring remote professionals who can propel your business growth.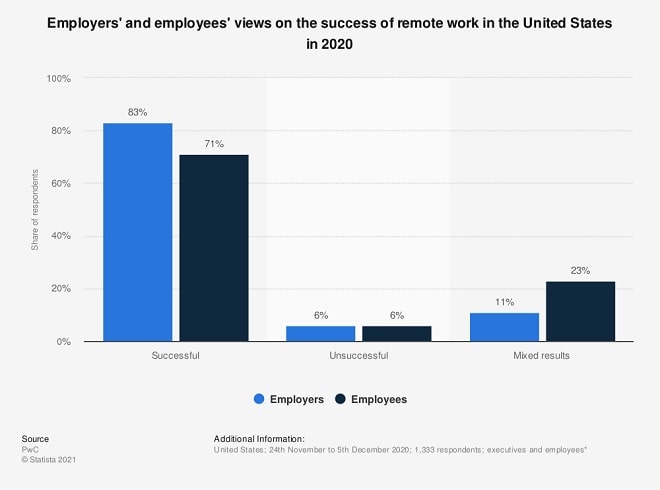 How to Attract Remote Employees?
One of the biggest challenges that companies face is attracting the best talent in the market. Today, the job market is highly competitive with hundreds or even thousands of job vacancies publishing every day.
So, the question is how can you stand out to attract the top-tier talent for your company?
You need to create the right and positive impression of your brand by highlighting the benefits and perks of working for your company. Below are some strategies you can follow to achieve that:
Establish a Strong Employer Brand Online 
An employer brand refers to your organization's reputation as an employer in the market and the way current and potential employees apprehend your organization.
Establishing a strong employer brand online for your company is even more important while hiring remote employees. The reason being that remote professionals rely on your online presence to learn about your organization.
Moreover, today, candidates pour considerable time researching open jobs and employers to determine which companies and roles are most alluring.
In fact, 75% of candidates choose to apply for a job at an organization that actively manages its employer brand. Therefore, a strong employer brand strategy is crucial to attracting the ideal remote employees.
Here are some key strategies you can follow to build and enhance your employer brand.  
1. Create a Great Employee Value Proposition
Employee Value Proposition (EVP) is a set of perks and benefits you provide to your employees in return for their experience, skills and capabilities.
Those perks and benefits include support (professional & personally), recognition within the company and values to help your employees perform work at their best.
If potential employees are interested in working for your organization, your website is likely to be the very first place they would visit to learn what you have to offer them.
Therefore, create or strengthen a "Career" section on your site and showcase your EVP clearly.
So, what are the essential components of a great EVP? Below are key components that your EVP should include:
> Financial rewards: competitive salary, bonuses and alike others
> Employment benefits: health, medical or life insurance, retirement benefits, paid leaves, memberships (for example, coworking space)
> Professional development: Technical and leadership training, career guidance, promotion opportunities, opportunities to change roles and others
> Work environment: Flexible working hours, recognition, team building, infrastructure
> Diversity and Inclusion policy
> What it feels like to work at your organization
> Awards and accreditations, for instance, "Top 100 employer's" or "Great Place to Work"
> A small introduction to current employees
> Company culture: core values such as collaboration, innovative thinking, challenge-oriented and others.
> Current employee testimonials
Tip: To create a great EVP for your company, start with evaluating what you're offering currently and interview your past and existing employees to figure out what things truly motivate them to stay with your organization.
2. Make Use of Social Media Channels
Promoting your company culture on social media can help take your strategy to attract best-fit remote employees to the next level and humanize your brand.
No matter whether you work for a startup or a multinational company, social media is a great opportunity to showcase your company culture and give potential candidates a sneak peek into your way of working.
Here are some handy tips to make the most out of social media to attract remote employees: 
> Share stories on LinkedIn/Instagram/Facebook/Twitter: Ask your current employees to share stories on career transformation and how they have developed new skills and enter into leadership roles.
> Display key clients or projects: By showcasing the key clients and projects you have handled; you show your credibility in the market.
For example, Microsoft makes use of Twitter to display their positive company culture by sharing interesting stories about their employees.
3. Craft an Attractive Job Description
A well-crafted job description (JD) helps a candidate determine if the position is a right fit for him or her. As a result, it will ensure the most qualified candidate pool for you.
Below is what a good JD should include: 
> A clear job title, for example, UX/UI Designer
> Tell your company story
> The importance of the position within your organization
> The duties and responsibilities associated with the position
> Qualifications, experience and skillsets required for the position (both technical and soft skills)
> Candidate reporting: to whom he or she will report and how (communication channels used within your organization)
> Define the exact remote conditions such as particular timezone or any trips to specific locations
> Your company culture and core values such as benefits and work-life balance
While crafting a JD, make sure to use a concise and direct style with simpler words that help potential remote employees understand what you expect from them.
Tip: Remember that a remote job demands different skills, perks and benefits. While both on-site employees and remote ones will require the same hard and technical skills, it will be crucial for remote employees to have certain soft skills such as communication, time management and problem-solving as they'll be working independently.
4. Pick the Best Platforms to Advertise Your Remote Job Postings
Today, there is no shortage of platforms where you can advertise your job openings besides your company's website. When it comes to remote jobs, it's important to advertise your open vacancies on job portals and social media that provides a feature to publicize as remote opportunity clearly.
For example, Indeed – a global employment job portal allows employers to use keywords such as "Fully Remote" or "Work from Anywhere" while posting a job. Similarly, LinkedIn in its updated LinkedIn Recruiter & Jobs dashboard lets employers mark a job vacancy as a "Remote" opportunity.
Other recommended job boards are FlexJobs, RemoteOk and We work remotely.
Tip: If you're interested in hiring remote employees from a specific region or country, you can advertise your open vacancies on local job boards to fast-track the hiring process.
5. Ask for Referrals
Referrals can be a powerful tool to find the best-fit remote employees for your company. It is certain that your team will recommend people who are more likely to give their best at your organization. Otherwise, a wrong hire will affect their reputation too.
When asking for referrals, you can even consider reaching out to past employees who left your organization on good terms. Potential remote employees love to hear from the ones who are currently within the organization or have worked for it. Use your current and past employees as brand advocates for the company.
Even studies indicate that 45% of employees hired from referrals stay with the company for longer than 4 years and 25% of employees hired from job portals stay for over 2 years.
Tip: Create an employee referral program with clearly defined rewards a person will get upon referring qualified friends, colleagues or family to your company.
How to Hire Remote Employees? 
If you're starting to see applicants rolling in, it's time for the hiring stage that involves going through hundreds or maybe thousands of applicants to find the right remote talent for the role.
Here are some key tips you can follow to make sure you get success with the whole process of hiring remote employees.  
1. The Application Process  
You want top-tier remote employees for your company. Isn't, it right? If so, you can't merely ask for a resume or a cover letter. You need to come up with your own strong application process to filter the best-fit candidates for the position you want to fill in.  
Here are some things you can consider while creating an application process: 
> Ask specific questions related to the position and get as much as information you can about an applicant. For example, why are you applying for this position?

 

> Use technology to design interactive application forms. For example, ask applicants to pre-record video answers to questions. Moreover, this can be very helpful if the applicant is situated in a different time zone than the recruiter.

 

> Many employers these days create a specific task tailored to the position as a part of their application process. You can do the same. After all, this will help you get more clarity on your candidate's skillsets.

 
2. Conduct a Seamless Virtual Interview  
If the candidates pass the application process, it's time to interview them virtually. In fact, telephone and video interviews are more important while hiring remote employees. Therefore, make sure to rely on the right communication tools to make the whole process easier and quicker.  
There are certain things you should take care of before the interview, during the interview and after the interview to conduct successful remote interviews.  
Before the Interview  
> Let your interviewee know if there have to install the software or app beforehand

 

> Ensure everything is working fine with your device (especially – camera and microphone)

 

> Make sure to have a suitable environment with a strong internet connection and peaceful background

 

> Invest considerable time in studying the applicant's documents and resume in advance

 

> Turn off other notifications and apps that might interrupt you during the interview

 

> Let the attendees know how much it will take for the interview

 

> Prepare necessary interview questions that help you assess whether the candidate will be a cultural fit for your organization and suitable for a remote work environment.

> Make sure to dress professionally

 
During the Interview  
> Make sure your tone of voice is friendly yet professional

 

> Try to make good eye contact and read facial expressions

 

> Make sure to wrap the remote interview within the stipulated time

 

> Give some handy information about the post-interview process so that applicants are not left wondering what's going to happen next

 
After the Interview  
> Gather feedback from all interviewers

 

> Assess the candidate skills including technical as well as soft skills and culture fit

 

> Make sure to stay in touch with the candidate – respond within 2 weeks even if the candidate didn't pass the interview process.

 
3. Onboarding Remotely  
So, you have found the remote talent for the role and they have accepted your offer. Well, congratulations!!  
What can you do to make the whole onboarding process successful? Here are some tips: 
> Use sufficient technological resources to conduct the process effectively

 

> Follow all the stages of the onboarding process: Pre-boarding, Orientation and Training & Integration

 

> Make them feel welcomed by organizing a virtual team meeting

 
How to Manage & Retain Remote Employees? 
Strategies you have in place for retaining in-office employees will not work for remote employees. You can assemble game rooms, gyms and free snacks to woo in-office employees.
But to make remote employees stay with your organization, you need to rethink your employee retention strategies.
So, what can you do to retain your remote employees?  
Give them what they truly crave and which includes: 
> Competitive compensation packages

 

> Unique benefits such as home delivery service and flexibility to work anytime

 

> Shorter work weeks

 

> Membership to coworking spaces

 

> Discount at local shops or stores

 
Things You Should Know While Hiring Remote Employees  
If you're new to hiring remote employees, then there are some challenges you may face while building an international remote workforce for your company.  
> Compliance:

Every country has different employment and labor laws. Being a foreign employer, you must comply with specific local regulations and norms. Otherwise, non-compliance means employee complaints, legal fines or claims. 

 

> Taxation:

Every country also has different rules on taxes paid by employers. Some countries have many tax authorities with varied rates. It could be possible that they don't match your tax system. 

 

> Payroll:

To hire remote employees outside of your home country, you will need to assemble a local payroll as you can't put the remote employee on your home payroll. 

 
How InfoStride Can Help You Navigate Challenges of Hiring Remote Employees? 
As a leading staffing firm, InfoStride has the expertise and resources you need to attract, hire and onboard remote employees without facing any hassle. We understand the challenges companies face while hiring remote talent, especially internationally.  
You can either set up a local entity in the city or country from where you want to hire remote talent to comply with local laws and regulations.  But establishing a local entity can cost you a fortune especially if you've no plan to hire multiple remote employees from a single location. That's when InfoStride's Employer of Record (EOR) services can come to your rescue.  
Our EOR services empower you to hire remote employees without setting up a local entity and leaving all laborious administrative activities such as payroll, compliances and taxation to us. We make sure that your remote employees have access to all the resources and benefits they need to move your business forward.  
Want to know more about how we can help negate the challenges of hiring remote employees?  
Schedule a free consultation with us today to clear all of your doubts before hiring remote employees for your team.