Having a website for your business can help you generate business, leads and boost your brand value. Even outside of business hours, your website is promoting you 24/7 and increasing credibility in front of potential customers.
But the catch is that just building a website is not going to help you enjoy all these benefits. You need a well-designed, quality website to make things work for your business.
"Getting a quality website is not an expenses but rather an investment." ― Dr. Christopher Dayagdag
So, let's first understand why your business needs a quality website before getting to the cost details for hiring a web developer.
The Importance of Having a Quality Website for Your Business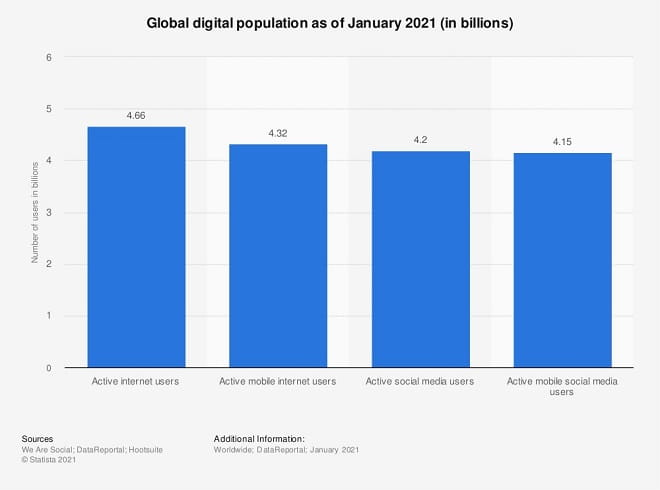 Did you know there are over 4.66 billion Internet users worldwide? Implying, by just investing in a website, your business will be exposed to 3+ billion users across the world.
But to grab the attention of those billion users towards your business, having a website is not just enough. You need a well designed and functional website.
> It only takes about 50 milliseconds (i.e., 0.05 seconds) for users to form an opinion about your site to determines whether they'll stay or bounce out.
> 88% of online shoppers are less likely to return to a website after a bad experience
> Slow-loading websites cost retailers nearly $2.6 billion in lost sales annually.
These facts clearly highlight if you wish to drive the best outcomes for your business, you must invest in designing and developing a website that entices people to learn more about your business.
Relying on a free website builder is not going to help you achieve that. You must work with an expert having experience in your business vertical.
What is the Average Cost to Hire a Web Developer in 2021?
There are many different factors that affect the cost to hire a web developer from an offshore vendor, with the location being the number one. Offshore web developer rates vary greatly from one country to another.
Here is a quick overview of per hour cost of offshore software developer rates by region:
| | | |
| --- | --- | --- |
| Location | Rates | Countries Included |
| Asia | $20-$45 | India, Nepal, Malaysia & others |
| Africa | $25-$45 | Egypt, Morocco, Nigeria & others |
| Latin America | $35-$70 | Mexico, Chile, Brazil & others |
| Eastern Europe | $30-$65 | Ukraine, Austria, Poland & Others |
*These offshore developer rates are a rough estimate as they overlook other crucial factors contributing to the overall website development cost. To find out the accurate rate for your next website development project, you must get in touch with vendors directly.
All these factors come together to determine the cost to hire a web developer from an offshore software development vendor.
1. Website Type
Websites can be categorized into two different types: static and dynamic.
A static website contains web pages that display the same content to every site viewer user. On the other hand, a dynamic webpage displays content depending on the user's settings and actions.
Static websites are easy to create, while dynamic websites such as Twitter or Amazon demand more effort and time. Therefore, be ready to pay extra if you want to develop a dynamic website for your business.
Which one you should choose depends entirely upon the purpose of your website. For example, if you just want to have an online presence, static websites are good to go. But if it's about creating something like Amazon, go for a dynamic one.
2. Number of Pages
The size of your website plays a crucial role in determining the cost to hire a web developer. Websites with multiple pages will cost you more than a website having a few pages. Creating a larger site takes more time and effort to develop, especially for eCommerce websites.
3. The complexity of Website Design
Another crucial aspect that comes into the picture is design. You have two options at your disposal. You can either go with a template-based design or custom web design.
If you have a low budget and want a quick solution to build your website with a bit of customization, a template-based website can do wonders for you. However, a custom website design will allow you to create your website more aligned with your company goals and needs.
4. The complexity of Website Functionality
The cost of hiring a web developer greatly depends on the functionality needs of your website. Your website's purpose will help you determine what functionalities and features you need to incorporate into your website.
For instance, if you want to add eCommerce functionalities such as adding a payment gateway/processing system, product pages, or shopping carts, then be ready to spend some more bucks. Other similar factors such as the use of animations, additional plugins, use of graphs/charts or high-definition images can add to the final cost.
5. Responsive Website
Websites with responsive design provide an amazing experience to a user across all devices, be it a smartphone, tablet or desktop.
With 57% of users saying they won't recommend a business without a mobile-friendly website, you can't afford not to go responsive. Since responsive required make use of the latest development technologies, so you have to pay extra.
6. Technology Stack
Another factor that greatly influences the cost of your web development project is the technology stack you decide to choose for your project. If you want to work with a web developer with expertise in the latest technologies, be ready to pay some more bucks.
7. Turnaround Time
How quickly you want your website to be built is also a crucial factor in determining the cost.
If you want a developer to complete certain tasks that generally take one week or two weeks in just a few days, the cost will increase as the hired expert will have to invest extra working hours on a daily basis to complete your project.
8. Experience of the Developer
Experience and expertise of hired a developer can significantly raise the cost of your website development. In simple words:
Higher the experience level, greater the money.
If your project requires very niche skills and you don't want to take any risks, hiring an experienced developer can be a wise decision. So, you need to figure out your project needs before starting a hunt for a professional to work on your project.
9. Website Development Location
Another factor that plays a crucial role in determining the cost for your project is location.
Hiring a developer from developing countries such as India will cost you less than developed countries such as Australia and the USA. That's one of the reasons why many companies prefer working with developers from India as demanded per hour rates are less for the same service and support.
Also Read: MVP Development Companies for Startups
Other Website Development Costs
There are some other expenses you can either manage by yourself or hand over to the same hired website development company.
1. Domain Name Registration & Hosting
You need a domain name and web hosting to build a website for your business. A domain name is the address of your website. The cost for a website domain name registration is between $10 – $60 per year.
Also, you need a web hosting service to store all the files of your website on the internet.
When it comes to web hosting, there are lots of hosting providers out there with different charges. Website hosting providers have a monthly traffic limit. The higher the number of website visitors, the higher the website hosting costs would be.
2. Search Engine Optimization
If you want to drive traffic to your website, just building a website is not going to help you. You need to rank well on search engines, and that's where the search engine optimization (SEO) role comes in. If you want your hired website development company to take care of the SEO part as well, it will raise the cost.
3. Ongoing Maintenance & Support
If you can either carry out the maintenance by yourself or let the hired professional company take care of it.
Changes in design or adding new functionalities are important to make sure that your website continues to amaze the target audiences. If you plan to hand over the maintenance part to a professional company, then you can expect to pay between $200 to $600 per month.
How InfoStride Can Help You with Your Next Web Development Project?
At InfoStride, our web developers excel at building customer-centric and client-focused websites optimized for maximum conversions and ROI. From design to development and deployment and testing, our web developers can take care of things end to end on your behalf and let you focus on your core business.
As you can see, many factors contribute to the website development project, so you can avail a free quote from us to get a precise estimate for your project. So, share your project requirements with us and one of our experts will contact you soon with a quote and solve all of your queries in a free consolation session.