Python is one of the most preferred programming languages among established brands. Google, Netflix, Red Hat, Microsoft, Intel – all these multi-billion-dollar companies rely on Python for large-scale projects.
"Python has been an important part of Google since the beginning and remains so as the system grows and evolves. Today dozens of Google engineers use Python, and we're looking for more people with skills in this language." said Peter Norvig, director of search quality at Google, Inc.
Witnessing the increasing popularity of Python among successful companies, it's no surprise to see why startups and businesses now hire Python developers for their web development needs.
At the same time, this also raises the concern i.e., how much does it really cost to hire a Python developer. Isn't it?
Well, buckle up!! This post goes deeper into the cost to hire a Python developer in 2021 – walking you through key cost influencing factors. But before getting to that, let's first have a look at interesting stats and facts about the Python programming language.
Python – Interesting Stats About Most In-Demand Programming Language
Python is not just gaining popularity among companies but also developers. Have a look!!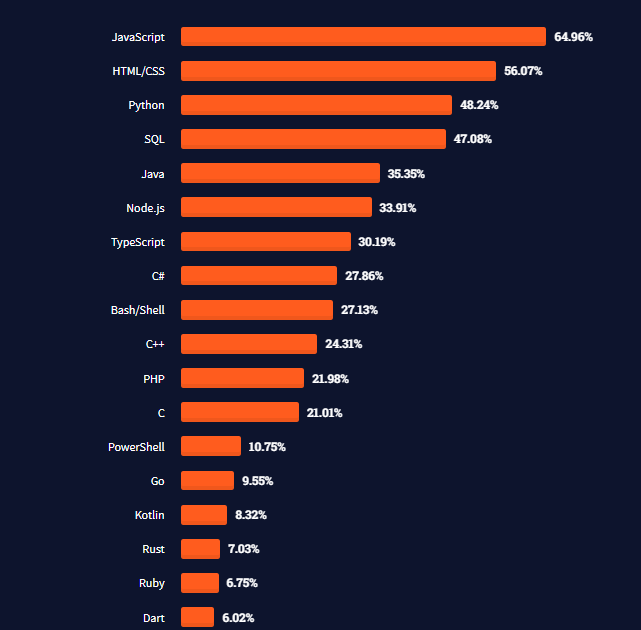 According to the 2021 Stack Overflow Developer Survey, Python is the third most popular programming language, following JavaScript and HTML/CSS.
If we look according to the PYPL Popularity of Programming Language Index that helps developers choose which programming language to learn or companies which one to use in software projects, Python is first on the list of most popular languages around the globe.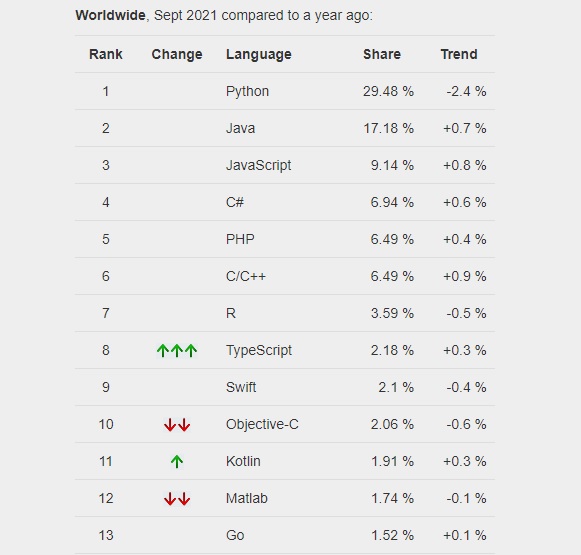 If these stats have left you wondering what makes Python popular among developers and leading tech organizations, read on to know the reasons.
Why Python is So Popular with Companies and Developers in 2021?
Python is a high-level general-purpose programming language that has become a preferred choice for developers to learn and companies to use it in large-scale projects
Why? Here are the reasons:
1. Easy Learning Curve
For beginners, Python is easy to learn and use thanks to its simplified syntax that's similar to the English language. As a result, developers can write and execute python codes quite faster compared to other programming languages.
2. Strong Python Community
Python is one of the oldest programming languages – being introduced more than 30 years ago. It has a community of developers which range from beginner to expert levels.
What's more? Python programming has rich documentation, guides and video tutorials available for developers to get support in projects.
3. Multiple Use Cases
Another top reason for the increasing demand for Python developers is Python programming language is not just confined to web development. Python language is also used in data analysis, machine learning, game development projects and more.
According to JetBrains Developer Ecosystem surveys, Python language is mostly being used in web development and data analysis.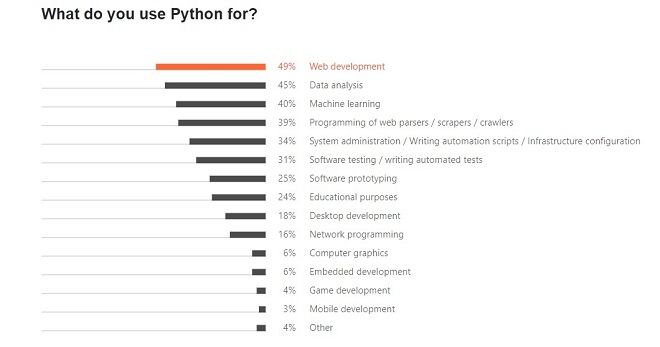 4. Plenty of Python Libraries and Frameworks
Python has a plethora of libraries and frameworks that help developers simplify and fasten the whole development process. Flask and Django are the most popular Python web frameworks that help speed up the development process.
5. Support Automation
Python language has the potential to automate tasks thanks to the availability of plenty of tools and modules. In software testing also, Python supports automation. Python language offers dynamic coding and eliminates the need for compilation, resulting in saving time and effort.
What is the Average Cost to Hire a Python Developer?
As numerous factors contribute to the overall cost to hire a Python developer from the scope of the project to the location and experience of the developer, rates can vary a lot.
Here's a quick overview of the average rates by region you can expect to bear:
| | |
| --- | --- |
| Region  | Cost |
| India | $18-$40 per hour |
| Russia | $25-$45 per hour |
| South America | $30-$50 per hour |
| Australia | $60-$95 per hour |
| North America | $100-$150 per hour |
Factors that Affect the Cost to Hire a Python Developer
Let's now have a look at each key cost influencing factor in detail.
1. The complexity of the Project
The amount of work you expect from a Python developer can affect the cost to a greater extent.
Before employing Python developers for your project, you need to come up with a list of features and functionalities you want to integrate with the application. Just keep in mind that the integration of complex features demands more time. Therefore, be ready to pay more if you have such requirements for your project.
2. Experience and Expertise of the Developer
Another crucial factor affecting the cost to hire a Python developer is the experience and expertise level of the developer required for your project.
As we mentioned before, Python is one of the oldest and popular programming languages with a strong community around the technology, you can easily find developers ranging from entry to senior level.
It goes without saying that if your project requires the assistance of experienced developers, be ready to pay more as they will charge more due to their extensive know-how.
If you're wondering what skills you should look for in a Python developer while hiring one for your project, here are the skills most tech organizations look for as per cvcompiler.com: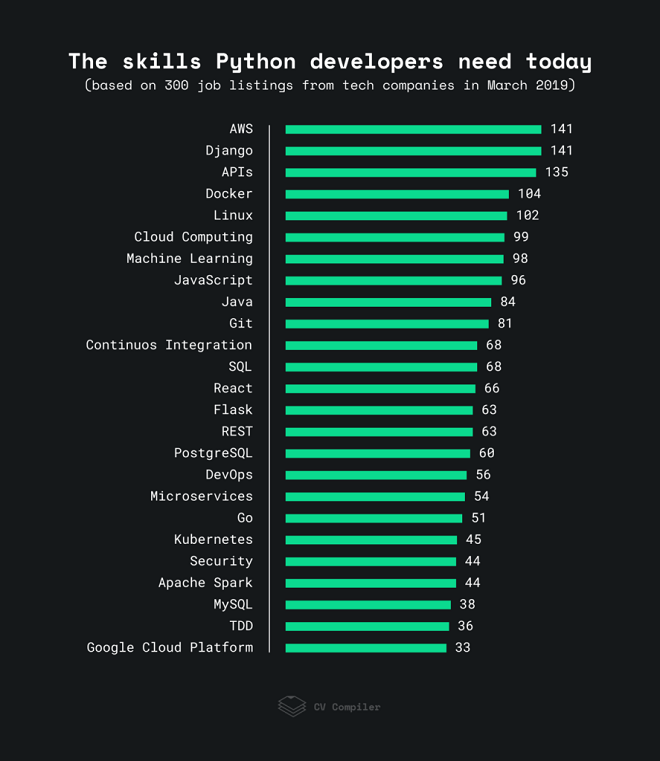 3. Development Location
The developer's salary varies from one country to another. The reason being every country has a different cost of living and labor rates – affecting the cost to hire a Python developer to a greater extent.
If you hire a local expert, you have to bear pay developer according to local labor rates. And it could burn a hole in your pocket if you dwell in countries with higher wages such as the USA.
That's the reason why startups and businesses choose to hire developers from India – a hub of IT talent for hire at reasonable rates – starting from as low as $18 per hour.
4. Turnaround Time
How quickly do you want your project to be completed? This is another key cost influencing factor that is often overlooked by businesses and startups while hiring developers.
If you want a developer to do certain tasks within a few days that typically demand a week, be ready to pay more as developers will have to invest more time and effort.
5. Maintenance
Another important yet often overlooked aspect is the maintenance of the web application. The application maintenance is crucial to ensure a seamless user experience over a longer duration. It includes everything from bug fixing to introducing new features/functionalities.
Some developers may include the app maintenance cost as part of the whole Python web development project or some may charge extra.
Thus, it is recommended to ask before hiring a Python developer for your project.
Where to Find Python Developers?
With an extensive community around Python language, one thing is sure that finding a Python developer is easy. You can either rely on online portals like UpWork and Stack Overflow or hire remote Python developers from IT companies.
1. Hire from Online Portals
When it comes to hiring Python developers, there are many websites and portals to count on. Some of them include but are not limited to UpWork, Stack Overflow, Python.org/Jobs, and Fiverr. The websites like Stack Overflow and Python.org/Jobs have a dedicated Job Board where you can write a job description to attract potential candidates.
Pros:
Plenty of online portals out there to hire Python developers
Easy to use
Cons:
Require efforts from your end – such as writing an attractive job description, approaching candidates and negotiating ideal prices
Not ideal for full-cycle and large-scale development projects
No guarantee of quality work and timely delivery
Different time zone
2. Hire Remote Python Developers
You can hire a dedicated resource or remote development team from IT companies depending on your project specifics and requirements. Hiring remote developers has become a common practice among startups and businesses as they are embracing the benefits of remote working.
Pros:
Ideal for end-to-end Python web development projects
Ability to scale up or down resources on-demand
The vendor handles everything from onboarding to offboarding – freeing you from front-end tasks such as writing a job description
Guarantee of on-time delivery with no compromise on quality part
Cons:
A Cost-Effective Approach: Hire Remote Python Developers
As remote work bringing invaluable benefits to the table for startups and companies, it's no wonder why they now prefer hiring remote developers.
You didn't just get to save on infrastructure costs, training costs and utilities like electricity expenses but also able to hire the best talent – anywhere in the world.
One of the biggest benefits you get while hiring Python developers from IT companies over online portals is the ability to work with subject matter experts under one roof.
In other words, you don't have to look anywhere else when your project requires the assistance of a designer, project manager, scrum master or other experts for the successful completion of the project.
Being one of the leading IT services and solutions providers, InfoStride provides dedicated remote developers or teams for companies ranging from startups or large enterprises.
When you can expect when you decide to hire Python developers from InfoStride:
Flexible engagement models – full-time, part-time, hourly or project-basis hiring
We operate 24 x 7 operations catering to PST, EST and IST time zones – means we can deploy resources who will work according to your time zone
We take care of every legal employment concern from onboarding, payroll, compliance to offboarding
Ready-to-use infrastructure with stringent data policies and necessary tech equipment so that your remote team can work on your projects securely
Assistance for every phase of Python web development project
Interested? Contact us today to discuss your project requirements or clear any doubts you have in mind about hiring remote developers.
Conclusion
Seeing Python's strong community of developers, an easy learning curve, usage in many applications and automation support, it's no surprise why Python developers are in huge demand these days.
As the development location is one of key cost influencing factors, working with remote Python developers from regions with lower labor rates can be a cost-saving approach.
Which factors do you think play a key role in determining the cost to hire a Python developer?