Whether you're running a food delivery marketplace like Postmates, a global marketplace like Amazon or a hyper-local platform like TaskRabbit, you need a well-crafted marketplace marketing strategy to run a successful online business in today's digital era.
A winning online marketplace strategy is not merely about focusing on creative strategies but about getting a deep understanding of the market, competition and the customer's evolving needs. It is a blueprint that outlines the effective tactics and right channels to use for reaching and engaging with target customers.
This article will walk you through how to build a winning marketplace marketing strategy that aligns with your business goals and objectives.
Why do you need a robust marketplace marketing strategy?
Today, online marketplaces have grown both in size and popularity. This has resulted in increasing competition day by day, with many new players entering the market and existing players vying for market share. For example, Amazon, one of the largest online marketplaces in the world, accounted for approx 37.8% of the U.S e-commerce market share as of June 2022.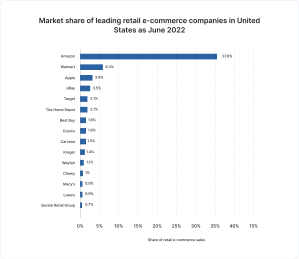 To stand out and gain your share of the market, you need a well-defined marketing strategy to promote your marketplace so that you can attract and retain customers.
How to Build a Winning Online Marketplace Marketing Strategy?
Here are key steps to take for building a winning marketing strategy for your marketplace.

Step 1: Understand your target audience 
The first step to start with is getting a comprehensive understanding of your target audience, their needs, preferences and pain points.
Market research: conduct thorough market research to identify who your potential customers are. This includes demographics, psychographics and geographic location.
User surveys: conduct surveys to collect feedback directly from potential users. Ask questions about their needs, preferences and pain points.
Social listening: monitor social media platforms and online forums to understand what potential customers are saying about similar products or services you're offering via your marketplace.
Website analytics: take advantage of tools like Google Analytics to gather data on visitors to your marketplace website. Analyze demographics, user behavior and popular pages to gain insights.
Purchase history: Review purchase history and patterns to understand your current customer base.
Industry reports: stay updated on industry trends and reports that offer insights into the behaviors and preferences of your target market.
Competitor analysis: analyze your key competitors to see who they are targeting and what strategies they are using. Identify gaps and opportunities in the market.
Step 2: Set clear marketing objectives for your online marketplace
What do you want to achieve with your online marketplace? Do you want to boost the number of buyers and sellers on your platform? Drive more leads and sales? Increase brand awareness?
Make sure your objectives are Specific, Measurable, Achievable, Relevant and Time-bound (SMART). This framework helps create well-defined and actionable objectives.
For example, rather than having a vague goal like "boost user engagement". Focus on making it specific: "boost user engagement by 25% in the next six months."
Also, focus on a few key marketing objectives at a time. Having too many goals at the same time can dilute your efforts and make it challenging to achieve any of them effectively.
Step 3: Develop a unique value proposition 
Craft a unique value proposition (UVP) of your online marketplace. It should clearly convey what makes you different from others in the market and how your marketplace caters to the needs of modern customers. For example, if you're running a food delivery marketplace, then your UVP could be: Groceries Delivered to Your Door in Minutes.
Study your competitors and identify what they are offering. Your UVP should be distinct from theirs and address gaps or shortcomings in the market.
Step 4: Pick the right marketing channels for your online marketplace
Knowing your audience is key to choosing the right marketing channels for your online marketplace. Where do they spend their time online? Are they active on social channels like Facebook or Instagram? This can help you decide which channels to rely on for your marketing efforts.
Moreover, the type of product or service you offer can influence your choice of marketing channels. For example, visual products may benefit from platforms like Instagram or Pinterest, while B2B services might find success with LinkedIn.
Consider leveraging a multi-channel approach such as social media, email marketing, traditional channels, influencer marketing and content marketing. A right combination of digital channels can prove to be more effective in reaching a wider audience and boosting user engagement.
Step 5: Develop a content strategy
The next step is to build a robust content strategy to attract and engage your target audience. Focus on creating engaging and valuable content that educates or addresses the concerns of your customers. It's best to use a variety of content forms such as videos, blog posts, podcasts, infographics, webinars or social media posts. This will help you cater to preferences of your different customers.
Moreover, perform keyword research to identify the search terms and phrases your target audience uses. Incorporate these keywords into your content to improve search engine visibility (SEO).
Remember that your content strategy should be flexible, allowing for adjustments and enhancements  based on user feedback and performance metrics. It's an ongoing process that should align with your marketplace's goals and the evolving needs of your target market.
Step 6: Measure and improve
It's important to track your progress and monitor the results of your marketing efforts. This will help you identify what's working and what's not, so you can make necessary adjustments in your marketplace marketing strategy. The best way to monitor the performance of your marketing campaigns is using key performance indicators (KPIs) such as marketplace website traffic, social media engagement, conversion rates, customer retention rate and among other factors.
Best Practices to Promote Your Online Marketplace

Based on your online marketplace marketing strategy, you can pick the following ways to promote your business.
1. Optimize your marketplace website for search engines (SEO)
Search engine optimization (SEO) is the process of improving the visibility and ranking of a website in search engine results pages (SERPs). SEO is crucial for all websites, including marketplaces, which need to be visible to potential buyers and sellers.
Did you know that the first website in the Google organic results has an average clickthrough rate of 28.5%, which drops to 2.5% for the 10th position?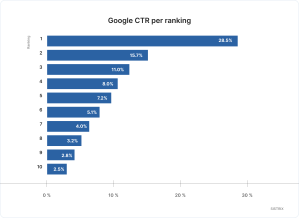 Thus, creating your marketing website is not enough. Optimizing it for search engines is essential to help people find your marketplace when they search for relevant keywords online. The basic thing to do when it comes to optimizing your marketplace website for search engines is use relevant keywords throughout your website, including in your page titles, meta descriptions and product descriptions.
2. Use social media marketing
Considering that there are approx. 4.89 billion total social media users across the world, it is indeed true that social media is the best platform to promote your marketplace.
As mentioned above also, the choice of social media platforms to promote your marketplace depends on your target customers, the nature of your products or services you're offering, and your marketing objectives. Here are some popular social media channels and their suitability for different types of online marketplaces:
Facebook:
Suitable for a wide range of marketplaces.
Examples: E-commerce platforms, local service marketplaces.
Instagram:
Ideal for visually appealing products and lifestyle marketplaces.
Examples: Home decor marketplaces, travel marketplaces.
Pinterest:
Great for marketplaces with visually driven products.
Examples: DIY and craft marketplaces, recipe and food-related platforms.
Twitter:
Ideal for quick updates and engagement.
Examples: Event ticket marketplaces, tech gadget platforms.
LinkedIn:
Ideal for B2B and professional service marketplaces.
Examples: Job and talent marketplaces.
YouTube:
Effective for video-based content and tutorials.
Examples: E-learning  marketplaces.
3. Leverage email marketing 
Did you know that 77% of marketers have witnessed a boost in email engagement over the last 12 months?
Email marketing is a crucial part of a comprehensive marketplace marketing strategy. It can help you build and nurture relationships with your target audience and boost user engagement.
Moreover, there are many popular examples of online marketplaces that rely on email marketing such as Uber Eats. This food delivery marketplace uses email marketing to inform users about new restaurants, special promotions, and order updates. They also send personalised recommendations to users based on their food preferences and ordering history.
4. Take advantage of influencer marketing
With 72% of Gen Z and Millennials following influencers on social media, you can't overlook the thought of working with influencers to promote your marketplace especially if your target audience comprises Gen Z and Millennials.
Consider collaborating with influencers in your niche to gain credibility and expand your reach. Social media influencers can promote your online marketplace through reviews, testimonials and sponsored content. It's best to work with influencers whose audience aligns with your target demographic.
5. Run paid advertising campaigns
Paid advertising platforms like Google Ads and Facebook Ads can be a great way to reach a large audience and drive traffic to your marketplace. Focus on creating targeted campaigns to reach specific demographics and interests. Continuously analyze and optimize your ad performance to maximize results.

How InfoStride can help market your online marketplace?
As a marketplace marketing agency, InfoStride is a leading provider of data-driven growth and digital marketing services to its clients across the industries. Our data-intensive approach and comprehensive suite of services are designed to effectively boost your marketplace's visibility, user engagement and revenue.
Our experts can deep dive into your target customer behavior and preferences, unlocking valuable insights that enable us to optimize the efficacy of your marketing campaigns across the right channels, thereby elevating your ROI game.
If you are looking for a partner to help you market your online marketplace with strategies that actually work in today's digital era, we're a marketplace marketing agency that you can always count on for measurable outcomes. Get in touch with us now to learn more.
FAQs
1. What is an online marketplace marketing strategy?
An online marketplace marketing strategy is a comprehensive plan for promoting and growing an online marketplace. It should outline the target audience, unique value proposition, marketing goals and marketing channels that will be used to achieve those goals.
2. Why should I consider seeking expert guidance for my marketplace marketing strategy in 2024?
Expert guidance can provide valuable insights, keep your strategy up-to-date with the latest trends and help you navigate the complexities of marketing for your online marketplace. Moreover,  it can save time and resources while delivering better results.
3. How can I ensure the long-term success of my online marketplace through marketing?
Long-term success requires continuous adjustments to your online marketplace marketing strategy, staying updated on industry trends, providing flawless user experiences and building strong relationships with your audience.
4. How to choose a marketplace marketing agency?
When choosing a marketplace marketing agency, there are a few key things to consider:
Look for an agency with experience in marketing online marketplaces. They should have a good understanding of the unique challenges and opportunities that marketplaces face.
The agency should have expertise in the specific marketing channels that you want to use, such as SEO, social media marketing and email marketing.
Ask the agency for case studies or testimonials from previous clients. This will give you an idea of their track record and the results they have achieved for other marketplaces.
Ask the agency about their marketing process. How do they develop and implement marketing campaigns? How do they track and measure results?
Pick an agency that is responsive, communicative and easy to work with.
Once you have narrowed down your choices, request proposals from each agency. This will give you a better understanding of their pricing, services and approach.