The financial industry has witnessed a significant disruption with the rise of Fintech, propelling it into a multi-billion dollar sector marked by exponential growth. Today, Fintech applications are revolutionizing traditional banking models by providing convenient and secure financial services that modern consumers demand.
Thus, an increasing number of startups are challenging financial institutions by investing in Fintech app development solutions that offer innovative services.
When it comes to building a Fintech app, understanding the Fintech app development cost is a crucial step to turn your vision into a reality.
While the final price tag can vary depending on several factors such as type of application, the complexity level of the app, the technology stack  and the development approach, this blog will walk you through all the key factors that affect the cost to build a Fintech app.
Top 5 Reasons to Invest in Fintech App Development
If you're still looking for strong reasons to invest your money in Fintech app development, here are top 5 reasons to build a Fintech app in 2024.

1. Growing demand for fintech applications
As more people are using their smartphones to manage their finances, the demand for convenient and reliable fintech applications is growing rapidly. By 2030, the global Fintech app market is anticipated to touch $556.58 billion. 
2. Increasing investment in Fintech startups
Global investment in fintech startups touched a record high $210 billion in 2021 and this trend is expected to continue in 2024. 
3. Revenue streams are diverse
Fintech apps offer numerous monetization avenues, such as transaction fees, subscription models and cross-selling financial products. You can create sustainable revenue streams by leveraging these opportunities.
4. An opportunity to promote financial inclusion
You can promote financial inclusion by building a Fintech app that provides services to unbanked or underbanked populations. By reaching untapped markets, you can expand your user base all while making a positive social impact.
5. Global reach
Fintech apps have the potential for global scalability. By investing in Fintech app development, you can reach a vast international audience, expanding your market reach beyond geographical constraints and diversifying your customer base.
6 Key Factors that Influence the Cost to Build a Fintech App
There are many factors that will affect the Fintech app development cost. Developing a successful Fintech app with a realistic budget means understanding how these factors influence the price tag.
So, here are 6 key factors that impact the Fintech app development cost.

1. Type of a Fintech App
The type of a Fintech application you want to build significantly affects the overall cost. More complex fintech apps, such as those that offer trading or investment features, will generally be more expensive to build than simpler apps, such as mobile banking apps.  Moreover, Fintech apps with advanced functionality such as AI-driven algorithms and blockchain integration demand more development time. Thus, the cost increases as the complexity of features increases.
Below is a quick overview of estimated development cost based on type of a Fintech app: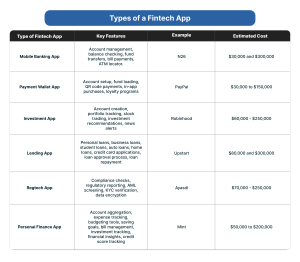 2. UI/UX Design Complexity
In today's highly competitive Fintech industry, user-friendly interfaces and intuitive user experiences can be a significant differentiator. 
Today, users are more likely to go with an app that provides a seamless, flawless experience over a cumbersome alternative. Thus, it's must to consider Fintech app development services that focus on high-quality UX design, usability testing and user research to enhance your Fintech app's appeal. But, it also adds to the Fintech app development cost. An app with superior UI/UX often requires more development time and effort, which impact the overall cost. 
3. The Choice of Platform
Whether you decide to build your Fintech app either in Android or iOS or both, it will greatly influence your Fintech app development cost.
Building for both iOS and Android platforms through a native app development approach requires investing in separate codebases, as the two platforms have different programming languages (Swift for iOS, Java/Kotlin for Android). This results in higher development costs compared to creating for a single platform.
To optimize costs, you can build an app using cross-platform frameworks if you want to target both the Android and iOS markets at the same time. Cross-platform apps are built using a single codebase, thus they are much less expensive than building native apps together simultaneously.
If you want to focus on superior user experience and high app performance, then it's best to go with a stair-step approach, i.e., building your Fintech app for one platform and then creating it later for another.
So, which platform to go with first? To help you with that, here are the factors to consider.
4. Technology Stack
The technology stack refers to the combination of programming languages, frameworks, libraries, databases and tools used to build an app. The choice of technology stack can impact the overall Fintech app development cost.
Choosing a less popular or intricate technology stack might necessitate hiring specialized experts at higher rates, increasing overall expenses. Moreover, some stacks may require updates and maintenance more often, leading to higher ongoing costs. Additionally, licensing or subscription fees for certain components can add to the financial burden.
Thus, the technology stack should be chosen carefully, aligning with your Fintech app development project's specific needs, development team expertise and long-term goals to effectively manage costs while building a robust Fintech solution.
5. Hiring Model
When it comes to finding a development team to build your Fintech app, you have three main options: build an in-house development team, hire freelancers or work with an outsourced development team.
In-house teams:

This is the traditional hiring model, where you employ full-time employees to work on your Fintech app. This gives you complete control over the development process, but it can be expensive and time-consuming to hire an in-house team of developers as you'll be accountable for expenses like payroll taxes, benefits and any other legal aspects that come with hiring full-time employees.

Freelancers

: This is where you hire individual freelancers to work on your Fintech app. This can be the most cost-effective option, but it can also be the most time-consuming and difficult to manage multiple independent freelancers.

Outsourcing: This is where you hire a third-party company that offers Fintech app development services to develop your app. This can be a more cost-effective option than in-house development because it alleviates the burden of all overhead expenses that come along with assembling an in-house development team.
6. Geographical Location of the Development Team
The location of your hired development team will greatly influence your Fintech app development cost. 
The cost of living in different regions varies greatly. In general, the cost of living in developed countries is higher than in developing countries. Thus, developers in developed countries typically charge more than developers in developing countries.
For example, the average hourly rate for a software developer in the United States is $100, while the average hourly rate in India is $25.
Of course, the location should not be the only deciding factor in choosing a Fintech app development company because you don't want to compromise on quality. However, the good thing is that mobile app development companies in developing countries like India have talent not only technically strong but also fluent in English, providing great value for your Fintech app development needs. 
Here's how much developers from different regions charge on an hourly basis:

The Hidden Costs of Fintech App Development
In addition to the above-mentioned development costs, there are a number of hidden costs that you should be aware of when developing a fintech app. 
1. Security
Fintech apps deal with very sensitive financial data, making security a top priority. Implementing robust security measures such as encryption, secure authentication, and regular security audits may require additional resources and specialized expertise, resulting in increasing the overall Fintech app development cost.
2. Third-Party Integrations
Fintech apps often rely on integrating with external APIs,third-party platforms or services such as payment gateways, banking systems or credit score agencies. Integrating these systems seamlessly and securely can be more complex and costly than anticipated, especially if extensive customization is required.
3. Quality assurance
Once your Fintech app is developed, rigorous testing, including functional, security, and performance testing, is essential for delivering a top-notch experience to all users, including those with disabilities.Some vendors may charge additionally for quality assurance & accessibility services.
4. App Maintenance
After the launch, it's important to continue updating and maintaining your Fintech application to ensure that it keeps pace with evolving customer needs and new technology trends.  These maintenance costs are typically around 20% of overall app development costs per year.
5. Growth Marketing
Acquiring and retaining users in the competitive Fintech industry requires continuous growth marketing efforts, user acquisition campaigns and effective promotional activities. These costs are often ongoing and can be substantial, affecting the overall Fintech app development cost. 
Tips to Optimize Your Fintech App Development Cost
Reducing Fintech app development costs while maintaining quality and functionality requires strategic planning and resource management. Here are some highly effective tips to help you accomplish cost-effectiveness in your project:
1. Use a minimum viable product (MVP) approach
Opt for an MVP app development approach to start with a basic version of your Fintech app that includes essential features. With reliable MVP development services, you can test your app, get feedback from real users and make informed decisions before committing to a more costly development process.
2. Use open-source libraries and frameworks
Use open-source libraries and frameworks such as Flutter, React Native, Node.js and Firebase available in the mobile app development community. They are free to use, which can reduce your Fintech app development cost.
3. Outsource development
If you're on a tight budget, you may want to consider outsourcing the development of your app to a third-party development company that offers reliable Fintech app development services. With affordable and flexible engagement models to choose from with a Fintech app development company, you can save money on development costs. 
Get a Free Cost Estimation to Build Your Fintech App Now
Are you ready to turn your breakthrough Fintech app idea into reality? Whether you want to build a mobile banking app, investment app or personal finance app, we offer end-to-end Fintech app development services. 
With our expertise in Fintech app development solutions, we comprehend the intricate demands of the market and the technology that drives it. Our experienced professionals are eager to work closely with you, delivering a Fintech solution that aligns with your budget goals and caters to the expectations of your users. From initial conceptualization to deployment, maintenance and marketing, we've got you covered.
Get in touch with us now for a free cost estimation for your Fintech app.
FAQs
1. What is a Fintech app?
A Fintech app, short for Financial Technology app, is a software application that provides financial services and solutions to users, typically via digital platforms such as smartphones, tablets or computers. These apps utilize technology to streamline, improve, or disrupt traditional financial services models, making various financial activities more accessible, efficient, and convenient for individuals and businesses.
2. What are the latest trends in Fintech app development?
The latest trends in Fintech app development include:
Embedded finance:

Embedded finance is the integration of financial services into non-financial products and services. For example, a fintech application could be embedded into an e-commerce marketplace platform to let users make payments and apply for loans.

Blockchain

: Blockchain is a distributed ledger technology used to build new fintech apps, such as decentralized exchanges and peer-to-peer lending platforms.

Artificial intelligence (AI) and machine learning (ML):

AI and ML are being leveraged to build fintech apps that can provide personalized financial advice, automate tasks, and detect fraud.

Data analytics:

Fintech apps are taking advantage of data analytics to gain insights into customer behavior and preferences. These insights are being used to create better, new products and services and enhance the customer experience.
 3. How can I choose the right Fintech app development company?
When choosing a Fintech app development company, evaluate the Fintech app development services they offer. Look for reviews and case studies showcasing their experience and expertise in Fintech app development solutions. Speak with them to learn about their communication practices, development approaches and ask questions to assess their knowledge.