The on-demand food delivery market has witnessed exponential growth in recent years. According to Statista, the online food delivery market is anticipated to touch a revenue of 1.4 trillion U.S. dollars by 2027.
Thus, it's no surprise to see aspiring entrepreneurs look forward to breakthrough food delivery business ideas to disrupt the market.
However, the competition in the food delivery app industry is increasing day by day, with several established key players vying for market share and new players entering the market due to relatively low entry barriers in the industry.
Whether you're launching a new food delivery business or already have one, having an online food delivery marketing strategy that truly works is the key to standing out in a crowded field dominated by giants like Uber Eats and DoorDash.
In this article, we are going to uncover some effective marketing strategies for food delivery apps to attract a loyal customer base and skyrocket your orders.

What is an online food delivery marketing strategy?
An online food delivery marketing strategy is a plan for promoting and selling your food delivery service to potential customers. It should include a mix of various online marketing tactics, aimed to drive customer acquisition, retention, revenue growth and market expansion while also establishing a strong brand presence and adapting to the ever-evolving dynamics of the industry.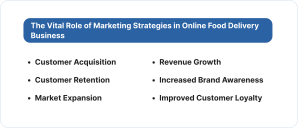 8 Powerful Marketing Strategies for Food Delivery Apps That Actually Work
Are you ready to savor the victory in the thriving on-demand food delivery app development market? Here are winning marketing strategies for food delivery apps you can leverage to set your venture up for success in 2023:
1. Establish a unique brand
As mentioned earlier as well, the food delivery app industry is highly competitive. You should therefore focus on building a unique identity that customers can remember.
A well-established brand conveys trust and credibility to potential customers. When people see a recognizable and reputable brand, they are more likely to feel confident about using the app and placing orders.
Your brand identity should include your company name, logo, tagline, and overall visual identity. Given that 89% of shoppers express a preference for brands that share their core values, your brand identity should also reflect the values and mission of your food delivery business.
Also, make sure to be consistent across all of your marketing materials, from your website to your social media pages to your app itself. This will help to create a strong and cohesive brand image in the minds of your customers.
2. Build a website for your food delivery app
Building a website for your food delivery app can help extend your digital footprint, providing potential users with an alternative way to access your food delivery service via web browsers. You can make your service available to a wider audience, including those who prefer ordering food from their desktop computers.
When creating your app's website, it's vital to offer an appealing visualization of what target users can expect when they install your food delivery app. Use your website to its full potential by incorporating:
Screenshots and videos of your food delivery app in action
Short, powerful copy
Links to your app on the App Store and/or Google Play Store
A clear call to action (CTA)
Social proof in the form of ratings, reviews, and/or awards
3. App store optimization
App store optimization (ASO)  is the process of enhancing your food delivery app's visibility and discoverability in the App Store and Google Play Store.  It is one of the fundamental marketing strategies for food delivery apps. ASO is a relatively inexpensive way to market your app, especially compared to other marketing channels such as paid advertising. By investing in ASO, you can reach more potential customers without spending a lot of money.
Here are key strategies to optimize your app's presence:
Choose the right keywords: When people search for food delivery apps in the App Store, they use certain keywords. You need to identify the right keywords to target in your app's title, subtitle and description. Take advantage of keyword research tools such as Semrush to help you identify the right keywords.
Write compelling app store metadata: Your app's title, subtitle and description should be compelling and informative. They should accurately describe your food delivery app and its features and they should be persuasive enough to convince people to download it.
Use high-quality images and videos: Your app's screenshots and preview videos should be high-quality and visually appealing. They should give people a good idea of what your food delivery app looks like and how it works.
Get positive reviews: Positive reviews can help to improve your app's ranking in the App Store search results. Encourage your customers to leave positive reviews for your food delivery app.
Update your app regularly: Update your food delivery app regularly with new features and bug fixes. This will help to keep your app's ranking high in the App Store search results.
Optimize app size and speed: Ensure your food delivery app is optimized for speed and does not consume excessive device storage. Users are more likely to download and use lightweight and fast apps.
4. Leverage social media marketing
When it comes to powerful marketing strategies for food delivery apps that genuinely work, you can't afford to miss out on harnessing the power of social media for your app. In 2023, global internet users spent an average of 151 minutes per day on social media, marking an increase from the 147 minutes observed in the previous year.
Social media platforms like Facebook, Instagram, and Twitter have billions of users around the world. By using social media marketing, you can reach a large and engaged audience of potential customers for your food delivery app. By sharing engaging content and interacting with customers on social media, you can create a sense of community and loyalty among their customers.
Moreover, social media is a great way for food delivery apps to run contests and special offers. This can help them to generate excitement and buzz around your brand, and it can also help you to attract new customers and increase sales.
5. Take advantage of email marketing
Build an email list of your app users and send out regular newsletters with promotions, updates and valuable content. Email marketing is a highly cost-efficient way to engage with your existing user base and encourage repeat orders. In fact, a recent study reveals that email outperforms every other marketing strategy by 92% when it comes to receiving offers.
Here are some best practices to follow:
Put your most creative foot forward When it comes to writing subject lines to get customers to open your emails.
When announcing a special offer or promotion, ensure to include it in your subject line to increase your open rate.
Make sure to incorporate the first name of the recipient in the subject line of your emails for a higher click-through rate. Prioritize segmentation and personalization for better engagement.
Use high-quality images and videos in your emails to make them more visually appealing and engaging.
Stay in sync with holidays and other ongoing events to incorporate them into your marketing emails.
6. Invest in paid advertising
Paid advertising is a great way to reach a large audience, promote your food delivery service and drive traffic to your app. Here are some key paid advertising options to consider:
Social Media Advertising: Platforms like Facebook, Instagram, Twitter and LinkedIn offer robust advertising options. You can target specific demographics, interests and behaviors to reach potential users who are likely to use your app. Use engaging visuals and compelling ad copy to entice clicks and downloads.
Search Engine Advertising: Google Ads allows you to display your app at the top of search results when users search for relevant keywords like "food delivery app.
In-App Advertising: Explore in-app advertising opportunities within other popular apps. These ads can reach users while they engage with different mobile applications. Consider partnerships with complementary apps.
App Store Advertising: App stores offer advertising opportunities within search results or on category pages. You can promote your app directly within the app stores to capture users' attention when they are browsing for similar apps. A recent study found that paid search ads on the Apple App Store have a conversion rate of 50%.
Video Advertising: Video ads on platforms like YouTube and Facebook can be effective in showcasing your app's features and benefits. Create short, engaging videos that demonstrate how easy it is to use your app for food delivery.
7. Influencer marketing
With 72% of Gen Z and Millennials are more likely to follow influencers on social media, you should highly focus on partnering with local and celebrity influencers, as well as food bloggers, to promote your food delivery app on social media. Influencers often share their experiences with your app, creating buzz and driving downloads.
8. Localized marketing
Localized marketing is one of the powerful marketing strategies for food delivery apps, as it allows you to connect with users on a more personal level and cater to their specific needs and preferences within their respective regions.
This can be done through numerous ways, which include but are not limited to:
Use geo-targeting in your advertising campaigns to reach users in specific neighborhoods or delivery zones.
Customize your ad content to address local needs and preferences. Highlight local restaurants, seasonal dishes or regional specialties.
Establish partnerships with popular local restaurants, offering exclusive promotions or discounts to your app users.
Segment your email marketing lists based on location to send targeted promotions and offers relevant to specific regions.
Send location-based push notifications to app users, offering promotions or updates relevant to their current location.

How can InfoStride help you market your food delivery business?
As a digital marketing services provider, we at InfoStride ensure you get the maximum value from your marketing efforts.
Our experts can optimize your online platforms, from designing an engaging website to implementing SEO strategies that ensure your business appears prominently in local search results. Leveraging our expertise in social media, email marketing and pay-per-click advertising, we can help you reach potential customers and retain your existing ones.
By harnessing our data analytics capabilities, we can continuously refine your marketing strategies, ultimately driving growth and success for your food delivery business in the highly competitive digital landscape.
To learn more about our digital marketing services, get in touch with us now.
FAQs
1. What are some cost-efficient marketing tactics for food delivery apps?
If you're an entrepreneur or startup looking forward to maximizing your marketing efforts on a budget, here are some cost-efficient marketing strategies for food delivery apps to utilize:
Social media marketing
Email marketing
Focus on user-generated content (UGC)
2. What is the role of data analytics in food delivery app marketing?
Data analytics plays a crucial role in food delivery app business marketing. By analyzing data, you can better understand your customers, identify trends and make informed marketing decisions for your food delivery apps:
Here are some of the ways that you can use data analytics to market your food delivery app:
Understand customer behavior: Data analytics can help understand your customers' behavior, such as what types of food they order, how often they order, and when they order. This information can be used to create more targeted marketing campaigns.
Identify trends: Data analytics can also help you to identify trends, such as which types of food are becoming more popular or which areas are experiencing increased demand. This information can be used to develop new marketing campaigns or to expand into new markets.
Measure the effectiveness of marketing campaigns: Data analytics can also be used to measure the effectiveness of marketing campaigns. By tracking key metrics, such as website traffic, app downloads, and order volume, you can see which marketing campaigns are performing well and which ones need to be improved.
3. What metrics should I track to measure the success of my marketing efforts?
Here are some key metrics that you should track to measure the success of your marketing efforts for your food delivery app:
App downloads: how many people are downloading your app.
Order volume: how many orders are being placed through your app.
Customer acquisition cost (CAC): how much it costs to acquire a new customer.
Return on investment (ROI): how much revenue you are generating for every dollar you spend on marketing.
Net promoter score (NPS): how likely your customers are to recommend your service to others.
Customer satisfaction: how satisfied your customers are with your food delivery service.
Social media engagement: how engaged your audience is with your social media content.