Hire Dedicated React Native Developers in a matter of days, not months.
React Native developers are high in demand. The competitive market makes it challenging to attract, hire and retain experienced React Native professionals through traditional recruiting. We're here to help you skip the long and tedious process of sourcing and vetting candidates by providing you access to an extensive pool of rigorously vetted React Native developers. Save your hiring time and money with InfoStride and get started within weeks.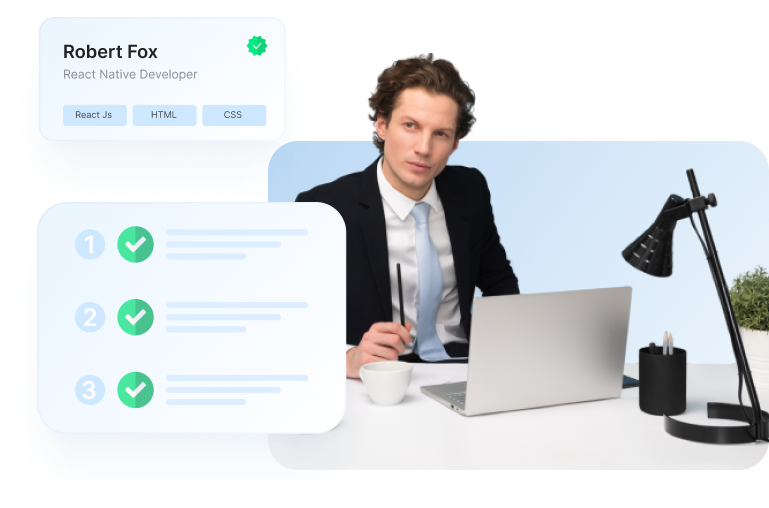 Leverage the Expertise of Our React Native Developers
Hire dedicated React Native developers to bring your mission critical software projects to fruition at an accelerated pace. Our technology wizards extend dedicated and unwavering support, from conceptualization to deployment and maintenance. With core development on futuristic technologies, frameworks, tools, and agile-driven processes, we ensure incremental and sustainable growth for our clients.
React Native Consultation
Consult with our React Native experts to figure out whether React Native is the right technology to launch your mobile applications and the best tech stack for your projects.

React Native App Development
Hire React Native developers to build native-like cross-platform apps using a single codebase to save significant development costs and time.

UI/UX Design & Prototyping
Work with React Native UI/UX developers who specialize in crafting exceptional user experiences for our clients.

App Migration
Hire dedicated React Native developers to migrate your existing applications to the React Native platform for a seamless user experience, across platforms.

API Integration
Let our experts help you integrate third-party APIs and services such as payment gateway, GPS and others into your React Native-based mobile applications.

App Support & Maintenance
Hire dedicated React Native developers to ensure uninterrupted functionality and seamless operation of your React Native applications.
Why Hire React Native Developers from InfoStride?
InfoStride has strategically cultivated a strong network of top-grade seasoned React Native developers for hire with ease of operations.
Rigorous Vetting Process
Our multi-stage recruitment process evaluates developers' backgrounds, technical ability, English proficiency, and soft skills to provide you with skilled React Native developers who can hit the ground running and bring immediate value.

Unmatched Flexibility
Seamlessly add developers to meet stringent deadlines or reduce the team size to perfectly align with evolving project needs. We provide a variety of flexible engagement models, whether it's hourly-based or full-time, ensuring the perfect fit for your hiring needs.

Timezone Compatibility
We facilitate the seamless onboarding of React Native developers who are ready to work in your time zone, under your complete supervision. Engage with your remote developers in real time, ensuring effective collaboration and project success.

Administrative & Legal Support
From managing payroll, benefits, and onboarding to ensuring legal compliance in hiring remote React Native developers, we handle the complexities for you and enable you to focus on building a dream remote team without stress.

1.
Requirement Analysis

2.
Developer Shortlisting

3.
Project Kickoff

4.
Talent Selection
Hire React Native Developers with InfoStride in 4 Easy Steps
Hire an individual to scale your team or build a dedicated React Native development team from scratch in no time. Just tell us your requirements and get the best-fit experts under your complete control, just like your core in-house team.
Hire React Native Developers with our Flexible Engagement Models
We offer various engagement models to meet diverse business needs cost-effectively, delivering the tech talent with expertise your project needs with zero overhead.
Project specifications are clearly defined and unlikely to change
The full scope of the project is unknown and requirements are likely to change.
When seeking in-demand tech talent, replacements or gaps within the project team
Funded Startups to Large Enterprises
Clients who want to build & manage affordable offshore remote dev teams with scalability
Frequently Asked Questions
React Native is a JavaScript-based framework ideal for cross-platform mobile app development. It brings the following advantages to the table:
Enables you to develop apps for Android and iOS using the same codebase
Comes with many ready-made libraries that ease the whole development proces
Backed by leading technology giant – Facebook
A strong community of developers
Supports faster development process
Today, many leading technology companies have built their mainstream apps using React Native. Check a complete list of 15 popular apps built with React Native.
Yes, indeed. With deep migration expertise, our React Native app experts can help migrate your current native mobile applications to React Native in a hassle-free manner.
At InfoStride, software developers go through a comprehensive vetting process to ensure their skills and expertise meet the highest standards. The vetting process typically includes a verbal English proficiency assessment to evaluate their communication skills,  and coding challenges to evaluate their proficiency in programming languages, problem-solving abilities, algorithmic thinking, and other technical skills specific to the desired role.
By employing a rigorous vetting process, InfoStride aims to build a network of top-notch software developers who possess the necessary skills, knowledge, and qualities to excel in their roles. This ensures that our clients have access to a pool of highly qualified and capable developers for their projects.
If you're looking for a precise estimate, we are afraid to tell you that giving an accurate figure is not feasible as many factors influence the cost; which includes:
Type of app
Complexity of the app
Competence of the developer
Geographical location of the developer
Check out our comprehensive post on the cost to hire React Native developers to understand how these factors affect the cost.
Down below are the reasons to choose InfoStride to hire React Native app developers:
Access vetted and additionally trained remote developers
NDA signing to protect your sensitive data and IP rights
Expertise in MVP app development
End-to-end mobile app development services under one roof
No infrastructure investment
Flexibility and scalability on demand
Flexible and affordable cooperation models
High employee retention rate
Quick replacement if that comes to the stage
Let's Connect
Founded in 2014, InfoStride is a certified M/WBE firm headquartered in San Jose, California with an offshore software development facility in India, providing a pre-vetted pool of highly skilled software developers, designers and testers across every tech stack and time zone to startups, SMBs and enterprises worldwide. Partner with us and build amazing agile development teams on demand.
+1-415-360-1703
talktous@infostride.com