Over the past few years, the world of technology has been on an exhilarating journey. From the remarkable advancements in Artificial Intelligence (AI) to the immersive experiences of Augmented and Virtual Reality (AR & VR), the pervasive reach of the internet and smartphones, and the growing prevalence of the Internet of Things (IoT), new technology trends have been continuously emerging and evolving.
While some technology trends fade away over time, there are others that gain momentum when they receive significant funding or when industries integrate them into their processes. These emerging technologies have already made a significant impact in recent years and are just a few steps away from becoming mainstream. They are poised to become global trends in the coming years.
Top 5 Disruptive Technology Trends
Technology has become an integral part of businesses, regardless of their size. From small startups to large enterprises, companies are harnessing the power of the latest technology trends to streamline their operations, enhance productivity, and boost their revenue streams. These top technology trends in the business world are being fully utilized to maximize their potential and drive success.
1. Natural Processing Language
Currently, Natural Language Processing (NLP) plays a crucial role in financial marketing, providing valuable insights into market sentiments, tender delays, closures, and extracting data from extensive repositories.
Another prominent technology trend in NLP is the growing need for semantic search. This type of search combines NLP with Natural Language Understanding (NLU) to achieve a deeper understanding of the main ideas expressed within the text, enabling more accurate and relevant search results.
In the realm of e-retail, NLP and Machine Learning techniques are being employed by retailers to enhance customer engagement and analyze browsing patterns and shopping trends. These technologies enable retailers to better understand their customers' preferences and behaviors, leading to more personalized and targeted shopping experiences.
2. Blockchain technology
It has experienced rapid growth, placing it at the forefront of the latest technology trends. While currently associated with cryptocurrencies, its mass adoption is expected in the coming years, ensuring that blockchain remains a prominent technology.
Cryptocurrencies, a significant component of blockchain, will diversify and be introduced into the market alongside traditional fiat currencies. As awareness about blockchain and cryptocurrencies increases, people will begin using them for everyday transactions. Furthermore, the development of blockchain solutions will extend beyond cryptocurrencies, exploring new applications and use cases.
In the years ahead, there will be significant advancements and implementations of smart contracts, further enhancing the scalability and security of blockchain technology. These updates will enable secure and immutable data exchange, expanding the potential uses of blockchain in various domains. To leverage this technology, individuals and businesses can engage with blockchain development companies.
3. Metaverse
The metaverse in all its entirety will become more tangible. This means that the trend of an all-immersive experience where a single platform could host Recent research by Forbes reveals that by 2030, the metaverse is predicted to contribute $5 trillion to the global economy. The year 2023 will play a crucial role in shaping the future of the metaverse.
Advancements in augmented reality (AR) and virtual reality (VR) technology will continue to progress. Particularly noteworthy will be the development of immersive meeting environments within the metaverse, enabling collaborative discussions, brainstorming, and co-creation.
Microsoft and Nvidia are already working on metaverse platforms designed for collaborative digital projects.
Avatar technology will also advance in the coming year. Avatars will closely resemble our real-world appearance, and motion capture technology will enable them to mimic our unique body language and gestures.
There may also be progress in the development of AI-powered autonomous avatars that can represent us in the metaverse even when we are not logged in.
Metaverse technology, such as AR and VR, is already being used by companies for training and onboarding purposes. This trend will gain momentum in 2023.
Accenture, a prominent consulting firm, has created a metaverse environment called the Nth Floor, which replicates their physical offices. This virtual world allows new hires and existing employees to carry out HR-related tasks without the need for a physical presence.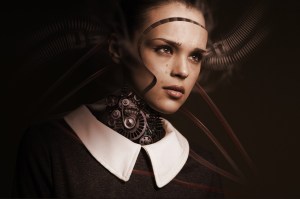 4. Artificial Intelligence
Speaking of Disruptive technologies, this is a conversation starter in a lot of rooms these days. Names like Chat GPT and Bard AI have changed the game for creators across the spectrum and we are just getting started!
AI has emerged as one of the most significant technological advancements, consistently securing its place among the top technology trends for several years. AI's dominance is evident in various areas, such as image and speech recognition, voice assistants, navigation apps, automation, and more.
The current trends in AI highlight the escalating demand and rapid progress in AI and modern industrial automation technology. With manufacturing and supply chains returning to full activity, labor shortages are anticipated to become a significant challenge. AI, combined with robotics and the Internet of Things (IoT), will play a pivotal role in addressing this issue by enabling automation in manufacturing processes.
Moreover, AI development companies will leverage AI to analyze interactions, identify underlying influences, and extract insights to predict service demands in sectors like healthcare. This will empower specialists to make informed decisions regarding resource utilization and enable the identification of evolving customer behavior patterns through real-time data analysis, leading to increased revenue and enhanced personalized experiences.
The current capabilities of AI, including reading and comprehending text, facial recognition, voice recognition, and emotional analysis, are driving its evolution as a technology that can learn without human intervention. The widespread adoption of AI spans various sectors, including customer experience, design, healthcare, and fintech.
5. The Internet of Things (IoT)
It has emerged as a prominent trend in mobile app development. Our homes, which already feature smart devices like TVs, water heaters, microwaves, yoga mats, and voice-enabled personal assistants such as Amazon Echo, are poised to welcome a host of new IoT-enabled devices in the near future.
The IoT represents the future of connectivity, enabling various devices such as home appliances and cars to connect and exchange data over the internet. This technology trend offers improved security and facilitates efficient decision-making for businesses as data is collected and analyzed. The IoT holds the potential to enable predictive maintenance, enhance healthcare delivery, improve customer service, and provide numerous other benefits in the future.
According to Statista Forecasts, the number of IoT devices in use worldwide is projected to reach approximately 29 billion by 2023, creating a vast network of interconnected devices that span across smartphones to kitchen appliances.
Few hand Picked articles for you