Prior to the lockdowns and stringent social gatherings restrictions, InfoStride was famous for throwing big signature parties enthusiastically anticipated by its employees every year.
To reconvene its tradition of coming together and celebrating wins as a family for the first time since the pandemic, the long-awaited day was celebrated more excitedly and joyfully at InfoStride on April 29th, 2022.
The stunning decorations, shimmering lighting and a dedicated eye-catching selfie booth left all of our eyes wide open while we all stepped into the captivating venue of our corporate bash.
Two of our ladies all dolled up for the evening, Vishakha Saini and Sneha Khanna welcomed us all with big smiles, great joy and hospitality.
To kick off the celebration on a high note, nothing could have been better than with a pep talk from people who are boon to a whole InfoStride team. So, Vishal Mangla addressed us with the whole leadership team to shed some light on InfoStride's journey so far.
After some uplifting words from the leadership team, it was the perfect timing to appreciate our top performers across departments.
In lieu of that, our key leader graced the stage for Rewards & Recognition (R&R) ceremony and doled out the certificates and cash bonuses to the deserving employees who have performed with distinction towards the growth of the company and its global clientele.
⦁ Star Performers: Abhishek Dogra, Vandana Sharma, Anjali Singla, Neha Sharma, Rahul, Akshay Dhiman, Naimish Gupta, Akshay Kumar Prabhakar, Sunny Hooda
⦁ Rising Stars: Anmol Sachdeva, Divyash Hura, Sachin Kumar, Prince, Amit Kaushal, Tania, Megha Rawat
⦁ Team Player Award: Nidhi Sharma
⦁ Extra Mile Award: Surbhi Verma, Abhishek Dogra, Diksha Kunihal, Kumar Shubham, Johny Saini, Deeksha Singh Tomer, Rishab Satti, Rakesh Paul
By the time the awards ceremony was over, we all geared up ourselves with a radiant smiles on our faces for beautiful performances prepared by some of our all-rounder colleagues and teammates.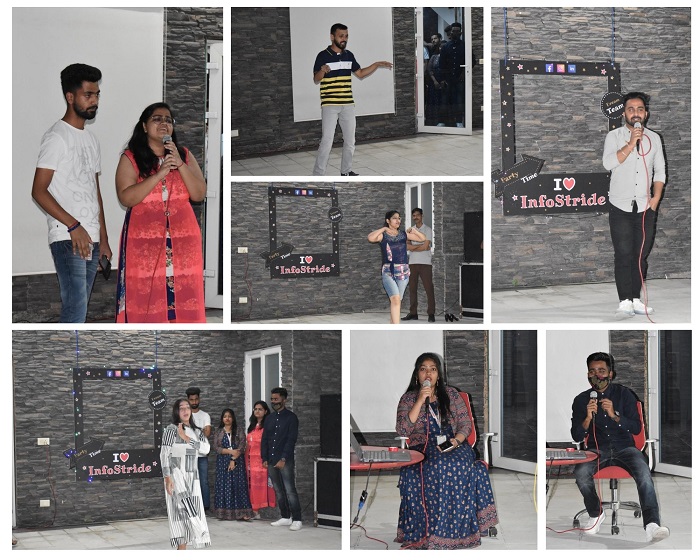 ⦁ Khushi Jain and Bhupender Singh took us back to the "era of the 90s" with their 90s songs and beautiful voice
⦁ Anusha Singla entertained us with lovely poetry written in her own words
⦁ Vaishnavi blew us all with her ravishing dance performance
⦁ Rahul Rout impressed and captivated us all with his playful style of poetry reciting
⦁ Purva set the stage on fire with her sizzling dance moves
⦁ Amit Kumar as always won all of our hearts and breathed life into the evening with his mesmerizing voice
⦁ Saarthak Sharma rocked the stage with his epic dance moves
Our Multitalented People Rocked the Stage with Flying Colors
And our upbeat anchors – Purva, Aakarshit Jaswal, Tania and Iqbal Sheikh added the fun element and more vibrancy to our magnificent evening with their comical act and full-on laughter dose.
As soon as all performances were finished, a whole team of InfoStride left no stone unturned to make beautiful lifetime memories with their colleagues, teammates and managers.
Thus, the evening saw the selfie booth as a center of attraction for each one of us waiting eagerly for a chance to click vibrant group photos and selfies.
Here are some of our lovely ladies who rise and shine every single day!
And a glimpse of our team featuring people who love to party together in person.
After capturing some lifelong moments to cherish, we all gathered again for our monthly tradition – the collective birthday celebration of our April-born employees.
By now, unlimited delicious snacks and beverages were waiting for us. We all hopped on and enjoyed it all together.
Afterwards, it was time that all of us were waiting to come – rocking the DJ floor with our mad dance moves. It was a moment when we all forgot about problems, work, billing hours, deadlines and most importantly forgot about our phones. And we all danced as if there was no tomorrow.
As customary, the celebration ended with a full-filling dinner prepared by our own cooking staff.
While we all lived every moment of the evening to the fullest, InfoStride also didn't miss a chance to extend its gratitude and celebrate the unending efforts and support of its housekeeping and driving staff who had a big hand in making our corporate bash successful and enjoyable throughout.
Now if we have to cut a long story short, we all had a whale of a time and partied in full swing all night with the amazing people. Happy faces, full-on entertainment and unlimited mouth-watering snacks and drinks – it was indeed the most fun any of us have had in quite a while!