Hire Dedicated Kotlin Developers in a matter of days, not months.
Hiring skilled Kotlin developers takes up a lot of time and resources. We are here to help you save from sifting through thousands of resumes to screen and find a Kotlin developer who has the right technical skills and can culturally fit into your team. Our experienced Kotlin developers are already rigorously vetted and trained against technical capabilities, English language proficiency, and cultural fit.to help you transform your ideas into reality right away.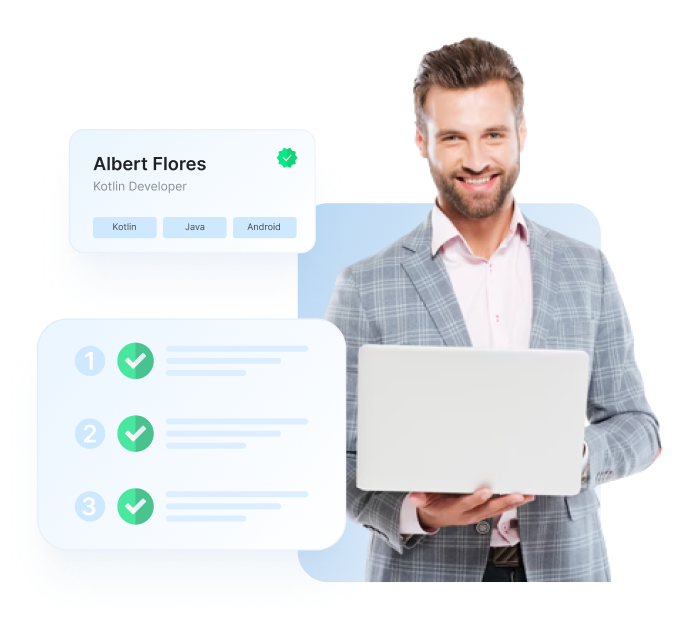 Leverage the Expertise of Our Kotlin Developers
Hire dedicated Kotlin developers to bring your bold ideas into vibrant reality at an accelerated pace. Our technology wizards can extend dedicated and unwavering support, from conceptualization to deployment and maintenance. With core development on futuristic technologies, frameworks, tools, and agile-driven processes, our experts ensure incremental and sustainable growth for our clients.

Enterprise Software Development
InfoStride can help assemble a dedicated team of software designers and developers to support your end-to-end enterprise software development project.

Web App Development
Our remote software developers specialize in creating high-performing websites and web portals for a wide range of industries using the latest web technologies.
SaaS Development
Our software developers are at the forefront of building SaaS solutions for startups and enterprises to help them scale at speed.
MVP Development
Transform your revolutionary idea into a vibrant reality with the MVP development expertise of our dedicated software developers.

Integration & Migration
Hire software engineers who can help with software integration or migrate from outdated technology to the latest ones to improve your software.

Maintenance & Support
Our software engineers can provide ongoing maintenance and support to make sure your software, website or application performs at its finest.
Why Hire Kotlin Developers from InfoStride?
InfoStride has strategically cultivated a strong network of top-grade experienced Kotlin developers for hire with ease of operations.
Rigorous Vetting Process
Our multi-stage recruitment process evaluates developers' backgrounds, technical ability, English proficiency, and soft skills to provide you with skilled Kotlin developers who can hit the ground running and bring immediate value. 

Unmatched Flexibility
Seamlessly add developers to meet stringent deadlines or reduce the team size to perfectly align with evolving project needs. We provide a variety of flexible engagement models, whether it's hourly-based or full-time, ensuring the perfect fit for your hiring needs.

Timezone Compatibility
We facilitate the seamless onboarding of our Kotlin developers who are ready to work in your time zone, under your complete supervision. Engage with your remote developers in real time, ensuring effective collaboration and project success.

Administrative & Legal Support
From managing payroll, benefits, and onboarding to ensuring legal compliance in hiring remote Kotlin developers, we handle the complexities for you and enable you to focus on building a dream remote team without stress.

1.
Requirement Analysis

2.
Developer Shortlisting

3.
Project Kickoff

4.
Talent Selection
Hire Kotlin Developers with InfoStride in 4 Easy Steps
Hire an individual to scale your team or build a dedicated Kotlin development team from scratch in no time. Just tell us your requirements and get the best-fit experts under your complete control, just like your core in-house team.
Hire Kotlin Developers with our Flexible Engagement Models
We offer various engagement models to meet diverse business needs cost-effectively, delivering the tech talent with expertise your project needs with zero overhead.
Project specifications are clearly defined and unlikely to change
The full scope of the project is unknown and requirements are likely to change.
When seeking in-demand tech talent, replacements or gaps within the project team
Funded Startups to Large Enterprises
Clients who want to build & manage affordable offshore remote dev teams with scalability
Frequently Asked Questions
Following are the reasons to choose Kotlin over Java for your next app development project:
Google recommends using Kotlin for Android app development
It has full interoperability with Java
Its fail-fast mechanism helps reduce bugs and avoid errors while coding
Moreover, there are many apps powered by Kotlin. Check out the list of top apps built with Kotlin for inspiration and learning.
The cost to hire Kotlin developers relies on the following factors:
The complexity of your app
Whether you need seasoned or experienced developers
The engagement model you decide to choose
To get a cost estimate, we recommend you reach out to us with your requirements.
InfoStride has a straightforward process to help you hire dedicated Kotlin developers with ease:
First off, gather all the requirements i.e., to create an ideal profile for a Kotlin app developer you'd like to hire.
Share your requirements with us and we'll shortlist Kotlin app developers from our talent pool that match your requirements. You can interview them via a video call or test our developers' capability via a coding test as well.
Upon final confirmation from you, our sales team will finalize the agreement and smoothly integrate the selected experts into your project.
Below are the advantages you can relish while working with the dedicated Kotlin app development team:
Developers will work full-time on your project
You will have complete over the team and development process
We provide a dedicated account manager who makes sure everything stays on track – without any extra charges
Our developers are trained to smoothly integrate with our client's in-house team.
We are open to signing a non-disclosure agreement (NDA) with our clients to give you the assurance that your ideas, sensitive data and IP rights are safe with us.
Let's Connect
Founded in 2014, InfoStride is a certified M/WBE firm headquartered in San Jose, California with an offshore software development facility in India, providing a pre-vetted pool of highly skilled software developers, designers and testers across every tech stack and time zone to startups, SMBs and enterprises worldwide. Partner with us and build amazing agile development teams on demand.
+1-415-360-1703
talktous@infostride.com